From the Open-Publishing Calendar
From the Open-Publishing Newswire
Indybay Feature
Related Categories:

California | Central Valley | Environment & Forest Defense | Government & Elections
Fracking moratorium bill put in suspense file
It is crucial to understand that the Western States Petroleum Association (WSPA) spends more money every year on lobbying in Sacramento than any other corporate group. This massive spending enables the oil industry to effectively buy the votes of many State Assembly Members and Senators.

Photo courtesy of the Sierra Club.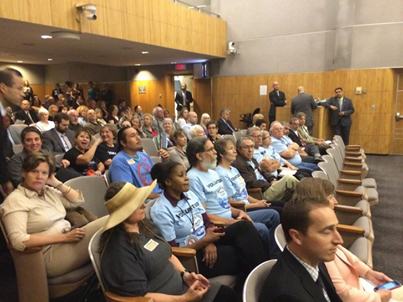 Fracking moratorium bill put in suspense file
by Dan Bacher
Senate Bill 1132, Senator Holly Mitchell and Mark Leno's legislation to require a moratorium on fracking in California while studies were conducted, was put into the suspense file on Monday, May 19, following the morning hearing in the appropriations committee.
You can bet that the placing of the bill into the suspense file by the legislative leadership was made under heavy pressure by the Western States Petroleum Association, the largest and most powerful corporate lobbying group in Sacramento.
According to Stop Fracking California State, "The Appropriations Committee has the power to put bills into the Suspense File. This happens for any bill with an annual cost of more than $150,000 (any fund)."
Suspense File bills are then considered at one hearing after the state budget has been prepared and the committee has a better sense of available revenue. No testimony is presented – author or witness – at the Suspense File hearing, according to the Legislature's website.
The committee will announce Friday if SB 1132 moves through Appropriations for a vote by the entire Senate. That vote would occur within a few days.
Daily Kos is hosting a CA Fracking Marathon blogathon this week to urge people to phone members of the committee to ensure SB 1132 comes up for a vote. Daily Kos is part of a coalition that includes Earth Works, the Sierra Club, 350.org, the Indigenous Environmental Network, and the Center for Race, Poverty and the Environment.
SB 1132 would require the California Natural Resources Agency to facilitate an "independent scientific study" on well stimulation treatments (fracking and acidizing) and their hazards and risks to natural resources and public, occupational, and environmental health and safety by January 1, 2015.
The legislation would also:
• require the Division of Oil, Gas, and Geothermal Resources (DOGGR) to adopt rules and regulations for well stimulation treatments by January 1, 2015, in consultation with the Department of Toxic Substances Control (DTSC), the California Air Resources Board (CARB), the State Water Resources Control Board (SWRCB), CalRecycle, and any local air and regional water quality control boards;
• require DOGGR to complete a statewide environmental impact report (EIR) by July 1, 2015 ;
• allow operators to continue well stimulation practices while DOGGR completes its regulations, providing that the well owner complies with interim requirements.
If fracking is not banned, groundwater and surface supplies will be polluted with numerous toxic chemicals, including methanol, benzene, naphthalene and trimethylbenzene. According to the Center for Biological Diversity, evidence is mounting throughout the country that these chemicals are making their way into aquifers and drinking water.
Human health, endangered Central Valley salmon, steelhead and other fish populations and many wildlife species will be imperiled by increasing water pollution in California, as well as by the increasing use of water for fracking that is badly needed for people, farms and fish during the current drought.
The Bay Delta Conservation Plan (BDCP) to build the peripheral tunnels under the Sacramento-San Joaquin River Delta would provide water for fracking and steam injection operations used to extract oil in Kern County, as well as for corporate agribusiness interests irrigating drainage impaired land on the west side of the San Joaquin Valley, and Southern California water agencies.
Big Oil spends more than any other corporate lobby
It is crucial to understand that the Western States Petroleum Association (WSPA) spends more money every year on lobbying in Sacramento than any other corporate group. This massive spending enables the oil industry to effectively buy the votes of many State Assembly Members and Senators.
The organization spent a total of $5,331,493 in 2009, $4,013,813 in 2010, $4,273,664 in 2011, $5,698,917 in 2012 and $4,670,010 in 2013 on lobbying at the State Capitol - and spent $1,456,785 in just the first 3 months of 2014. (
http://www.truth-out.org/speakout/item/23365-californias-big-oil-dirty-dozen
) You can bet that a good chunk of this money spent so far this year was spent on stopping Senate Bill 1132.
A ground breaking report released on April 1, 2014 by the ACCE Institute and Common Cause also reveals that Big Oil's combined spending on lobbying and political campaigns in Sacramento amounts to a stunning $266.9 million over the past 15 years. (
http://www.counterpunch.org/2014/04/14/how-big-oil-bought-sacramento/
)
But the oil industry exerts its influence not just through spending enormous sums on lobbying and contributions to political campaigns, but by serving on state and federal government panels.
Catherine Reheis-Boyd, President of the Western States Petroleum Association, served as the Chair of the Marine Life Protection Act (MLPA) Initiative Task Force to create so-called "marine protected areas" in Southern California, as well as sitting on the task forces for the Central Coast, North Central Coast and North Coast.
It is no surprise that the alleged "Yosemites of the Sea" created under Reheis-Boyd's "leadership" fail to protect the ocean from fracking, oil drilling, pollution, military testing, corporate aquaculture and all human impacts on the ocean other than sustainable fishing and tribal gathering. It is also no surprise that the oil industry was fracking like crazy in Southern California ocean waters at the same time that Reheis-Boyd and MLPA Initiative advocates were greenwashing one of the most corrupt environmental processes in California history.
In spite of false claims by the mainstream media and state officials that California is a "green state," in reality California under Jerry Brown and the current state leadership is an "Oilogarchy" of the worst kind.
League of United Latin American Citizens (LULAC) Calls on Governor Brown to Ban Fracking
In another development in the campaign to ban fracking in California, the California League of United Latin American Citizens (LULAC) assembly on Sunday, May 18 voted unanimously to pass a resolution calling on Governor Brown and the state legislature to ban fracking.
In addition, the resolution affirmed LULAC's support for local ordinances and initiatives now underway in several cities and counties throughout California to ban fracking.
"Because the health and environment of California's Latino communities, who already disproportionately suffer from pollution, is threatened by fracking, the California League of United Latin American Citizens calls on Governor Brown to ban fracking now," said California State LULAC Director Dave Rodriguez.
Fracking, an extreme form of energy extraction using millions of gallons of water and known toxic chemicals, has been linked to increased air pollution and a possible association with human birth defects. Some communities, like Carson, have been plagued by problems related to fossil fuel industry abuse.
"Our communities have suffered long enough from the impacts of oil extraction and we must stop the oil industry's latest assault to expand fracking and other forms of high intensity extraction," said Carson councilmember Albert Robles. "We welcome the support of the League to protect the health and well-being of our communities." Robles introduced a fracking moratorium this year after Occidental Petroleum proposed to drill 200 wells near residential homes in Carson.
While Governor Brown continues to allow oil companies to frack and use other intensive well-stimulation techniques, many cities and counties are advancing local fracking bans or moratoria including Butte County, Monterey County, Santa Barbara County, San Benito County, Santa Cruz County and the cities of Los Angeles and Culver City.
"We are really excited that LULAC has recognized that the fight is not just at the state level, but is now at the local level with the people in cities and counties really taking a stand, and using the initiative process," said Margaret Morales Rebecchi from San Benito Rising. "Governor Brown has thwarted action at the state level. It is so fortunate that LULAC recognizes and endorses the efforts by the people to have the final say."
For more information, go to:
http://www.californiansagainstfracking.org
We are 100% volunteer and depend on your participation to sustain our efforts!
Get Involved
If you'd like to help with maintaining or developing the website, contact us.