From the Open-Publishing Calendar
From the Open-Publishing Newswire
Indybay Feature
SF Protest Of US Imperialist Intervention In The Ukraine
A small rally and speakout was held in San Francisco to protest US imperialist intervention into the Ukraine. The rally was held on the anniversary of the defeat of Nazi, Germany on May 9. Speaker reported on the role of the CIA and US government in overthrowing the Ukrainian government
Activists and protesters rallied at the San Francisco Federal building on May 9 to oppose the US imperialist intervention into the Ukraine. They called for the removal of all US CIA and military forces. They also said that Obama, Pelosi, Boxer and Feinstein as a result of their role in supporting US imperialism aggression in the Ukraine were also responsible for the massacre by murder and fire of trade unionists and leftists opposed to the putsch government in Kiev. The government was installed by the United States after supporting protests and the US State Department officials were personally involved in selecting the new "president" of the rightwing government which an audio tape showed.
Finally rally participants said the main enemy is at home as the Obama government and capitalist politicians are privatizing jobs, union busting and pushing increased repression of the working people including immigrants in the US. Speakers urged US workers to organize not only against the US intervention but against the attacks at home on working people.
For more information
contact United Public Workers For Action
info(at)upwa.info
Protest Obama, Pelosi Get Your Bloody Hands Off The Ukraine
Obama, Pelosi Get Your Bloody Hands Off The Ukraine
Stop US Imperialist Wars-
Protest US Supported Massacre At Odessa Union Offices
US CIA/Military Out Of Europe/ Stop US Imperialist Wars
Rally and Speak-out
Friday May 9, 2014 5:00 PM
US Federal Building
7th And Mission St. San Francisco
Sponsored by Coalition Against US Imperialist Intervention In The Ukraine
The US government financed and orchestrated the overthrow of the elected Ukrainian government with a rightwing-neo-fascist coup d'etat and is now using the rightwing-neo-fascist bands (Svoboda, Right Sector, etc.) to attack workers and leftists throughout the country. The US spent over five billion dollars supposedly fighting for "democracy" in Ukraine and now those neo-fascist bands are armed and are being used by the capitalists to create a mass terrorism there. John McCain and the Obama administration with the support of Pelosi, Boxer, and Feinstein has blood on their hands from the overthrow of the Ukrainian government and the ongoing repression and violence.
Obama and his CIA agents are personally responsible for the massacre of 46 activists and unionists murdered at the Odessa trade union offices. That fire to that building was set by neo-fascists
in complicity with the US and the coup government in Kiev. The pro-Kiev police and government forces protected the fascists and allowed them to burn the building and shoot and beat unarmed activists. The US has blamed the protestants and Russia.
After destroying Iraq, Afghanistan and Syria the US is actively engaged in breaking up Ukraine. It is also seeking to impose IMF-World bank policies to privatize and loot the resources in the Ukraine. It is also using Ukraine to further militarily encircle Russia aimed to rollback thre the Putin regime. The plutocratic Putin regime came about as well as a result of the US, the WB and IMF yet it is US imperialism that is now trying to overthrow him by provoking a world war.
Working people in the US must oppose the US Obama, Pelosi, Boxer, Feinstein imperialist intervention in the Ukraine and demand that all military and troops be removed from the region. It is up to the working class of the Ukraine to make their own their own history.
The working people and the labor movement in the US have nothing to gain and everything to lose by a war over Ukraine when our main enemy is here at home. It is the Democrats and Republicans who are transferring trillions into the coffers of the American oligarchs by attacking public worker's pensions, privatizing the post office, education, public services and spending hundreds of billions on repression and militarizing the border with Mexico as well as supporting over 700 US military bases around the world. It is time to stop the drive for world war by this capitalist class and to remember the main enemy is at home.
Initiated by United Public Workers For Action (
info [at] upwa.info
)
Endorsed by Communist Workers Group CWG
STOP US/EU/NATO DRIVE TO
WORLD WAR III
Obama, Kerry, Merkel, Hollande, Cameron, European Union, NATO, and the Media Narrative about Ukraine, Russia, and Putin is FALSE!!!
· US and EU financed and orchestrated coup d'etat in Kiev.
· Putsch regime in Kiev was not "duly elected" despite what Obama says.
· US and EU coordinated coup d'etat with Ukrainian ultra-nationalists and neo-fascists (Svoboda Party, Right Sector, etc.).
· Putsch regime is dependent on ultra-nationalists and neo-fascists to carry out repression and violence in South-Eastern Ukraine.
· Odessa fire coordinated by US/CIA/EU and puppet-Kiev regime and carried out by ultra-nationalists and neo-fascists.
· Protests in South-Eastern Ukraine are indigenous, not directed by Russia.
· Protestants fear Kiev putsch repression and violence and IMF ultra-austerity.
· Protestants in South-Eastern Ukraine demand federal "autonomy," not "succession."
· Putin is a CAPITALIST politician committed to: 1.) Russian national sovereignty; 2.) international recognition of Russia's "national interests;" 3.) keeping NATO out of Ukraine; 4.) deepening economic ties with Europe; and, 5.) preventing a worker-led revolution in South-Eastern Ukraine and spilling over into Russia.
· Russia did not invade Crimea.
· Putin wants to negotiate with the US/EU, not fight.
· US/EU/NATO/IMF are the aggressors in Ukraine, not Russia.
· United States objective is to gain absolute control over Eurasia by 1.) destroying European-Russian economic integration; 2.) eliminating the present Russian government while dismembering Russia; and, 3.)carrying out the "pivot to Asia" aimed to militarily confront China.
· Destabilizing Ukraine is designed: 1.) to smash the economic "bridge" between Europe and Russia; 2.) to establish a NATO beachhead at Russia's eastern border; and, 2.) to further "demonize" the Putin government and possibly provoke a Russian military intervention into Ukraine.
The United States is knowingly carrying out policy which could easily escalate into World War III to achieve its hegemonic objective in Eurasia!!!
Sponsored by: Coalition Against US Imperialist Intervention In The Ukraine; United Public Workers for Action, Transport Workers Solidarity Committee, Communist Workers Group, International Bolshevik Tendency,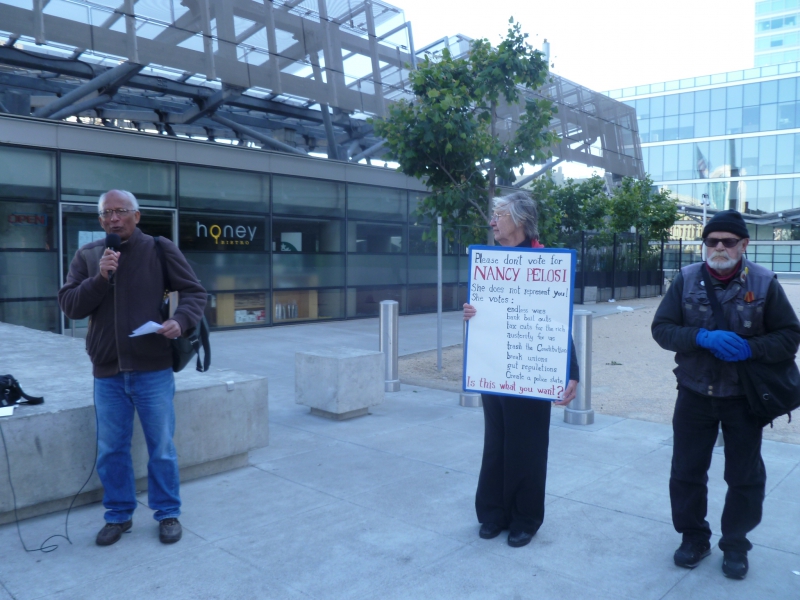 UPWA speaker retired professor and unionist George Wright spoke at the rally. He reported on the corporate propaganda blitz falsifying the actual developments in the Ukraine
Lehman L. Brightman of United Native Americans spoke about the role of US imperialism in stealing and destroying Native American lands. He also connected the multi-nationals such as Monsanto to the destruction of human rights and health and safety.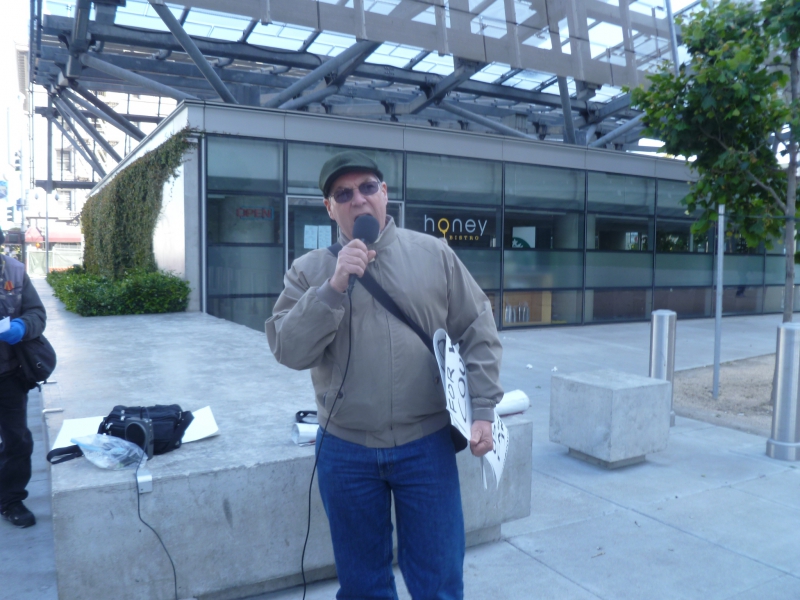 Charles Rachlis of the Communist Workers Group also spoke at the rally.
We are 100% volunteer and depend on your participation to sustain our efforts!
Get Involved
If you'd like to help with maintaining or developing the website, contact us.