From the Open-Publishing Calendar
From the Open-Publishing Newswire
Indybay Feature
Official Justice For Josiah Public Statement by Laurie Valdez (4-3-2014)
This is the statement as it was originally written, it was read in both English and Spanish, with some impromptu additions by Laurie.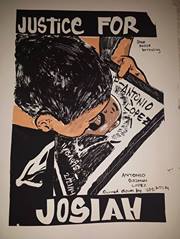 Justice For Josiah Official Public Statement
My name is Laurie Valdez. On February 21, 2014, my partner Antonio Guzman Lopez was murdered at the hands of San Jose State University Police Department Sgt. Mike Santos, who claims he did it in defense of fellow UPD officer Frits Van der Hoek.
The incident happened right by a childcare center and in front of a sorority house. Clearly Santos had no concern for the safety of others or the fellow officer who, according to Santos, was standing right in front of Antonio, thus placing him in the line of fire. I hope Officer Santos, is aware of how many lives were affected by his actions. There was clearly a complete disregard for the safety of children, students, neighbors, and another officer! A community is traumatized, and they now fear for their own safety!
No justice can be given to Antonio because he is no longer here. But our son Josiah, who is 4 years old, deserves justice for having to grow up without his daddy for the rest of his life.
Josiah and Antonio had a lifetime of love to be shared and it was taken away from both of them. Josiah is left here to suffer without his daddy to hold him, hug him, or go to his first day of school. This is all because of the actions of Officer Mike Santos, and those who have persisted in remaining silent or continue to cover up his murder.
How do I explain to Josiah why his daddy was killed, and why he will never, ever see him or kiss him again? Is it fair that my four year old has to know about death, killing, and grief at such a young age? Why is my daughter Angelique brokenhearted over thoughts of her Papi crying out for us in an ambulance before he died, surrounded by nobody that knew him?
Josiah was the world to his father. Everyone who saw Antonio with his son Josiah or his daughter Angelique could see the love he shared with both of them. He told them he would always protect them from harm and would give his life for them to be safe.
I need answers! to help my children understand this horrific tragedy, caused by the hands of Officer Mike Santos. There are so many questions unanswered, and different stories being told ...
I just need the TRUTH to understand how this could have been prevented.
Antonio Lopez was a loving son, brother, father, and partner. Antonio was a hard worker, and a friendly and generous person who was always willing to help others.
As an undocumented immigrant Antonio would never jeopardize his presence here, if for no other reason than to protect and stay for our son Josiah. To risk deportation was not something Antonio would ever do, he never wanted to be separated from his son, but this has happened anyhow, permanently and tragically.
I demand to know why and how this, truly happened and why killing him was seen as the only option.
Why did Antonio's life not matter? Why was Antonio targeted? Was it because he fit the profile of an undocumented day laborer who couldn't speak English?
San Jose Police Department Public Information Officer Albert Morales, delivered an "official view" of events without the investigation being done. There are eyewitnesses, some with evidence who have not been contacted by the SJPD during the investigation. However, other witnesses have been approached by the police for the purposes of intimidation and story fixing.
What Officer Morales failed to mention in his seemingly scripted tale of an officer involved shooting, is that a month prior on January 3, he delivered a similar statement and scenario to the media about another officer involved shooting which targeted a "knife wielding man", only in this case the man survived the shooting.
Most of you already know the "official story" being told, here is how the SJPD Chief of Police, Larry Esquivel tells it:
"San Jose State University PD responded to a call of a man with a knife on campus. SJSUPD Officers spotted the suspect at 8th/San Salvador and ordered him to drop the knife. When the suspect did not comply, one officer utilized his Taser with no effect. When the suspect advanced on the officers with his knife raised, the SJSU PD sergeant fired two rounds at him. He was struck by both rounds. The suspect was transported to VMC where he died."
Witnesses report that they did not hear any orders from the officers and did not they see a taser being discharged. Witnesses report seeing Antonio walk away and later fall after being shot twice in the back. Furthermore, eyewitnesses also place a yet to be identified, third officer at the scene.
------------------**************************************************************-------------------
Yes, I am angry and suffering the loss of Antonio Lopez for myself and my kids!
But more so, I know a whole community has been affected by yet another murder at the hands of out of control police!
However, I refuse to allow the unethical actions, dishonesty and lack of integrity by law enforcement and the whole system dictate my emotions and continue a hostile and negative environment in our community.
I'm asking the community and families victimized by this criminality to come together and to stand united and strong so we can make a brighter future without fear for our children, and grandchildren becoming the next target of police brutality, abuse of power, and racial discrimination by the law enforcement that's working for us! Let's speak up and get rid of the cops who kill, rape, embezzle, molest, use drugs and get away with it! Enough is enough!
As a community we need to put to work our ability to endure these senseless murders, at the hands of cops like Mike Santos and never give up or surrender what's right!
Together we have the power to not only achieve "Justice for Josiah" but for all past victims and their families, and prevent any other family suffering the loss or brutalization of a loved one by these so-called "Peace Officers"!
So I am asking if anyone has information about the death of Antonio Lopez to please speak up, and don't be afraid! Together, united in one voice, we can make change happen!
------------------**************************************************************-------------------
As I stated before, Antonio is gone. Therefore, what justice can be attained for him? None. But his son Josiah who's four, is still here. Angelique who's 10 is still here. Myself, and others, who were touched by Antonio's presence in our lives are still here. And we, as a community who has been hurt by being lied to, abused, and violated as members of this community, are still here!
Accordingly, we have the following demands:
ONE - We demand the immediate and unpaid suspension from duty of UPD Officers Mike Santos, and Frits van der Hoek for the duration of the investigation and their inevitable prosecution, instead of the two week paid administrative vacation called "leave" that they took after murdering Antonio, only to return to duty and armed harassment. And that they refrain from remarks or boasting about this tragedy being a justified homicide!
This only leads the community to believe that the justice system and law enforcement agencies are corrupt and lack integrity and honesty. How can this community build trust and believe in fair investigations and disciplinary action taken against officers, when they have failed to provide even the briefest of justice and not just excuse but reward cops to get away with murder. We encourage students and community members to petition and file grievances for the removal of these officers from their positions.
TWO - We demand that the Santa Clara County DA's Office immediately suspend the hiring of and rescind the job offer to Frits van de Hoek. The silence, and complicity of Officer Van der Hoek in the murder of Antonio displays a deficit in character and ethics of such grim proportions that he should not be a peace officer, let alone an officer of the court, and most definitely not someone tasked with the serving the public interest, which he clearly has failed to do. We encourage you, as we shall be doing, to file a professional grievance with the bar association, and the District Attorney's Office.
THREE - We demand that the same District Attorney's office immediately arrest and prosecute Officer Frits van der Hoek, and Officer Mike Santos, for the charge of conspiracy and murder respectively. They are innocent until proven guilty. They had body cameras so they should have nothing to fear. Only the transparency of trial will prove out whether they are guilty or not. At present, the complete lack of transparency in the current investigation, and the overlapping conflict of interest between the departments further damages the public trust in Law Enforcement, and the Office of the District Attorney, not to mention the reputation of San Jose State University. Clearly, a full trial of the officers is necessary.
FOUR - We demand that the CSU System and San Jose State University immediately terminate, Frits van de Hoek, Mike Santos, Chief of Police Peter Decena and President Mohammad Qayoumi all of whom have contributed to misrepresenting what has happened in this case, served to distort the public good, and actively conspired to cover up police murder. The fact that such a thing should ever occur is a testament to their lack of professionalism and absence of ethics. President Qayoumi, called Van der Hoek and Santos, "heroes" for murdering an innocent man. We think such statements says more than enough about the bias, and lack of consideration he possesses.
FIVE - We call out to witnesses who have yet to come forward, or that have evidence such as video to put it up onto YouTube, or to contact Justice For Josiah by email at:
justice4josiah [at] riseup.net
or calling 408-890-6723
We also call out to all the organizations, families, and victims concerned with police brutality, harassment or police murder to contact us and join us to commence the difficult task of building a mass movement to change the lethal situation in which we are all living in. To "Take Back San Jose" this May 1st in defense of our community.
SIX - We ask that the students and community get directly involved in the oversight of the San Jose State UPD. UPD's gross negligence and lack of professionalism has created a hostile environment in which criminal behavior is rewarded and mediocrity is accepted. San Jose State University is the home of the very first undergraduate and graduate program in the nation for Police professionals. It cultivates either excellence, or it doesn't. At present, it doesn't.
SEVEN - I am informing you now that we will be approaching the Mexican Consulate to petition for a Federal Civil Rights Investigation into the murder of Mexican Citizen Antonio Guzman Lopez. The Mexican Government must place pressure on the City of San Jose, the District Attorney's Office of Santa Clara County, San Jose State University, and the Department of Justice. If the government does not do so, they will be failing to fulfill their obligations to their citizenry, and to protect their foreign nationals who have rights guaranteed to them by the law of nations.
------------------**************************************************************-------------------
The "Justice For Josiah" poster is based upon a photograph of Josiah kissing his fathers picture, taken at a memorial alter set up at the site of his father murder. On April 2nd, some ill intended person removed the entirety of the memorial, just after it had been restored and replenished by Antonio Lopez's family.
We are 100% volunteer and depend on your participation to sustain our efforts!
Get Involved
If you'd like to help with maintaining or developing the website, contact us.