From the Open-Publishing Calendar
From the Open-Publishing Newswire
Indybay Feature
Related Categories:

California | Central Valley | Labor & Workers
Trona, Bloody Trona
A book review by Mike Rhodes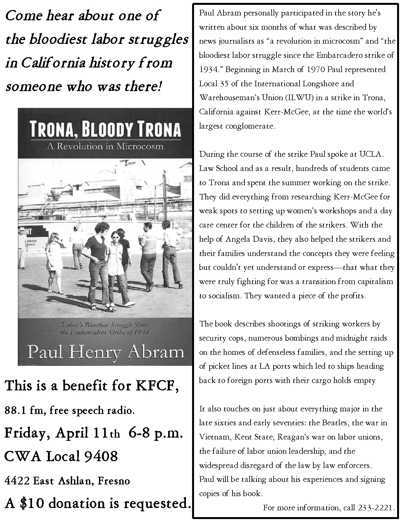 I have meet a lot of lawyers who work on social and economic justice issues but have never met one quite like Paul Henry Abram. I look forward to his visit to Fresno on Friday, when he will appear in a benefit for listener sponsored radio station KFCF (see details below). Abram has written an extraordinary account of his experience representing the union members in ILWU local 35 who were on strike in Trona Ca in 1970. Most lawyers are more cautious (some would say conservative) than the activists they represent, but Abram gains the trust of the workers by being as militant as they are and willing to share the risks needed to win.
In the first couple of days after Abram arrives in Trona, he describes scenes that are neither conservative or nonviolent. The subtitle of the book is "A Revolution in Microcosm." The strike against the Kerr-McGee plant in the Mohave Desert saw the workers and their legal counsel cutting electrical power to the plant, dynamiting communications systems, and "kidnaping" scab employees. I kept thinking, as I read these accounts, that it is good the statute of limitations has expired on these remarkable actions. The kidnaping charges, which Abram claims were all a big misunderstanding, were resolved in court - you will have to read the book to see what the judge and jury decided.
I loved the scene where the trial for some of the workers was about to begin and Mr. Tiny Fair, Constable of the Trona Justice Court and Head of Security for Kerr McGee was called to the stand and asked about his job of sending Jury Duty subpoena's to registered voters. Mr. Fair said that he did not send jury duty notices to everyone, "what I do is I go through each of the names and I only have a subpoena made up and delivered to those persons that I know from experience will be fair." What a priceless admission in open court!
The book takes you into the heart of what is probably the most violent labor action since the San Francisco General Strike in 1934. You are Abrams special guest on this wild ride when hundreds of workers stand up against this greedy union busting corporation. With the town sheriff, prosecutors and local judges in the hip pocket of the corporation, it is remarkable to witness the skill that Abram uses as he not only defends the workers in court but is instrumental in keeping morale up on the picket line and in the union hall.
When Abram himself is abducted by the lawless thugs that claim to represent law enforcement, it looked like his doom was near and that he would end up at the bottom of a mine shaft. Being thrown around in the back of a car going 120 miles an hour did not look good for the worker's lawyer, but somehow this story did not end up getting written by Abram's ghost.
Along the way you will run into some super stars on the left (like Angela Davis and Jane Fonda) that Abram worked with during this adventure. He also helped organize students, anti war, and environmental justice activists to help in the cause. The transformation of the students, workers, and women who struggled together in this labor dispute in Trona is as inspiring as it is moving. It is clear that Abram was moved by this experience and we are all richer for his sharing the experience with us.
***
This is from the
http://www.kfcf.org
website:
Friday, April 11 2014
6 p.m.
Come hear the previously untold story of one of the bloodiest labor struggles in California history since the 1934 general strike. Paul Abram, an attorney who represented the ILWU Local 35 in its fight against the Kerr-McGee Corporation in Trona, California in 1970 will be speaking from 6-8 p.m. at the CWA Union Hall at 4422 E. Ashlan, in Fresno. Paul will read from his new book, "Trona, Bloody Trona," Copies of his book will be available for signing. A $10 admission donation is requested and all proceeds benefit KFCF 88.1 FM, free speech radio for Central California.
We are 100% volunteer and depend on your participation to sustain our efforts!
Get Involved
If you'd like to help with maintaining or developing the website, contact us.