From the Open-Publishing Calendar
From the Open-Publishing Newswire
Indybay Feature
Oil lobby spent $56.63 million in Sacramento over past five years
For the oil industry, $56.63 million is mere pocket change. Big Oil's Estimated profits in 2014 to date are $22,897,723,000.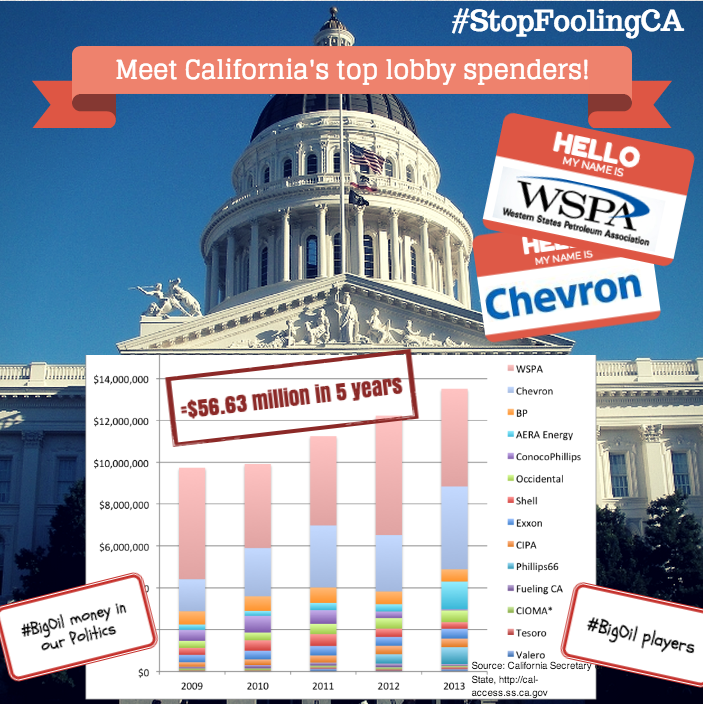 Oil lobby spent $56.63 million in Sacramento over past five years
by Dan Bacher
A new chart released by Stop Fooling California reveals that the oil industry, including the Western States Petroleum Association, Chevron, BP and other oil companies, spent $56.63 million on lobbying at the State Capitol in the five years from 2009 through 2013.
"It's enough to spend $471,000 on each California Senator and Assemblymember," according to
http://www.stopfoolingca.org
, an online and social media public education and awareness campaign that highlights oil companies' efforts to mislead and confuse Californians. "It's enough to buy a gallon of $4 gas for every household in California. It's a lot of lobster dinners."
The Western States Petroleum Association (WSPA), headed by President Catherine Reheis-Boyd, the former Chair of the Marine Life Protection Act (MLPA) Initiative Blue Ribbon Task Force to create so-called "marine protected areas" in Southern California, is the most powerful corporate lobbying organization in Sacramento.
The organization is so powerful that its President was able to oversee the implementation of "marine protected areas" that fail to protect the ocean from fracking, oil drilling, pollution, military testing, corporate aquaculture and all human impacts other than sustainable fishing and gathering.
The organization spent over $4.67 million, more than any other interest group, while lobbying state government in 2013, according to data released by the Secretary State's Office and compiled by the Capitol Morning Report.
Reheis-Boyd led the successful campaign last year by the oil industry to defeat all one bill to ban or regulate the environmentally destructive practice of fracking. The oil industry added last minute amendments to Senator Fran Pavley's already weak legislation to regulate fracking in California, Senate Bill 4, last September, making an already terrible bill even worse. Governor Jerry Brown signed the legislation, dubbed by environmentalists the "green light for fracking" bill, on September 20.
The San Ramon-based Chevron Corporation, a company known for environmental destruction across the globe, and its subsidiaries spent $3.95 million, the third most spent by any group on lobbying state government in 2013.
A report released last year by the American Lung Association revealed that the oil industry lobby spent $45.4 million in the state in just the period between January 1, 2009 and June 30, 2013. The Western States Petroleum Association (WSPA) had spent over $20 million in that period to lobby legislators. (
http://blog.center4tobaccopolicy.org/oil-lobbying-in-california
) Oil and gas companies spend more than $100 million a year to buy access to lawmakers in Washington and Sacramento.
For the oil industry, all of this money is mere pocket change. Big Oil's estimated profits in 2014 to date are $22,897,723,000, based on information from the Center for American Progress.
The 2013 profit totals for the big five oil companies combined —BP, Chevron, ConocoPhillips, Exxon Mobil, and Shell - were $93 billion, or $177,000 per minute. (
http://www.americanprogress.org/issues/green/news/2014/02/10/83879/with-only-93-billion-in-profits-the-big-five-oil-companies-demand-to-keep-tax-breaks/
)
"Chevron and oil lobbyists like the Western States Petroleum Association use their influence to roll back California's popular clean air and energy laws. All to protect their profits and monopoly," Stop Fooling California said.
The group urged people to tell Chevron and WSPA that "enough is enough! And $56 million is too much to change the laws that Californians want."
The release of the chart takes place as the arrests of three State Senators on criminal charges in recent months have put the spotlight on corruption and influence peddling at the State Capitol. The State Senate voted on Friday to suspend Senators Leland Yee, Ron Calderon and Rod Wright, who are being prosecuted in separate criminal cases, after Yee refused to resign. Yee was arrested on federal charges of accepting bribes and coordinating an international gun-running operation, revealed in an affidavit that read like a bizarre crime novel. (
http://sacramento.cbslocal.com/2014/03/28/california-senate-votes-to-suspend-leland-yee/
)
While the mainstream media has focused on the latest political scandal at the Capitol, they have failed to adequately cover the much greater and more destructive scandal of the oil industry's enormous influence over the Legislature and the Governor's Office.
They also refuse to report on one of the biggest political scandals in California history - the chairing of a state panel, supposedly designed to create "marine protected areas" in Southern California, by the President of the Western States Petroleum Association. Nor have they covered her "service" on the state "marine protected area" panels for the Central Coast, North Central Coast and North Coast or on a federal marine protected areas panel. (
http://www.counterpunch.org/2014/03/28/big-oil-lobbyist-serves-on-federal-marine-protected-areas-panel/
)
As the oil industry plans the expansion of fracking under Senate Bill 4, Governor Jerry Brown is fast tracking the Bay Delta Conservation Plan (BDCP) to build the peripheral tunnels.The proposed tunnels would divert Sacramento River water for use by corporate agribusiness interests, Southern California water agencies and oil companies expanding fracking and steam injection operations. The construction of the twin tunnels would hasten the extinction of Central Valley salmon, Delta and longfin smelt, green sturgeon and other fish species, as well as imperil salmon and steelhead populations on the Trinity and Klamath rivers.
Restore the Delta and Food and Water Watch revealed on March 4 that much of the area that the oil industry could frack for oil and natural gas in California is located in and near toxic, drainage-impaired land farmed by corporate agribusiness interests on the west side of the San Joaquin Valley. (
http://www.indybay.org/newsitems/2014/03/05/18751984.php
)
To sign a petition urging Governor Jerry Brown to ban fracking in California, go to the Food and Water Watch action alert:
https://secure3.convio.net/fww/site/Advocacy?cmd=display&page=UserAction&id=193
We are 100% volunteer and depend on your participation to sustain our efforts!
Get Involved
If you'd like to help with maintaining or developing the website, contact us.