From the Open-Publishing Calendar
From the Open-Publishing Newswire
Indybay Feature
Defend our Homes From Evictions, Defend our Lives From Police Terror (PDF)
Informational flyer passed out at the 'Justice for Alex Nieto' march in San Francisco on Saturday, March 29th, drawing a connection between police terror, gentrification, racism, and capitalism.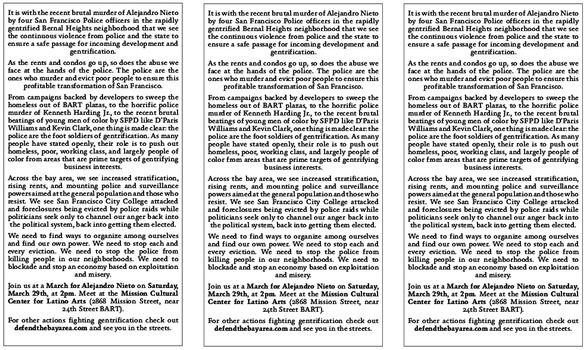 Defend our Homes From Evictions
Defend our Lives From Police Terror
It is with the recent brutal murder of Alejandro Nieto by four San Francisco Police officers in the rapidly gentrified Bernal Heights neighborhood that we see the continuous violence from police and the state to ensure a safe passage for incoming development and gentrification.
As the rents and condos go up, so does the abuse we face at the hands of the police. The police are the ones who murder and evict poor people to ensure this profitable transformation of San Francisco.
From campaigns backed by developers to sweep the homeless out of BART plazas, to the horrific police murder of Kenneth Harding Jr., to the recent brutal beatings of young men of color by SFPD like D'Paris Williams and Kevin Clark, one thing is made clear: the police are the foot soldiers of gentrification. As many people have stated openly, their role is to push out homeless, poor, working class, and largely people of color from areas that are prime targets of gentrifying business interests.
Across the bay area, we see increased stratification, rising rents, and mounting police and surveillance powers aimed at the general population and those who resist. We see San Francisco City College attacked and foreclosures being evicted by police raids while politicians seek only to channel our anger back into the political system, back into getting them elected. We need to find ways to organize among ourselves and find our own power. We need to stop each and every eviction. We need to stop the police from killing people in our neighborhoods. We need to blockade and stop an economy based on exploitation and misery.
For other actions fighting gentrification check out defendthebayarea.org and see you in the streets.
Embedded image permalinkDefiende Nuestros Hogares De Los Desalojos
Defiende La Vida Del Terror Policial
El asesinato brutal de Alejandro Nieto por cuatro oficiales policiales en el barrio de Bernal Heights demuestra la violencia continua de la policía y el estado para asegurar una pasaje comodo para los procesos de urbanización y el aburguesamiento hacia nuestras comunidades.
Cuando contruyen nuevos condominios y aumentan nuestras tambien experimentamos más abuso a manos de la policía. Ellos son los que matan y desalojan a los pobre para asegurar esta transformación lucrativa de San Francisco.
Lo que podemos concluir de campañas para erradicar la gente sin hogar en las plazas de BART apoyadas por desarolladores urbanos, el horroroso asesinato de Kenneth Harding, y las palizas brutales de D'Paris Williams y Kevin Clark, es que la policia es la infantería del aburguesamiento. Asi como muchos han dicho: el deber de la policia es empujar a los obreros, la gente sin
hogar, y la gente que no es gringa fuera de los vecindarios mas deseados por los promotores inmobilarios.
En toda la area de la bahía vemos una mayor estratificación, el aumento de los alquileres, y los poderes de policía y vigilancia dirigidas a la población general y a los que luchan contra estas transformaciones. Mientras nuestros colegios son atacados y nuestros vecinos son desalojados los políticos solo quieren manejar nuestra rabia hacia el sistema politico para asegurar sus votos electorales.
Tenemos que organizarnos y encontrar nuestro propio poder para luchar. Tenemos que interrupir cada desalojo. No debemos dejar que la policía mate a más gente en nuestros barrios. Necesitamos bloquear y parar esta economia basada en nuestra explotación y miseria. Para mas informacion sobre acciones contra el aburguesamiento visite
http://www.defendthebayarea.org
y
nos vemos en la calle.
We are 100% volunteer and depend on your participation to sustain our efforts!
Get Involved
If you'd like to help with maintaining or developing the website, contact us.