From the Open-Publishing Calendar
From the Open-Publishing Newswire
Indybay Feature
Human Rights Advocates Testify before Human Rights Commission on Stand Your Ground Laws
(Washington, DC) - In an ongoing effort to raise awareness about the impact of stand your ground laws on communities of color, human rights advocates presented testimony (see PDF) before the Inter-American Human Rights Committee (IACHR) in Washington, DC. Advocates included Sybrina Fulton, the mother of slain teen Trayvon Martin, and Ron Davis, father of slain teen Jordan Davis, along with representatives from Free Marissa Now, Florida Legal Services, the NAACP, Dream Defenders and the University of Miami School of Law Human Rights Clinic.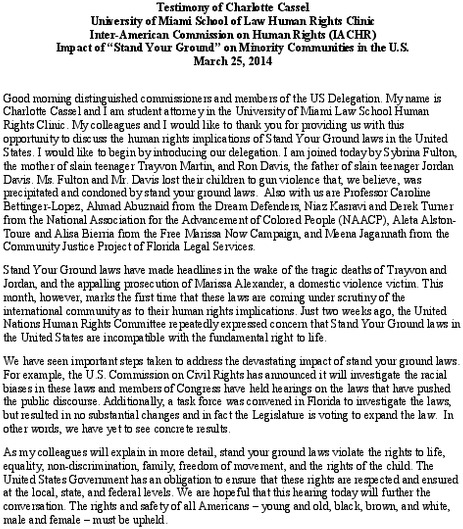 "'Stand Your Ground' is not just a statewide or national problem, it is a problem worldwide," stated Davis after the hearing.
"How many of our teenagers have to walk home from the store, the park, or school and have to worry now about someone perceiving them to be a criminal. How many parents now are concerned about their minors just making it home," stated Fulton in her testimony.
"The NAACP is staunchly opposed to "Stand Your Ground" laws," stated Dr. Niaz Kasravi, NAACP Criminal Justice Director. "They are applied in a racially biased manner, they do not deter crime, and the bottom line is -- as we saw in numerous cases in FL -- they make it easier for people to murder other human beings and not face any legal consequence."
"Today's hearing demonstrated that the international community is focused on the human rights implications of stand your ground laws," stated Caroline Bettinger-López
Associate Professor of Clinical Legal Education Director, Human Rights Clinic. "These laws violate the rights to life, equality, non-discrimination, family, freedom of movement, and the rights of the child. The United States Government has an obligation to ensure that these rights are respected and ensured at the local, state, and federal levels."
Representatives from the U.S. government responded to the panel of advocates indicating that the US Commission of Civil Rights was developing a report on stand your ground laws. However, they were unable to indicate what concrete steps the federal government would take to address the laws in the states.
The Commission thanked the advocates for bringing this important issue before them.
"We are honored to host this hearing on a subject of great importance," stated Commissioner Rose-Marie Belle Antoine."
The IACHR hearing comes on the heels of the UN Human Rights Committee's review of U.S. compliance with the International Covenant on Civil and Political Rights (ICCPR), where a committee member stated "stand your ground laws are incompatible with ICCPR Covenant Article 6 providing an inherent right to life."
Watch the full hearing here:
http://youtu.be/X0EV8Rbpg2s
###
Founded in 1909, the NAACP is the nation's oldest and largest nonpartisan civil rights organization. Its members throughout the United States and the world are the premier advocates for civil rights in their communities.
March 27, 2014
http://www.naacp.org/press/entry/human-rights-advocates-testify-before-human-rights-commission-on-stand-your
http://www.naacp.org/
We are 100% volunteer and depend on your participation to sustain our efforts!
Get Involved
If you'd like to help with maintaining or developing the website, contact us.