Friday, April 11 - Santa Cruz, CA
original theatre examining crime,
punishment and redemption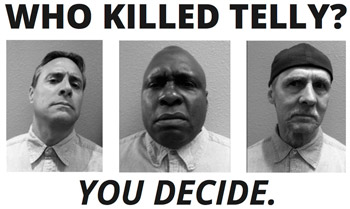 An interactive murder mystery that puts audiences in prison and asks them to decide which of three men killed Telly, an inmate who worked in the kitchen. There are three possible endings, depending on how the audience votes.
IN THE KITCHEN WITH A KNIFE is written by Deborah Tobola and Dylan O'Harra, and directed by Leslie Carson
Appropriate for 13 yrs+ due to language.

Poetic Justice Project advances social justice by engaging formerly incarcerated youth and adults in arts education, mentoring and the creation of original theatre examining crime, punishment and redemption
Friday, April 11, 7:00 - 9:00 PM
Calvary Episcopal Church- 532 Center St, Santa Cruz, CA