From the Open-Publishing Calendar
From the Open-Publishing Newswire
Indybay Feature
Students End Hahn Occupation
Students at UC Santa Cruz left the Hahn student services building today after occupying it for nearly 18 hours. Approximately 30 students decided as a group to leave; all of them were undergraduates. Before exiting the building they cleaned the area they occupied and then sang songs of solidarity and protest. The occupation was in support of UC workers and in continued opposition to the appointment of Janet Napolitano as president of the University of California system.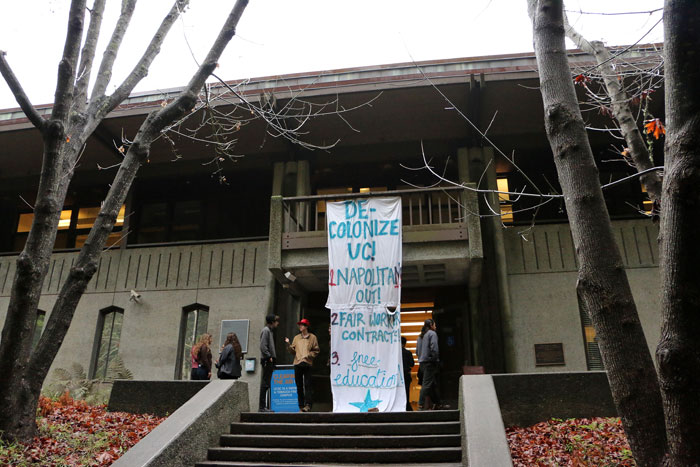 At 6am, approximately eleven police officers arrived on the scene. All but two of them left, however, as students spent some time deciding how to proceed with the occupation. The earliest public counters in the student services building open at 8am, and though workers arrived and entered the offices, they didn't unlock the doors that open out to the Registrar's counters. Students were never told by the administration to leave, or that they were trespassing, but at 6:30am a UC administrator informed them that they were in the building at a time when it was not open to the "public".
After some discussions, students decided to leave Hahn on their own terms. As they were leaving, shortly before 9am, they chanted "We'll be back!"
All the group left at the protest location were modest paper signs placed on the restroom doors which re-designated the spaces as gender neutral.
Within minutes of the students' departure, a unionized AFSCME worker arrived to do some light cleaning in the wake of the occupation. When asked if he supported their demonstration, he replied warmly, "Of course I do!"
For a list of demands the students made, see:
UCSC Students Shut Down Registrar, Occupy Hahn Building
http://www.indybay.org/newsitems/2014/03/05/18752052.php
Alex Darocy
http://alexdarocy.blogspot.com/
Union Solidarity Song
Singing in the Hahn building