From the Open-Publishing Calendar
From the Open-Publishing Newswire
Indybay Feature
Belarus: President Lukashenko Vows to Prevent a Coup Similar to Ukraine
[Photo: May 2, 2012: Belarusian soldiers rehearsing for the Victory Day parade in central Minsk, Belarus. This is a celebration of the USSR's victory over Nazi Germany. 2.2 million Belarusians were murdered by the Nazi occupiers, including most of Belarus's Jews. Today, among the "democratic" reforms of the new neo-Nazi infested government of Ukraine is the legalization of the destruction of WW II memorials celebrating the heroes of WW II. Unlike U.S. allies in Kiev, the Belarusian deformed workers state continues to celebrate the USSR's victory over Nazi Germany. (Photo Credit: Vasily Fedosenko/Reuters)]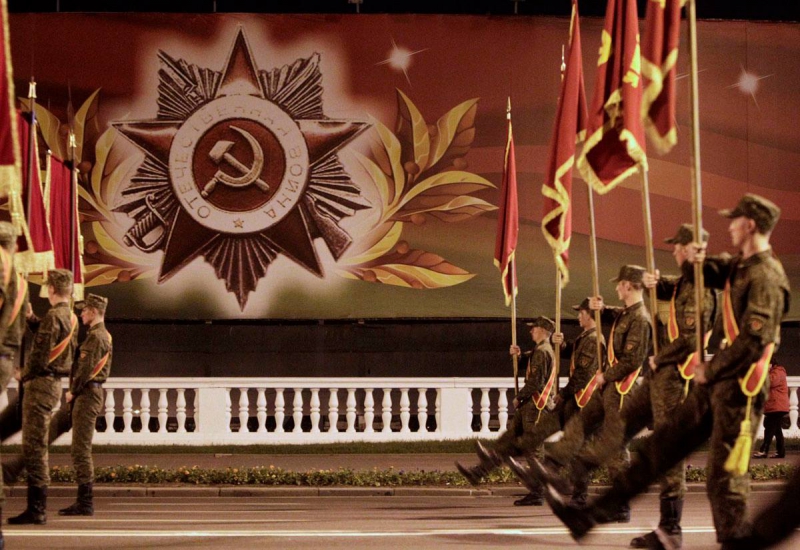 Belarus: President Lukashenko Vows to Prevent a Coup Similar to Ukraine
On February 22, 2014, a far right movement overthrew the elected government of Ukraine and seized power in Kiev. They did this with major U.S. and European Union sponsorship. Since taking power that movement has abolished the language rights of Hungarian, Romanian, Tatar, and Russian speaking minorities, banned political parties, announced their intention to ban abortion, given neo-Nazis important positions in the new government, and announced their intention to carry out extreme austerity as demanded by the IMF as a condition for membership in the European Union
In the wake of the U.S. engineered coup in Ukraine, Belorussian President Alexander Lukashenko reflected on the tragedy saying:
"Our military will carry out duty and tasks to maintain peace and stability in the country. We should not lose vigilance here. We should learn from other people's mistakes and prevent even the slightest manifestations of instability in our country."
Unlike Ukraine, Belarus is a deformed workers state that continues to maintain a planned socialist economy. With the capitalist counterrevolution in the USSR, Ukraine did the same as Russia in imposing a devastating capitalist economy that caused the standard of living of the working class to decline dramatically by every measurable standard, including life expectancy. In Ukraine with the capitalist counterrevolution wages were cut and unemployment went from zero to 41%.
In socialist Belarus most of the economy remains in public hands.
Despite economic problems since the end of the Soviet Union, unemployment remains officially under 1%, at 0.6%. As in the United States, real unemployment is far higher than official figures, but is still lower than in Belorussia's capitalist neighbors. In 2009 an official census found 6.1% of the population identify themselves as unemployed, so this is a far more realistic figure. That is still far better than capitalist Ukraine.
In Belarus education remains a well funded state priority which is free at all levels including higher education.
Belarusian healthcare is also free and state owned with infant mortality lower than the United States' 6 per thousand live births, at 3.9 per thousand live births in Ukraine instead.
So far, Belarus has avoided privatization. Unfortunately, President Lukashenko laid out plans for privatization in his May 8, 2012 state of the union address. Fortunately, though, he isn't allowing the wholesale plundering of the economy as has happened in the other republics of the former USSR that have destroyed their socialist economies. In fact, as he points out, he requires the permission from the workers collective involved for privatization to proceed:
"In order to privatize an enterprise, a prospective buyer should go not to the president but to the enterprise, and it is the work collective that has to decide whether or not privatization will take place. Then the deal must be approved by local authorities, then departmental officials and then by the government which only after considering all pros and cons can submit it to the president."
Of course then, workers are likely to decide against turning their enterprises over to capitalist exploiters.
The breakup of the Soviet Union has also hurt the economy of Belarus. This has not hurt Belarus as badly as the neighboring republics that restored capitalism. Yet, the lack of local socialist trading partners and the lack of a wider planned socialist economy caused an economic crisis after the breakup of the USSR that has continued. In addition, the imposition of imperialist economic sanctions by the US and EU has compounded the problem. This has put Belarus in a position of looking for help from the IMF, Russia, and China.
Belarus has tried to turn to the IMF for help, but the IMF has demanded privatization in return. In response, President Lukashinko said that Belarus rejects the capitalist shock therapy imposed on their neighbors in the 1990's and further stressed:
"Our economic potential and current conditions won't let reckless experiments, which will negatively affect the welfare of the population. The policy of our state has always been serving the people, and no one may deviate from this principle."
In contrast, the imperialist backed coup government in Ukraine is offering no such protections. While capitalism has already devastated Ukraine, the U.S. engineered coup in Ukraine now promises even worse as the new government in Ukraine seeks to impose increased austerity on the working class, including a 40% increase in the price of heating fuel (a change that will kill people in the cold of winter).
Russia and China have provided credit for Belarus without the imperialist meddling in Belarus's economy as is demanded by the IMF.
It is this lack of privatization that has put President Lukashenko in the crosshairs of U.S. imperialism. In the 2006 elections, when the heavily western backed candidate, Alexander Milinkevich, won only 6% of the vote against President Lukashenko's 83%, the European Union and the United States instituted economic sanctions and a travel ban against Belarus. Any time the imperialist backed candidates lose, anywhere in the world, the imperialists declare the government undemocratic. Of course the problems the imperialists have with President Lukashenko is not the lack of democracy, the U.S. supports the worst dictators in the world from Saudi Arabia to Egypt. The real cause of U.S. imperialist problems with Belarus is Belorussia's planned socialist economy and a lack of privatization to open the economy up to capitalist exploitation.
In 2011, Obama deepened the economic sanctions against Belarus for the government's crackdown on imperialist backed dissidents. Even if what Obama was backing was a just cause, economic sanctions only hurt the people and are a terrible form of collective punishment.
While Leninist-Trotskyists oppose economic sanctions and defend the socialist economy of Belarus from imperialist attacks and internal capitalist counterrevolution, we see big problems with President Lukashenko. While measures are needed to suppress imperialist influence and internal capitalist counterrevolution, Lukashinko also has high motivation to silence criticism of his own corruption. While the legalized corruption of President Lukashenko's presidency is far lower than that which exists under capitalist systems, with capitalists in places like the United States raking in billions from the exploitation of workers and the environment and buying governments, President Lukashenko's privileges are still astounding. Among Lukashenko's privileges is his own private jet. His purchase of that $125-160 million jet caused his popularity to drop from 53% approval to 20% approval in 2011.
Like Cuba, North Korea, Vietnam, China, and Laos, Leninist-Trotskyists stand in defense of the Belarusian deformed workers state from imperialist attack and internal capitalist counterrevolution. We support the right of President Lukashinko to suppress imperialist financed NGOs and other imperialist financed political organizations as a means of defending Belarus's national sovereignty. Yet, there are real violations of workers democratic rights in Belarus that are intended to protect the bureaucratic privileges of those who rule. As a result, Leninist-Trotskyists advocate a program of political revolution that overthrows the ruling Stalinist bureaucracy and ends the material privileges of Belarus's ruling bureaucracy, bringing their income down to levels of the working class. In addition, we seek the institution of true workers democracy where competing tendencies of the working class have access to state media and the ability to organize while foreign backed bourgeois parties are banned.
With big limitations, Belarus is better off than its former Soviet neighbors due to its planned socialist economy. While defending that socialist economy, Leninist-Trotskyists fight for new socialist revolutions across the region that would restore socialist mutual aid between socialist republics and strengthen the ability of republics to exclude imperialist intervention. This would be somewhat similar to what the USSR was before Yeltsin's 1991 capitalist counterrevolution, except we fight for a political system with true workers' rights and democracy where the working class really does have the power in a system of democratic communism. Likewise, we fight for an end to imperialist intervention in the east.
End U.S. and E.U. Imperialist Economic Sanctions against Belarus!
-Steven Argue of the Revolutionary Tendency
This is an article of Liberation News, subscribe free:
https://lists.riseup.net/www/info/liberation_news
Also from this author, see:
Why The Russian Revolution is Still Important
http://www.indybay.org/newsitems/2012/03/03/18708611.php
Syria: As Rebels Escalate Genocide Against Kurds, Obama Prepares Air Strikes to Bring Them to Power
http://www.indybay.org/newsitems/2013/08/31/18742429.php
For Women's Liberation through Socialist Revolution!
http://www.indybay.org/newsitems/2013/03/08/18733326.php
We are 100% volunteer and depend on your participation to sustain our efforts!
Get Involved
If you'd like to help with maintaining or developing the website, contact us.