From the Open-Publishing Calendar
From the Open-Publishing Newswire
Indybay Feature
Related Categories:

North Bay / Marin | Animal Liberation
Settlement of False Advertising Lawsuit Against Bay Area Egg Producer
OAKLAND, Calif.: The Cotati, Calif.-based national nonprofit Animal Legal Defense Fund (ALDF) announces the settlement of a false-advertising lawsuit against Defendant Steven Mahrt, doing business as Petaluma Farms and owner of Judy's Family Farm Organic Eggs ("Judy's Eggs"). The lawsuit alleges that imagery and statements used on Judy's Eggs packaging led consumers to mistakenly believe the eggs came from hens with significant outdoor access. The lawsuit also alleges that consumers bought Judy's Eggs because of these representations. Petaluma Farms has denied all allegations and has asserted several defenses.
After several months of litigation and extensive negotiations, the parties agreed to settle the lawsuit on an individual basis rather than as a class action. The settlement agreement provides consumers with most of the relief sought in the complaint such as a change to advertising practices.
As a result of the settlement, and without admitting wrongdoing, Petaluma Farms has (1) agreed to modify the packaging by removing the illustration of hens on a green field and removing the language that Plaintiff alleged could lead consumers to mistakenly believe the eggs come from hens with significant outdoor access, (2) obtained Certified Humane certification (which includes a minimum animal welfare requirements) without changes to its facilities, (3) agreed to donate $14,666.67 to Sonoma Humane Society for hen rescue efforts, $14,666.67 to the Public Justice Foundation to provide assistance to the victims of consumer fraud and false advertising, and $14,666.66 to Consumer Action to provide assistance to the victims of consumer fraud and false advertising. Petaluma Farms will also provide $1,000 compensation to Plaintiff Glover in lieu of any recovery to which she would have been entitled had she prevailed in this action through class-certification and trial, and pay some of the attorney fees Plaintiff's counsel incurred to prosecute this lawsuit.
This settlement and release of claims is limited to the individual parties to the lawsuit and does not bind any other Judy's Eggs purchasers who may have been members of the proposed class. Although the Certified Humane certification, changes to the Judy's Eggs advertising, and donations to the Sonoma Humane Society, Public Justice Foundation, and Consumer Action provide significant benefits to members of the proposed class and to the public at large, the release of claims does not extend to (and does not bind) members of the proposed class, who will retain all of their pre-existing legal rights.
Copies of the lawsuit are available by request.
February 5, 2014
http://aldf.org/press-room/press-releases/aldf-announces-settlement-of-false-advertising-lawsuit-against-bay-area-egg-producer/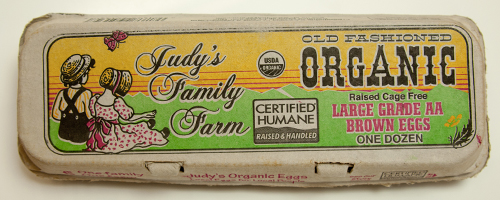 Judy's Family Farm Eggs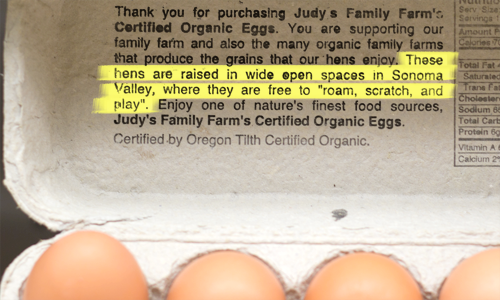 The original packaging claimed that hens can "roam, scratch, and play" in wide open spaces.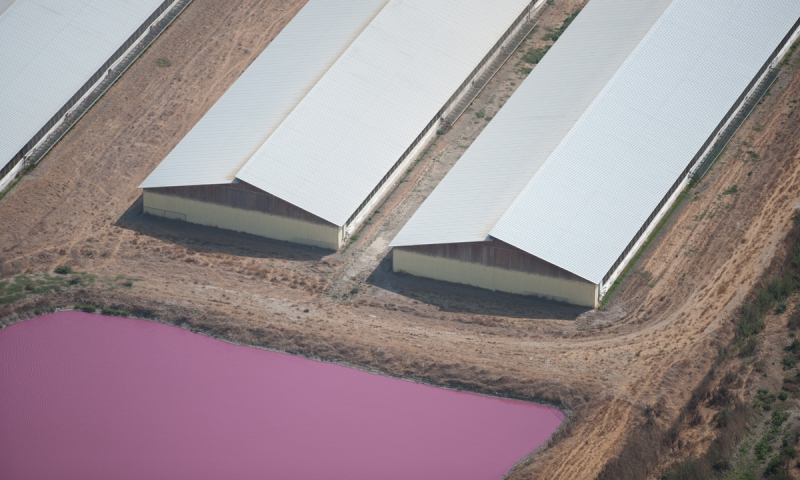 Hen sheds at Petaluma Egg Farm
We are 100% volunteer and depend on your participation to sustain our efforts!
Get Involved
If you'd like to help with maintaining or developing the website, contact us.