From the Open-Publishing Calendar
From the Open-Publishing Newswire
Indybay Feature
SF Civil Service Commission-Speak Out-Stop The Bullying, Sex Discrimination & Retaliat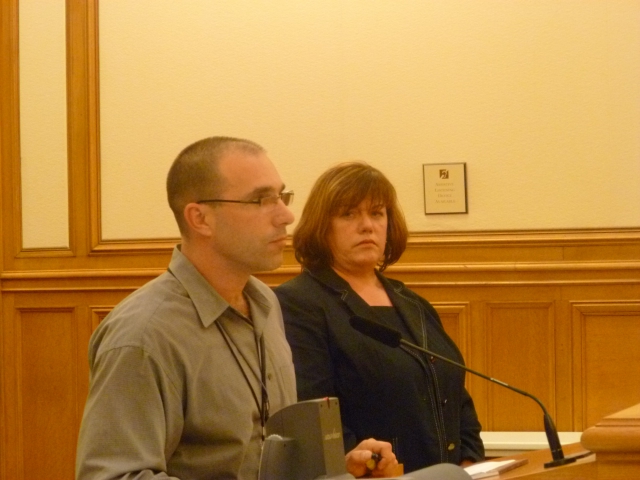 Import event into your personal calendar
Date:
Monday, February 03, 2014
Time:
Event Type:
Other
Organizer/Author:
United Public Workers For Action
Location Details:
San Francisco City Hall
San Francisco City Hall Room 400
---
San Francisco City SF curator Sonia Knudsen who is also a member of SEIU 1021 has been fighting sex discrimination for years. When she applied for a senior job she was retaliated against and has been bullied and harrassed by SFO managers and Micki Callahan who is SF Mayor Ed Lee's Director of Human Resources. Callahan has with the support of Mayor Ed Lee has bullied, harassed and fired SF city workers who have fought discrimination and have been whistleblowers against corruption and theft by managers in he city.
2/3 SF Civil Service Commission-Speak Out-Stop The Bullying, Sex Discrimination And Retaliation Against SEIU 1021 Member Sonia Knudsen & SF City Workers
The discrimination, bullying and workplace terrorism on the job HAS TO STOP NOW!
Monday February 3, 2014 2:00 PM
San Francisco City Hall
San Francisco City Hall Room 400
Come speak out about the epidemic of bullying, harassment, discrimination and retaliation against SEIU 1021 SFO Curator Sonia Knudsen. She has been bullied and harassed for years for fighting for an appointment to a senior position and being illegally passed over.
Mayor Ed Lee's Service Human Resources Director Micki Callahan has colluded with SFO managers to stall and stop any accountability for the systemic discrimination and bullying by Knudsen's bosses.
Now is the time to speak out against this discrimination and also to let this San Francisco Civil Service Commission that discrimination, bullying and retaliation will not be tolerated in San Francisco.
Stand up and speak out for Sonia, yourself and all SF City Workers against bullying, sex discrimination and union busting
Endorsed By United Public Workers For Action
http://www.upwa.info
SFO & HRD Bosses Continue Sex Discrimination
Against SEIU 1021 Curator Sonya Knudsen
http://www.youtube.com/watch?v=baO4AFL4PJI&feature=youtu.be
SFO & HRD Bosses Continue Sex Discrimination Against SEIU 1021 Curator Sonya Knudsen
Stop SFO Sex Discrimination Against SFO SEIU 1021 Art Curator Sonya Knudsen
The SFO management and SF Department Of Human Resources were charged with
allowing continued sex discrimination against SFO Curator Sonya Knudsen who is
a member of SEIU 1021. At the San Francisco Civil Service Commission city
workers and advocates for public workers are also accused of allowing retaliation
against her for filing a sex discrimination complaint. Other city workers including
IFPTE Local 21 members talked about the systemic violation of worker rights
including harassment and intimidation by a SF Human Resources Department
executive and former SEIU union official Micki Callahan.
For more information got to United Public Workers For Action
http://www.upwa.info
SFO boss, city sued over gender discrimination
http://abclocal.go.com/kgo/story?section=news/local/san_francisco&id=8628534
Thursday, April 19, 2012
Vic Lee
More: Bio, E-mail, Facebook, Twitter, News Team
SAN FRANCISCO (KGO) -- A longtime female worker at San Francisco International Airport is suing the airport director and the city, saying she hasn't received promotions because she's a woman. And, her union says gender discrimination is rampant in city government.
Sonja Knudson says there is a glass ceiling at the airport for women who want the top jobs. The airport is part of the city of San Francisco and the city has a merit system when they hire employees, a sort of testing process, that's supposed to find the most qualified candidate. Well, Knudson says she has lost faith in that system and that is why she's suing in federal court.
The annual Airport Equal Opportunity Report points out that in the museum department, females are notably underutilized. Knudson is a curator at the SFO museum, which features exhibitions throughout the airport. She says it's especially bad for women in upper management. "For a department of less than 30 people, there's been over 12 men promoted and hired, and I've stayed nowhere. I've gone nowhere," she told ABC7.
Knudson says in the past four years, she's been passed over three times for upper management jobs even though she was most qualified. In the first two rejections, she ranked number one for the civil service positions. The third time, she says the airport changed the job description to include a skill she didn't have. "And that way, it insured that the person they had in mind for that position would be selected," she said.
Knudson filed a discrimination complaint with the city, but says it went nowhere and instead, thrust her under the microscope and then retaliation. Even on Thursday, as ABC7 interviewed her in the museum, someone was recording the conversation with an iPhone from the balcony.
The SEIU, the union that represents city workers, stands behind Knudson in her lawsuit. They say her case is symptomatic of a larger problem of gender discrimination in city government, but victims, they say, are afraid to complain for fear of retaliation. "They're isolated. They have their job duties reduced, their job definement (sic) changed, and it sends a chilling effect to the rest of the employees in the city and county," SEIU Vice President Larry Bradshaw said.
Airport officials declined to comment, saying they have yet to see the suit. It was the same with the city attorney's office, which represents the airport in legal matters.
Added to the calendar on Sat, Jan 25, 2014 9:01AM
We are 100% volunteer and depend on your participation to sustain our efforts!
Get Involved
If you'd like to help with maintaining or developing the website, contact us.