From the Open-Publishing Calendar
From the Open-Publishing Newswire
Indybay Feature
Related Categories:

California | North Coast | U.S. | Environment & Forest Defense
Green Energy Refugees, Bottled Water, And A New Class Of Landowners In America
Recycling of frac wastewater and decontamination of produced water is still a hopeful myth. Billions of dollars have been invested by companies expecting to profit on a timely and useful technology. But it's not happening. As reported in October, November, and December of 2013 there were only "recurring losses to other investors that sunk hundreds of millions of dollars into companies that promised to solve water concerns by treating water. Publicly traded targets including Nuverra Environmental Solutions Inc. (NES), GreenHunter Resources Inc. (GRH) and Aqua-Pure Ventures Inc. (AQE) which have all reported a succession of losses since 2011. Shares of the three companies have fallen an average 46 percent during the past 21 months.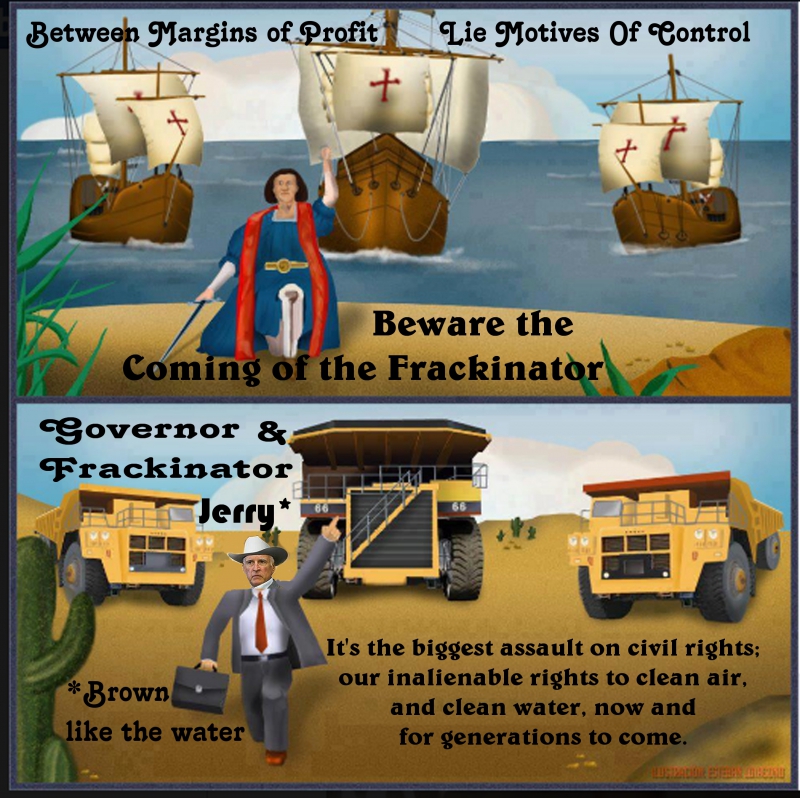 It's the biggest assault on private property rights ever
And they're supposed to be Conservatives? That's one of the founding principles of conservatism is private property rights.
It's the biggest assault on lands held in the Public Trust. And they're supposed to be Liberals?
One of the founding principles of liberal conservatism is the public commons.
It's the biggest assault on the environment and nature, and people's quality of life.
And it's supposed to be a 'green energy' and 'transitional bridge' energy, but to what?
It's also the biggest assault on civil rights:
1) Our inalienable rights to clean air, and clean water, now and for generations to come. These rights provide the basis for a healthy life and a pursuit of happiness. The quality of the air we breathe and the safe quality of surface waters, shallow aquifers, basin and sub-basin aquifers which influence the level of ecosystem functions and services which we then draw upon, and which sustain the landscape dynamics of farms and ranches, the environment surrounding peoples' homes, the natural world of flora and fauna, and the wildlife, are at risk.
2) Gag orders on Doctors and patients so no shared information is available to establish health trends within any proximity of Natural Gas Extraction, gag orders on neighborhood communities under 'forced pooling and unitization".
3) Green Energy Refugees, A New Class Of Landowner In America
Are you willing to allow your community to become a National Sacrifice Zone?
The Four Corners area of the Southwest has long been a National Sacrifice Zone.
Uranium and Coal Industry Usage Of SW Tribal Lands
The scandals and politics of Peabody Coal, selected Tribal Councils and 2 Mormon lawyers in the 1940's and 1950's determining water rights to rivers and surface mining claims, mineral rights and royalties led to the mid-80's evictions of Navajo and Hopi from ancestral lands. The radioactive releases to rivers (Rio Puerco) and contamination of aquifers, the documented increased infant birth defects, generational DNA damage, were all legalized for pennies on the dollar.
Most of South Dakota's aquifers are contaminated, some forever with uranium through disposal wells, exempt aquifers, and well failures over time.
South Dakota doesn't frac yet.
Between 1973 and October 28, 1993, a total of 3,327 releases of contaminants to the environment were reported to the Department of Environment and Natural Resources. To put this number of releases in perspective, there were only two reported releases in 1973 and only about 30 to 40 reported releases prior to 1982. The increase in the number of reported releases is attributed to the implementation of regulations and a greater public awareness of potential environmental problems. Of the 3,327 reported releases, 1,346 are still being investigated and/or cleaned up.
May 12, 2012 A law to invite frackers fails and is dropped after introduction in just 3 months.
"If oil and gas development came to northwestern South Dakota, hydraulic fracturing or fracking would come as well. And there's some debate in the public sector on the environmental and human health impacts surrounding this process."
http://www.bhpioneer.com/local_news/article_98a28112-9bb7-11e1-804e-0019bb2963f4.html
North Dakota, on the other has established under law, water co-ops which sell water to frackers from the Missouri River and nearby aquifers.
North Dakota Independents vs The State (Co-Op)
Who steals the most, sells the most. Energy companies get most of their water in the state by trucking it from depots to oil and natural gas wells. Some wells require more than 650 truckloads to frack.
Fracking Water Depots, which cost roughly $200,000 to build and can gross more than $700,000 per year, are typically small metal buildings on concrete slabs filled with pumps and small tanks connected to the Missouri River or local aquifers. They can have two to six hookups and fill water trucks with as much as 7,800 gallons of water per visit. Energy companies typically choose water depots closest to well sites to save on fuel costs. That has driven the building of even more water depots around the Bakken.
Some fear expansion by independents could jeopardize the State co-op's ability to pay off its debt. Using a complex Depression-era federal law known as 1926(b), co-op officials have been sending cease-and-desist letters to some confederation members throughout North Dakota.
They've also lobbied state officials, so far, unsuccessfully, to deny water permits to some independents. Despite the contentiousness the Independent Water Providers and the co-op are sticking with their plans. "We don't want to profit from the water, we want to profit by selling the infrastructure to deliver the water."
http://land-and-livestock.com/2013/01/09/fracking-in-south-dakota-what-landowners-should-know/
Stolen water and stolen dreams.
Sometimes it's hard to wake up just from breathing contaminated air.
Much Is Made Of Investment In Oilfield Water Management but;
recycling of wastewater and decontamination of produced water is still just a hopeful myth at the end of 2013.
"After two years searching for a blockbuster investment in oilfield water management, fund manager Judson Hill is still holding on to his money. Hill's NGP Energy Capital Management saw potential in what looked like a hot growth area in energy: treating and recycling the 21 billion barrels of wastewater flowing annually from U.S. oil and natural gas wells, particularly from shale. Instead, it found the market "too fragmented and too frothy," said Hill, a managing director at the private equity firm in Texas whose latest fund has invested $3.6 billion. It's not as though we look back and say, WOW, half the ones we passed on were just home runs. They weren't."
http://climatechangepsychology.blogspot.com/2013/12/oil-gas-methane-news-from-rjs.html
Fracking Bonanza Eludes Wastewater Recycling Investors
http://www.bloomberg.com/news/2013-11-26/fracking-bonanza-eludes-wastewater-recycling-investors.html
"Picking a winner in water treatment eludes even Schlumberger Ltd. (SLB), the world's largest oilfield services provider. Schlumberger jumped into water recycling years ago envisioning a fast-growing, vibrant new specialty."
"We've spent millions and millions of dollars evaluating virtually every available and reasonable-looking technology out there, always hoping we'd find the silver bullet, said Mark Kidder, who runs Schlumberger's oilfield water management unit. At this point, we found nothing."
As of October, November, and December of 2013 there were only "recurring losses to other investors that sunk hundreds of millions of dollars into companies that promised to solve water concerns by treating water. Publicly traded targets including Nuverra Environmental Solutions Inc. (NES), GreenHunter Resources Inc. (GRH) and Aqua-Pure Ventures Inc. (AQE) which have all reported a succession of losses since 2011. Shares of the three companies have fallen an average 46 percent during the past 21 months."
Of the $31 billion spent each year on managing water resources in U.S. and Canadian oilfields, $2.8 billion, or less than 10 percent, is spent on recycling, according to PacWest Consulting Partners LLC.
Besides recycling, another method of turning liability to profit is the 'beneficial use designation' under both California DTSC and California Water Law. No matter the name of the State in which unconventional gas reservoirs are fracked, there are a variety of methods employed to manage Shale Gas Extraction Wastewater (SGEW). These range from disposing of it (untreated) deep underground in injection wells, treatment as necessary to allow it to be re-used in other hydrofracturing procedures, and treating it to a degree necessary that it can be discharged to surface waters or surface evaporation ponds (pits).
Considerations have included that:
1) "It is desirable to identify a beneficial use for the concentrated salt solution, or brine, as well as the dried salt cake that may be produced by the various treatment processes. One apparent possible use is the application to roads as a winter de-icing agent."
"Brine from traditional oil and gas drilling has been used for years as a de-icing agent. There are also brine wells specifically for brine production. Traditional, in this sense, generally means drilling that does not use the hydraulic fracturing process (no chemical additives)."
"However, concern has been raised that the brine, or salt cake obtained from treated SGEW may contain trace amounts of chemicals from the hydrofracturing process as well as constituents dissolved in the produced water and brought to the surface by the gas extraction." "Research from the Bureau of Oil and Gas Management (PA) indicates that SGEW includes a high content of hazardous heavy metals, such as barium and strontium. There is also concern about radioactivity. The Marcellus Shale play is known to generally be more radioactive relative to other geologic formations."
2) "Of course, the radioactivity of deeply buried shale is of no concern. However, what is natural or normal at that depth is not natural on the surface of the ground and concern is being expressed about the radioactivity of products resulting from Marcellus Shale extraction. These previously buried materials are referred to as naturally occurring radioactive materials (NORMs). When materials containing NORMs are processed or refined, the radioactive material may become more concentrated to create technologically enhanced naturally occurring radioactive materials (TENORMs). The primary radionuclides of concern are Radium 226 (Uranium-238 decay series) and Radium 228 (Thorium-232 decay series). "
Excerpts From: Chemical Analysis Of Major Constituents And Trace Contaminants Of Rock Salt and SGEW salt (BUD) Bureau of Water Standards, Pennsylvania
High Concentrations Of Both Barium And Strontium
"Rock salt is a sedimentary rock, which is classified as an evaporate. Naturally occurring rock salt is formed from the evaporation of inland seas. The rock salt contains the minerals found in that particular body of water; mostly sodium, chloride, calcium, magnesium, potassium, and sulfate. These are the major elements found in rock salt. All of these substances are highly soluble in water."
"Shale is also a sedimentary rock: however, it is classified as a clastic rock layer. Clastic sedimentary rocks are composed predominantly of broken pieces of older weathered and eroded rocks and are classified based on grain size, clastic and cementing material (matrix) composition, and texture. Shale is a fine-grained, clastic sedimentary rock composed of mud that is a mix of flakes of clay minerals and tiny fragments (silt-sized particles) of other minerals, especially quartz and calcite. Many of the minerals that make up shale are insoluble in water. Marcellus Shale is black shale, which is dark, thinly laminated carbonaceous shale, exceptionally rich in organic matter and sulfide and often containing unusual concentrations of certain trace elements such as uranium, vanadium, copper, and nickel."
"Conversely, data from the SGEW analysis indicates that high concentrations of both barium and strontium are usually present."
Naturally occurring rock salt was formed from the evaporation of inland seas. Its primary constituents are sodium, chloride, calcium, magnesium, potassium, and sulfate. Rock salt generally contains between 90 to 98% sodium chloride. The salt content in SGEW may exceed 7 times that of sea water. Approximately 77% of the rock salt used in the US is used for highway de-icing. California also uses rock salt on mountain passes in winter snow or ice conditions.
For the sake of our rivers and streams, groundwater recharge basins, and watershed drainages, there should be No Beneficial Use Designation for Frac Wastewater Application To Road Surfaces – whether dirt, rocked, or paved allowed anywhere in California.
Best To Ban Fracking In California
Sign a Petition in the County in which you reside.
Tomas DiFiore
We are 100% volunteer and depend on your participation to sustain our efforts!
Get Involved
If you'd like to help with maintaining or developing the website, contact us.