From the Open-Publishing Calendar
From the Open-Publishing Newswire
Indybay Feature
Related Categories:

California | East Bay | Police State & Prisons | Racial Justice
[Flyer] Cops in Oakland kill again. Against hired guns.
Early on Tuesday morning (Jan 21st), California Highway Patrol officers killed a man on East 15th St near 57th Ave. Fuck the Police.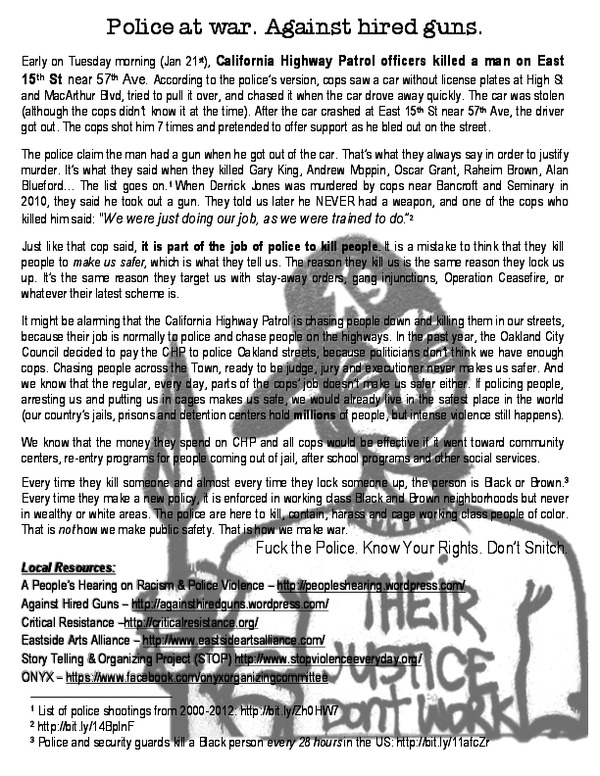 Download PDF (422.5kb)
According to the police's version, cops saw a car without license plates at High St and MacArthur Blvd, tried to pull it over, and chased it when the car drove away quickly. The car was stolen (although the cops didn't know it at the time). After the car crashed at East 15th St near 57th Ave, the driver got out. The cops shot him 7 times and pretended to offer support as he bled out on the street.
The police claim the man had a gun when he got out of the car. That's what they always say in order to justify murder. It's what they said when they killed Gary King, Andrew Moppin, Oscar Grant, Raheim Brown, Alan Blueford… The list goes on. When Derrick Jones was murdered by cops near Bancroft and Seminary in 2010, they said he took out a gun. They told us later he NEVER had a weapon, and one of the cops who killed him said: "We were just doing our job, as we were trained to do."
Just like that cop said, it is part of the job of police to kill people. It is a mistake to think that they kill people to make us safer, which is what they tell us. The reason they kill us is the same reason they lock us up. It's the same reason they target us with stay-away orders, gang injunctions, Operation Ceasefire, or whatever their latest scheme is.
It might be alarming that the California Highway Patrol is chasing people down and killing them in our streets, because their job is normally to police and chase people on the highways. In the past year, the Oakland City Council decided to pay the CHP to police Oakland streets, because politicians don't think we have enough cops. Chasing people across the Town, ready to be judge, jury and executioner never makes us safer. And we know that the regular, every day, parts of the cops' job doesn't make us safer either. If policing people, arresting us and putting us in cages makes us safe, we would already live in the safest place in the world (our country's jails, prisons and detention centers hold millions of people, but intense violence still happens).
We know that the money they spend on CHP and all cops would be effective if it went toward community centers, re-entry programs for people coming out of jail, after school programs and other social services.
Every time they kill someone and almost every time they lock someone up, the person is Black or Brown. Every time they make a new policy, it is enforced in working class Black and Brown neighborhoods but never in wealthy or white areas. The police are here to kill, contain, harass and cage working class people of color. That is not how we make public safety. That is how we make war.
Fuck the Police. Know Your Rights. Don't Snitch.
Local Resources:
A People's Hearing on Racism & Police Violence –
http://peopleshearing.wordpress.com/
Against Hired Guns –
http://againsthiredguns.wordpress.com/
Critical Resistance –
http://criticalresistance.org/
Eastside Arts Alliance –
http://www.eastsideartsalliance.com/
Story Telling & Organizing Project (STOP)
http://www.stopviolenceeveryday.org/
ONYX –
https://www.facebook.com/onyxorganizingcommittee
We are 100% volunteer and depend on your participation to sustain our efforts!
Get Involved
If you'd like to help with maintaining or developing the website, contact us.