From the Open-Publishing Calendar
From the Open-Publishing Newswire
Indybay Feature
Santa Cruz Residents Urge County to Reject State Grant Awarded for Jail Expansion
Community members in Santa Cruz gathered at the Town Clock on January 16 to tell the county Board of Supervisors to "invest in communities, not cages" and to reject the large grant awarded by the state for jail expansion, whether it be for program space or new beds. The Board of State and Community Corrections (BSCC) has officially recommended the distribution of jail construction funds to 15 counties, including Santa Cruz. $500 million in total is to be distributed, with $25 million going to Santa Cruz, according to Sin Barras, the group that organized the rally and has been leading the campaign to fight jail expansion locally. [Video: Courtney Hanson, Willow, and Tash Nguyen from Sin Barras speak at the Town Clock]
"Santa Cruz County has been forward thinking during California's public safety realignment by prioritizing community-based programming and supportive re-entry services. Re-opening and expanding an unused portion of Rountree Detention Center is a significant step backwards, we are incredibly disappointed that the BSCC approved this recommendation," notes Tash Nguyen in a press release from Sin Barras.
In 2013 the sheriff's department applied for the grant under Senate Bill 1022, and now that it has been approved by the state, the Board of Supervisors has 90 days to either approve or reject the Sheriff's proposal, which would direct the grant money towards the expansion of Watsonville's Rountree Detention Center.
"Our community does not want the jail money and demand our Board of Supervisors to reject the grant because we know that counties are better equipped to employ alternatives to incarceration."
"Community programs are more effective and less costly than incarceration," says Nguyen, "Each person held behind bars in Santa Cruz County costs taxpayers an average of $97.17. Month to month, it is far cheaper to provide permanent housing for the homeless than to lock them up for petty offenses."
Noting the new facility would not open until November of 2016 at the earliest, Sin Barras member Kati Teague suggests, "Two years is ample time to improve and expand the county's existing Custody Alternatives Program, implement a host of sentencing reforms, and establish more options for those who cannot afford bail. Santa Cruz is already a leader in these fields, and should continue to push for innovative responses to problems in our criminal justice system."
"The majority of the people sitting in the county jail are sitting in there pre-trial," Courtney Hanson said at the rally.
"They have not even been convicted yet, they simply don't have the funds to bail themselves out." Hanson suggests funding pre-trial release.
One local reform also suggested is to change the qualifying criteria for participation in the electronic monitoring program to increase the number of eligible inmates. According to Sin Barras, 370 individuals have been part of the program since the initiation of AB 109 and fewer than 4% have committed a new crime or returned to custody for technical violations.
Sin Barras claims the state grants are misleading with regards to how much jail expansion will cost local taxpayers, stating that, "These new construction dollars will be generated by selling high yield bonds to investors. Counties must match funds awarded by the state by only 5% but in most cases construction budgets require much more. The county taxpayer will pay all these costs and ongoing operational expenses for new facilities."
For more information about Sin Barras, see:
http://sinbarras.org/
Alex Darocy
http://alexdarocy.blogspot.com/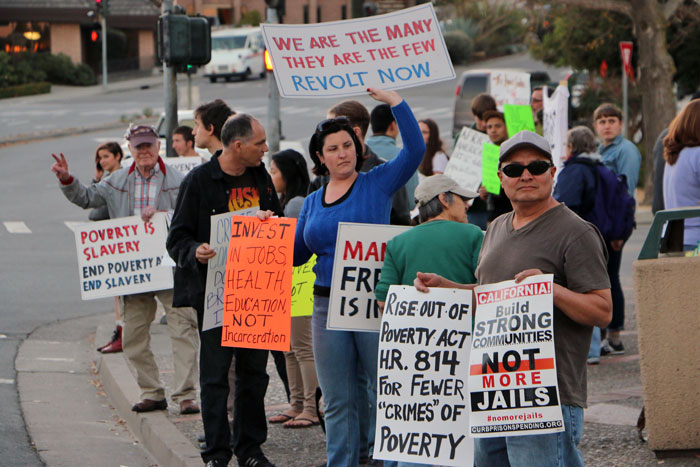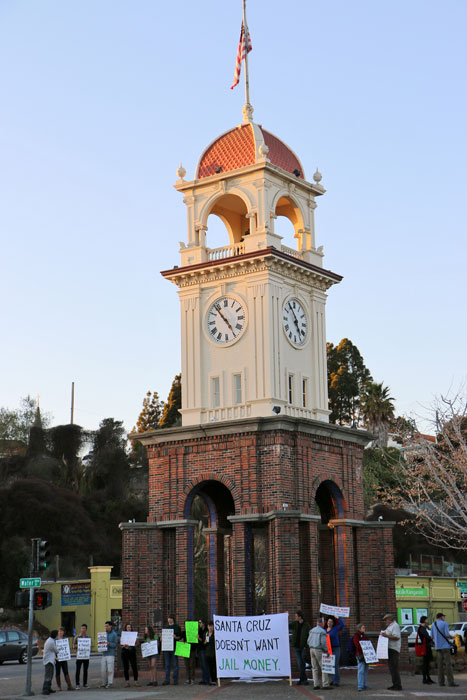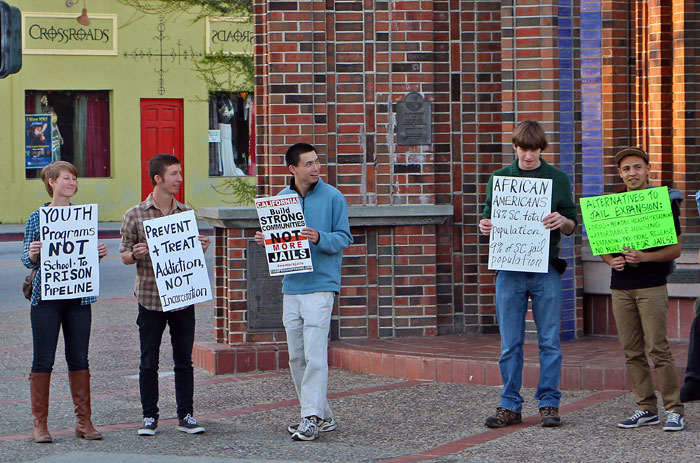 We are 100% volunteer and depend on your participation to sustain our efforts!
Get Involved
If you'd like to help with maintaining or developing the website, contact us.