From the Open-Publishing Calendar
From the Open-Publishing Newswire
Indybay Feature
Lynne Stewart: Save Her Life - Release Her Now!
This message comes from Ralph Poynter, Lynne Stewart's husband and partner.

Lynne is in unjustly in prison for defending an unpopular client to the best of her ability.

Please read Ralph's message and act!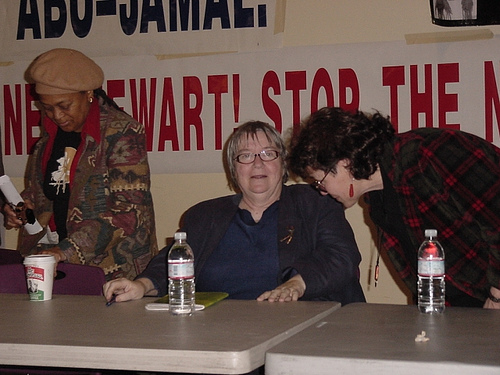 "HELP BRING ME HOME FOR THE HOLIDAYS" a life and death appeal from renowned people's attorney Lynne Stewart.
"I need to ask once again for your assistance in forcing the Bureau of Prisons to grant my Compassionate Release. They have been stonewalling since August and my life expectancy, as per my cancer doctor, is down to 12 months. They know that I am fully qualified and that over 40,000 people have signed on to force them to do the right thing, which is to let me go home to my family and to receive advanced care in New York City.
"Yet they refuse to act. While this is entirely within the range of their politics and their cruelty to hold political prisoners until we have days to live before releasing us – witness Herman Wallace of Angola and Marilyn Buck – we are fighting not to permit this and call for a BIG push."
Lynne Stewart, FMC Carswell
Take Action between now and the New Year. Telephone and send emails or other messages to Federal Bureau of Prisons Director Charles E. Samuels, Jr. and Attorney General Eric Holder.
CHARLES E. SAMUELS, Jr., Director Federal Bureau of Prisons
(202) 307-3250 or 3062;
info [at] bop.gov
ATTORNEY GENERAL ERIC HOLDER, U.S. Department of Justice
(202) 353-1555;
AskDOJ [at] usdoj.gov
Contact U.S. Embassies and Consulates in nations throughout the world
LET US CREATE A TIDAL WAVE OF EFFORT INTERNATIONALLY. Together, we can prevent the bureaucratic murder of Lynne Stewart.
Notes:
In a new 237-page report entitled "A Living Death," the American Civil Liberties Union documents unconstitutional practices permeating federal and state prisons in the United States.
Focused on life imprisonment without parole for minor offenses, the ACLU details conditions of 3,278 individual prisoners whose denial of release is deemed "a flagrant violation of the Eighth Amendment ban on cruel and unusual punishment" occurring on an increasing scale.
The ACLU labels the deliberate stonewalling as "willful," a touchstone of the Federal Bureau of Prisons and the Department of Justice flagrant violation of the Eighth Amendment ban on cruel and unusual punishment.
These conclusions corroborate the findings of Human Rights Watch in 2012: "The Answer is 'No': Too Little Compassionate Release in U.S. Prisons."
The Report is definitive in exposing arbitrary and illegal conduct that infuses every facet of the treatment accorded Lynne Stewart.
"…the Bureau has usurped the role of the courts. In fact, it is fair to say the jailers are acting as judges. Congress intended the sentencing judge, not the BOP to determine whether a prisoner should receive a sentence reduction."
Lynne Stewart's medical findings show less than twelve months to live as stipulated by her oncologist at FMC Carswell.
The Federal Bureau Prisons has failed to file the legally required motion declaring solely that the matter is "with the Department of Justice."
We are 100% volunteer and depend on your participation to sustain our efforts!
Get Involved
If you'd like to help with maintaining or developing the website, contact us.