From the Open-Publishing Calendar
From the Open-Publishing Newswire
Indybay Feature
Independent Truckers Make Their Voices Heard: Third Recent Job Action at Port of Oakland
Photo by Jonathan Nack

The Port of Oakland Truckers Association (POTA) said the strike was called, "in protest of unsafe working conditions and unfair labor practices by terminal owners and Port of Oakland management."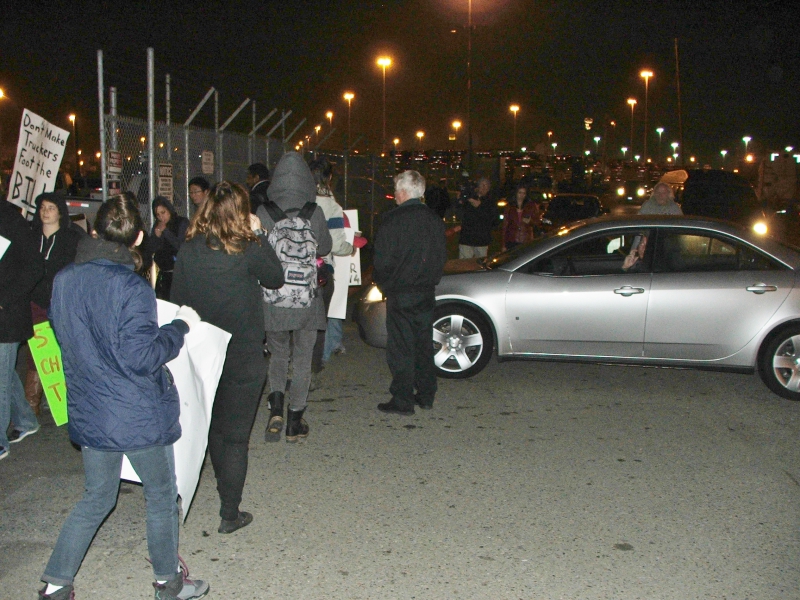 Independent Truckers Make Their Voices Heard:
Third Job Action Since August at Port of Oakland
by Jonathan Nack
November 30, 2013
OAKLAND - Independent truckers staged a job action that slowed work at the Port of Oakland on Wednesday, November 27th. It was the truckers' third job action since August.
The Port of Oakland Truckers Association (POTA) called for a strike at Stevedoring Services of America's terminal, one of the largest and busiest at the Port. In a press release, POTA said the strike was called, "in protest of unsafe working conditions and unfair labor practices by terminal owners and Port of Oakland management."
Picketers began gathering in the darkness before 5 AM on Wednesday. About a hundred independent truckers, many sporting their POTA shirts, were joined by at least that many community and labor supporters at the entrances to the SSA terminal.
One picket sign read, "Don't make Truckers Pay the Bill," another said,"CARB Extend the Deadline." They are references to the California Air Resources Board's regulation that requires all truck engines manufactured before 2007 to be upgraded to meet air quality standards.
One trucker estimated the cost of the required upgrades at between $60,000 and $80,000 per truck and said many truck drivers can't afford it.
Profit margins for independent truckers are notoriously small. Many independents are struggling. Many others go under.
It's such a difficult way to make a living that companies are constantly looking for more independents, as evidenced by the many signs hanging from fences of the Port advertising for them by companies such as P & R Trucking, Lengner & Sons, and Mutual Express Company.
Other picket signs on Wednesday read, "Long lines = Bad air," and "Community and Truckers United." These referred to the huge problem of bad air quality at the Port. Air pollution affects not only everyone who works at the Port, but surrounding communities in West Oakland, which have high rates of cancer and asthma. Picketers from the community supported POTA's demands, because they agreed it was unfair to put the burden on independent truckers.
It was the bad air at the Port that caused the CARB to set more stringent regulations on diesel engines. POTA says many independent truckers can't afford the upgrades. With trucking dispatch companies and the Port making huge profits, truckers say these wealthy institutions should pay for the upgrades, not them.
Most of the corporate media's coverage of Wednesday's action at the Port emphasized that POTA is protesting the CARB's regulation and is demanding at least a one year delay in the deadline. The mainstream media coverage all but implied that truckers don't care about the air quality. This is obviously untrue. The truckers are among those most effected by the bad air at the Port. The problem is not upgrading diesel engines, it's about who should pay for it.
POTA is also pressing for additional pay, a congestion fee, when they are forced to wait at the Port for a load for reasons beyond the truckers control. Inefficiency at the Port causing trucks to idle and wait in line is another major cause of air pollution.
Accounts of the impact of Wednesday's job action varied sharply. The San Francisco Business Times reported that the Port management said that demonstrators were cleared from SSA Terminals by 9 a.m. and that no other port terminals were affected. POTA claimed truck traffic was down by 90%.
POTA issued a press release mid-day Wednesday providing a detailed description of the morning's action. [
http://oaklandporttruckers.wordpress.com/2013/11/27/mid-day-press-release-from-port-truckers/
]
POTA reported, "Primary pickets were set up at the four SSA terminal gates beginning at 5am, but due to violent police action, lines began migrating between gates to prevent arrest and detainment of picketers. At least one person picketing was struck by the vehicle of a terminal employee crossing the picket line, and as of 10:30am, there were 5 arrests. Those arrested were cited and released. One police officer was injured when a car crossing the truckers' picket line ran over his foot."
There was no violence by picketers. Indybay.org reported that there were 50 Oakland Police on the scene.
"The police were pushing us off the picket lines even though the judge said it's illegal. After last time when they hit people with batons, people were afraid, but they kept moving to hold the lines," said local port trucker Jose Gomez.
POTA's press release said, "Some truckers who crossed picket lines today claimed they faced retaliation from their companies. During the last work stoppage, notoriously bad trucking dispatch company GSC charged their drivers illegal demurrage fees for honoring picket lines. When drivers refused to pay, they found deductions in their pay checks. While some long-distance truckers and employee drivers crossed picket lines, the vast majority of independent contractor truckers picketed or refused to take loads today."
"At 10a.m. most of the supporters, media and police trickled out, while more truckers gathered at the primary SSA trucker entrance and resumed pickets on their own. Without the heavy police presence that accompanied activists and supporters, they were able to hold the picket lines at SSA, according to POTA's press release.
"When the local drivers won't work, the Port won't work. Even if we are not the majority group of truckers servicing the port, we do the majority of the work," said Roberto Ruiz, another local driver.
Part of the independent truckers' action was not as effective as planned. Members of the International Longshore & Warehouse Union, Local 10, crossed the picket line at the SSA terminal. POTA was disappointed that Local 10 didn't honor the picket lines.
It was a surprising response from Local 10, which has historically honored picket lines in support of progressive struggles. It was particularly surprising, since Local 10's membership meeting had voted to honor all POTA picket lines.
According to Stan Woods, a member of ILWU, Local 6, who attended Local 10's membership meeting as an observer, the membership had voted 73 to 39 to honor POTA picket lines. It was hotly debated. There were strong feelings on both sides. A contingent from POTA attended the union's meeting and Frank Adams of POTA spoke at the meeting. In the end, the union's membership vote to act in solidarity with POTA by honoring their lines wasn't close, according to Woods.
Members of Local 10 said that the telephone recording they call daily instructed members to go to work at the SSA terminal. One member claimed that the membership's vote to honor the picket line was not followed because, "the membership was misled. These guys are not union, they [POTA] said they'll never go union."
There were some of the independent truckers that did work the Port on Wednesday that were nevertheless supportive of POTA's protest.
Baijer Singh told KTVU News that he didn't join the job action because he couldn't afford to. "I need to pay my bills," Singh told KTVU. Singh said he believes the work action is important because the Port of Oakland "is not listening" to the truckers' concerns. Singh said he and other truckers often have to wait up to five hours to pick up loads at the port and they aren't compensated for the time they spend waiting.
For more info. on the Port of Oakland Truckers Association (POTA): oaklandporttruckers.wordpress.com
For more info. on Port Truckers Solidarity:
solidarityinmotion.org ;
facebook.com/pages/Port-Truckers-Solidarity and
facebook.com/TransportationWorkersSolidarityCommittee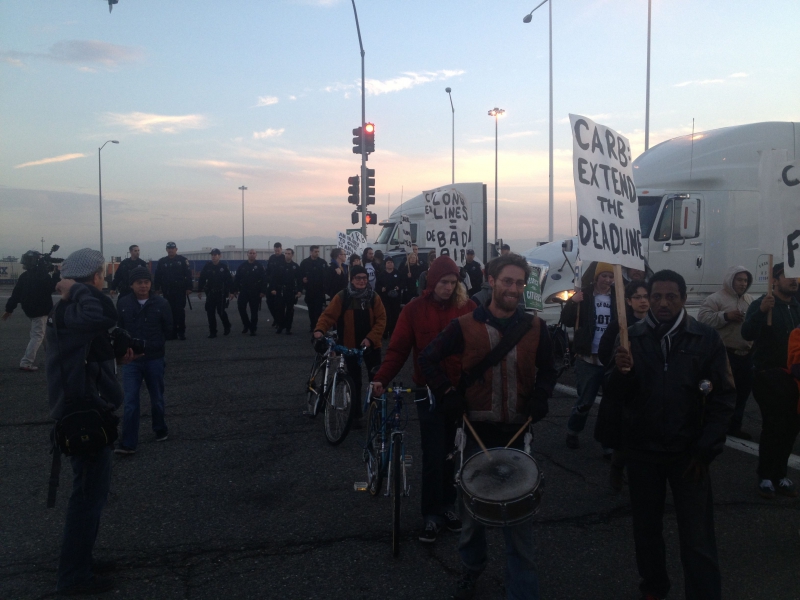 We are 100% volunteer and depend on your participation to sustain our efforts!
Get Involved
If you'd like to help with maintaining or developing the website, contact us.