From the Open-Publishing Calendar
From the Open-Publishing Newswire
Indybay Feature
Related Categories:

San Francisco | Labor & Workers
IUOE Local 39 St Francis Hospital Engineers Strike Dignity Health To Defend 40 Hr Week
IUOE Local 39 stationary engineers have been on strike against Dignity Health formers Catholic Care West since early October 2013 and the company is demanding the end of he 40 hour week and other concessions. The CEO Lloyd A. Dean is the CEO and is also on the Board of Directors of Wells Fargo Bank. He makes over $5 million a year.
IUOE39 St Francis Hospital Engineers Strike Dignity Health System
IUOE Local 39 engineers have been on strike at St. Francis hospital
and other Dignity Hospitals. The hospital chain formerly known as
Catholic Health West is seeking to eliminate the 40 hour week and
also other take-aways. The CEO Lloyd A. Dean also makes over
$5 million dollars a year while demanding give-backs from the
workers at the "non-profit" hospital. This interview was done on
November 26, 2013.
Production of Labor Video Project
http://www.laborvideo
. org
Wells Fargo/Dignity Health's Lloyd Dean: Stop Home Foreclosures-3-14-2012
WELLS FARGO / DIGNITY HEALTH'S LLOYD DEAN: STOP HOME FORECLOSURES! - 3-14-2012
http://www.youtube.com/watch?v=LrwUXKgE6Mw
Published on Mar 15, 2012
San Francisco ACCE's Grace Martinez questions Dignity Health President and Wells Fargo Board member, Lloyd Dean's humanity in his continuing to foreclosure on San Francisco Peoples of Color for his bottom line. "The fact that Lloyd Dean is CEO of a Catholic network of hospitals" and "Wells Fargo just decided to increase dividends to their shareholders," while they take peoples' homes. 'They just have no conscience," she says.
Dignity Lloyd H. Dean On Board Of Director Wells Fargo And Occupy Demo
Dignity Lloyd H. Dean On Board Of Director Wells Fargo
https://www.wellsfargo.com/about/corporate/boardofdirectors/dean
Mr. Dean has served as the president and CEO of Dignity Health, a not-for-profit healthcare system located in San Francisco, California, since April 2000. Before joining Dignity Health, Mr. Dean held positions as the executive vice president and chief operating officer of Advocate Health Care, and various management positions with The Upjohn Company. Mr. Dean is also a director of Cytori Therapeutics, Inc., and is a member of the Board of Directors of Mercy Housing California. He previously served as Chair of the Bay Area Council and Chairperson of the Catholic Health Association of the United States and was a member of its Board of Trustees. He is a member of McKesson's Advisory Board and the Health Research and Development Institute, and current Chairman of the San Francisco Committee on JOBS.
Wells Fargo Board Committees: Corporate Responsibility Committee, Governance and Nominating Committee, Human Resources Committee and Risk Committee
Lloyd Dean: The medicine man of Dignity Health
http://management.fortune.cnn.com/2013/01/09/lloyd-dean-dignity-health/
January 9, 2013: 5:00 AM ET
He's pals with Obama, he can outcharm a Kennedy, and he's networked to the hilt. So how come you don't know health care CEO Lloyd Dean?
By David A. Kaplan, contributor
Lloyd Dean near his home in Half Moon Bay, Calif.
FORTUNE -- It's pretty hard to upstage Ted Kennedy, who could hold forth over an audience like few others. But that's the talent of Lloyd Dean, a top chief executive in health care. Some years before Kennedy died in 2009, he was supposed to introduce Dean at the Washington Hilton to a big group of executives, policy wonks, and congressional staffers. Dean was head of Catholic Healthcare West, one of the country's largest nonprofit health care systems, with 43 hospitals in California, Arizona, and Nevada, and more than 50,000 employees. What Dean lacks in height -- he's maybe 5-foot-8 -- he makes up in savoir-faire. Before Kennedy arrived, Dean did what he always does -- shake hands, pepper questions, tell stories, smile, and engage. When the senator showed up, he admiringly took note. "This guy doesn't need me," Kennedy told Dean's colleague. "He works a room better than me!"
As CEO of San Francisco-based Dignity Health -- as of early 2012, the new brand name for Catholic Healthcare West -- the 62-year-old Dean has been working rooms at corporate and civic levels for more than a decade. In his manner and method, Dean has come to stand out as an unconventional leader in a staid, grave industry. Before a dinner crowd he can kid about his "brother-to-brother" relationship with Barack Obama over the past four years. Before a small audience of hospital employees, he's all too happy to praise the colonoscopy he received just upstairs. To check up on "customer service" at his hospitals, he's been known to put on a sweats-and-sunglasses disguise in the lobby -- the better to hear what they're complaining about. (The No. 1 beef: parking!) When Dean has heard enough, he'll send around JUST THINKING memos to staff, which pretty much amount to JUST FIX it directives. "Lloyd cuts a wide swath," says John Stumpf, the CEO of Wells Fargo (WFC).
And so Dean has become the most connected Bay Area CEO you've never heard of. Yes, there are high-achieving nontech CEOs in the Bay Area. He's led the little-noticed fiscal turnaround of his company. His personal network includes not only the President of the United States but the president of the San Francisco Giants. He sits on the board of Wells Fargo. Unions get along with him. He has potential deals in the works with tech giants like Apple (AAPL) and Salesforce (CRM). And he's an investor in Prospect, the chic new SoMa restaurant that serves such goodies as Snake River Farms Kobe Bavette with Marrow Glazed Banana Fingerling Potatoes and Hen of the Woods Mushroom Jus. The locals say he could take a run at the mayoralty someday.
MORE: 2013: The year we become the health care nation
Dean is well regarded by these constituencies, as well as his own employees. "He commands respect," says the Silicon Valley angel investor Ron Conway. "He's a go-to community leader," says Larry Baer, CEO of the Giants, for which Dignity was a main sponsor for the team's 2012 World Series parade and which houses a Dignity clinic inside the ballpark. As the leader of a faith-based nonprofit -- the majority of whose hospitals have a Catholic designation -- Dean has proved particularly adept at balancing religiosity and secularity, quite a feat considering he's not even Catholic. But he is: a champagne connoisseur; a fan of Howard Stern; the owner of 700 cuff links; and a neat freak. He once teasingly placed a MOVING? Post-it in an employee's cubicle that had boxes stacked everywhere. That bellowing laugh by the elevators is Dean arriving early every morning at work.
Now Dean has entered the national stage. He has been an ardent support of Obamacare, despite being a CEO of a hospitals corporation that in the short run stands to see its Medicaid and Medicare reimbursements go down as much as $700 million over the next decade. Because he's close to the President -- the two meet or talk every few months -- Dean has been mentioned as a possible cabinet member in Obama's second term. And Dignity Health these days is in an acquisitive mood. In late summer it closed on the $450 million purchase of nondenominational U.S. HealthWorks, the largest independent operator of occupational medicine and urgent-care centers in the country; the purchase extends Dignity's reach into 16 new states, and Dignity plans to expand U.S. HealthWorks nationally. With an idea to spend $1 billion to $2 billion on buying up other health care providers -- the better to compete in the era of Obamacare -- Dean says he aims to be in a majority of states and to triple revenue by 2020, taking his regional nonprofit from the fifth-largest American health system in terms of net patient revenue to No. 3.
Dean visits Dignity Health's St. Francis Memorial Hospital in San Francisco.
Dean arrived in San Francisco in 2000 and transformed Catholic Healthcare West, which at the time had been losing a million dollars a day for three years. Other companies might have gone under. Today, rechristened Dignity Health has made money every year since 2002. Even with a lousy overall fiscal year ending June 30 -- which was due to weak investment earnings rather than fundamentals in its health care business -- revenue was a record $10.5 billion, up about 2%. (It also had $3.4 billion in long-term debt as of that date.) But more than the cold numbers, it is Dean's soft-power leadership style that's made his reputation. "Because of his directness, his diplomacy, his advocacy, and his fairness, he has more credibility with elected officials here than almost any other corporate executive," says Willie Brown, 78, former mayor of San Francisco, consummate California pol, and a Dean confidant and mentor. Dean still talks to Brown every week. One of the conditions of Dean's investment in Prospect was that the no-tablecloths restaurant keep a tablecloth available for when he and the tablecloth-insistent Brown dine together.
Kathleen Sebelius, the U.S. Secretary of Health and Human Services, says Dean is in "the constellation of the 10 health care leaders I rely on or bounce ideas off of." But she cited something else about Dean. "Whenever we have a policy conversation about business, he never fails to ask, 'So, how are you? Are you getting enough sleep? Is there anything I can do for you?'" she told Fortune. "A lot of people with whom I have this kind of conversation reply, 'Fine, that's good,' and move on. Lloyd isn't like that -- there's a personal side that isn't phony or fake."
Be it sincerity or shrewdness (probably some of both), Dean's means are a pretty good way to do business.
The wonder about Lloyd Dean might be that he got anywhere at all. Dean's was not an idyllic upbringing in western Michigan. He remains deeply conflicted over his childhood, the only subject that dims his resolutely luminous personality. On the one hand he discovered resilience and self-discipline and faith every Sunday at the Mount Calvary Baptist Church not far from home. On the other hand he saw the burdens of poverty and broken dreams.
MORE: The supercomputer will see you now
Raised in an African-American enclave in Muskegon, Dean was the second-oldest of nine children. His father was a foundry worker, and his mother was a homemaker. For years the family was on and off welfare. They had no health insurance. The first time Dean visited a doctor was when he was in junior high and needed a physical to play football. At the middle-class school to which he was bused, Dean says he was fascinated to hear classmates talk of such things as "I'm going to the dentist." Though his parents hadn't gone to college, they stressed to Dean and his siblings the importance of good grades. "I knew by 6 or 7 -- maybe it was God's gift," Dean says, "there had to be a better life. I'm going to get out of this community." With student loans, he wound up being the "first person in my entire community" to attend college.
His late father, Floyd, never earning more than $9,000 a year, was a heartbreakingly difficult person. When Lloyd walked out the door at 18 to catch the Greyhound to go off to Western Michigan University in Kalamazoo, his mother gave him $50, which he said was "like her giving me $50,000." "Good luck," she told him. "I'm praying for you." His father was lying on the couch. "Dad, I'm leaving to go to school," Dean said. His father's reply: "Oh. See you." Dean still laments the scene. "That," he recalls, "was it."
Dean dwells a lot on his father, who died in 2008. "It's a whole thing to try to psychoanalyze your dad," he says. "He was a very intellectually smart man. When people in the community would get legal papers, they would come to my dad to interpret them. I think he lived in frustration because he didn't do more with his life." Dean's father made him pay rent during the summers, out of the money he earned working a paper route or picking blueberries. Dean says his father could be explosive, like the time he accepted a winter coat from his sixth-grade teacher. "I feared my dad," he says. "You just never knew what would set him off. I would never want another human being to go through what I went through with him growing up."
And yet, even as he acknowledges that "I've blocked out part of my childhood," Dean says his was a "good father," with whom he ultimately reconciled. How could that be, knowing all that Dean has come to know in the field of health care, where many of his community hospitals serve families not so different than his was once upon a time? "My father gave me fortitude. There's no business problem that comes close to the magnitude of the ingenuity and creativity that I had to use to survive my childhood. My dad helped me see a few things that I wanted to be, but candidly a lot of things I didn't ever want to be. I'm a better executive and leader because of it."
MORE: The next entitlement crisis: Medicaid spending threatens education
At Western Michigan University, where he received a bachelor's degree in sociology and a master's in education, Dean early on demonstrated a knack for leadership. He had many friends, was active in student government, and was clever enough to be on the committee that decided which concerts would be held on campus. More formative, though, was how he handled pressure from students in the school's Black Action Movement. WMU was mostly white. Dean's roommate was a high school football buddy -- who was white. "About 45 days in," Dean says, "I got a knock on the door from the president of BAM, who told me, 'You're from a hick town and don't understand the times or the issues -- we want you to come into the black dorm.'" Dean said no. "I'm all about the movement, but I'm not going to change," he answered. "He's my friend." He found UNCLE TOM and WHITE LOVER signs on his door. He was threatened. But in time BAM left Dean alone.
After graduating in 1972, Dean taught junior high and an occasional course in communications at WMU. For a couple of months he filled in as the sleep-deprived 5 a.m. news anchor for WOTV of Battle Creek, Mich. It was in 1978 at a WMU event that he got his break into corporate America. He met Larry Hoff, a top executive at a prominent company in the area, Upjohn; Hoff knew of Dean's civic activities and invited him to visit the pharmaceutical giant's sprawling glass-and-granite headquarters in Kalamazoo.
Dean was bedazzled. "It was like in the movies -- I was this little teacher from Muskegon asked up to the C-suite in Building 88," he says. The Upjohn folks said he had natural leadership skills. "I see in you things that you don't even see in yourself," Hoff counseled him. But Dean turned down Hoff's job offers multiple times. The way he saw it, he was already rich, making $13,000 -- $4,000 more than his father ever made. And he loved teaching, hoping to be a superintendent of schools. But after friends told him, "Are you a fool, Lloyd?" Dean relented. At 28, he began a new career, as a $30,000-a-year assistant regional manager in Upjohn's health care services division, soon switching places with the regional manager. Over the course of 14 years, he rose to be EVP of operations for the entire company.
MORE: How Medtronic sells to doctors and patients
When Upjohn got rid of his division in 1992 and his bid to buy it fell short, Dean left for the faith-based nonprofit Evangelical Health Systems (now known as Advocate Health Care) in suburban Chicago, to run its home health care division. He already knew firsthand the weight that health care could be, having recently watched his older brother die of AIDS. "When you deal with a family member like that," he says, "you see nuances that nothing else can teach you." In 2000, Dean was about to be named Advocate's CEO when he got a call from a headhunter for Catholic Healthcare West. That system, because of its dire finances, was having trouble finding new leadership. Dean was curious.
He met with CHW's "sponsors" -- industry lingo for the organization of Catholic sisters who in effect controlled the corporation. Though the Sisters of Mercy had been ministering to the poor and sick in the Bay Area since the days of the Gold Rush, CHW dated only to 1986, when two congregations linked their hospitals. The business plan was efficiency, and CHW thrived into the early 1990s. But complacency set in.
Dean took the job and headed west. He would be staying in faith-based nonprofit health care -- with a system four times the size of Advocate's -- but he would have the chance to save a company. Which he did, chiefly by eliminating overhead. Each of CHW's hospitals functioned autonomously. Dean saved $100 million by getting rid of 300 middle managers. But integrating CHW's different facilities was as much cultural as administrative. Even when goals were set, executives weren't held accountable. "It took some serious brass to get everyone to change," says Andy Pines, a managing director of Citi's Healthcare Group in San Francisco, which has advised Dean's company for years.
What Dean did was mandate measurable goals for each hospital. They could be as simple as ensuring that patients with cardiac issues were given an aspirin in a certain amount of time. Or they could be strategic, like requiring 3% annual revenue growth in patient billing that's covered by insurance, which meant a hospital would have to contract with more insurers -- even as it nurtured its principal mission to care for the underserved. His company was a nonprofit, but that hardly meant it didn't have to fight in what Dean calls "a competitive world."
In that competitive world -- which includes for-profit health systems as well as nonprofits like Dignity -- Dean is nicely paid. He lives in a house on the Pacific Coast with his wife of 38 years. His golf handicap is 17. His total compensation is roughly $3.8 million; in the fabulously successful fiscal year ending June 30, 2011, he made $5.1 million (almost half of it in bonuses and incentives). Even so, in the same job in a for-profit health system, he'd probably make three to five times more.
MORE: The bloody patent battle over a healing machine
Dignity's current challenge, alongside national expansion, is maintaining equilibrium between its Catholic identity and its growing secular footprint. Its name change reflected an attempt to get away from a purely religious brand, given that so many of its facilities are independent of the church. But lingering institutional ambivalence abounds. In the boardroom there's a wooden cross on the wall, while on an adjacent wall are large photographs of secular icons of social justice like Nelson Mandela and Cesar Chavez. The vice chair of the board is a Sister. One of Dignity's top executives is a lesbian -- and a former Sister. The internal politics of the company mean balancing the relatively liberal values of many in the Sisters of Mercy with the conservative views of bishops in many communities where it does business.
The most dramatic instance of tension over religion happened a few years back at St. Joseph's Hospital in Phoenix. After the hospital ethics committee determined that saving the life of a woman required termination of her 11-week pregnancy, the bishop of Phoenix ruled that the "direct abortion" violated Catholic law. As a result, he found that the Sister who sat on the ethics committee "automatically excommunicated" herself from the church. Later, when St. Joseph's refused to acknowledge error, the bishop effectively excommunicated the hospital as well. (Symbolism aside, the bishop's step meant only that Catholic Mass could no longer be celebrated there.)
SPEAKER BIOGRAPHY
Lloyd H. Dean
http://www.healthevolutionpartners.com/lloyd-dean
President and Chief Executive Officer, Dignity HealthLloyd H. Dean is a nationally recognized leader within and beyond the field of healthcare. He is President/CEO of Dignity Health the 5th largest health system in the U.S. with 40 hospitals and more than 80 ancillary care centers throughout California, Arizona and Nevada. He is responsible for the organization's $13 billion in assets, overall management, governance, strategy and direction. He has led Dignity Health through significant strategic, operational, and financial transformations and has bought the organization to its current status as a leading healthcare organization recognized for high quality, compassionate care, operational excellence, and strong financial results.
Mr. Dean is a member of the Board of Directors of Wells Fargo and Company, chairperson for its Human Resources Committee, and serves on the Corporate Responsibility Committee, Credit Committee, Risk Committee and Governance Nominating Committee. He is also the Chair of the Board of Directors for the Committee on Jobs an organization that brings employment to the San Francisco Bay Area, and Chair of the Board of Directors for Cytori Therapeutics, an international leader in regenerative medicine and adult stem cell research. Mr. Dean is a member of the Board of Directors of Mercy Housing California, a non-for-profit organization dedicated to developing, operating and financing affordable housing. He previously served as the chairperson of the Catholic Health Association of the United States and was a member of its Board of Trustees.
A strong advocate for health care reform, Mr. Dean has been actively engaged with the White House Cabinet on the health care issues. He directly participated in health care reform discussions with President Barack Obama and his staff at the White House and has been appointed to the State Health Care Cost Commission charged to develop practical state policies to contain health care costs in the nation.
Mr. Dean holds degrees in sociology and education from Western Michigan University, and received an honorary doctorate of humane letters from the University of San Francisco. In 2012 he was ranked number 23 in Modern Healthcare's "100 Most Influential People in Healthcare" and is also consistently named one of the "Top 25 Minority Leaders in Healthcare."
In the aftermath, Dean threaded the corporate and religious needles. Behind the scenes, he made sure the hospital stuck to its principles. At the same time he tried to assuage the bishop; in one private letter, Dean -- referring to a "range of conclusions" from "many knowledgeable moral theologians" -- suggested "one must at least acknowledge this is a very complex matter, on which the best minds disagree." The bishop fired back that he alone had the "authority to interpret the moral law and to teach the Catholic faith as a Successor of the Apostles." Dean didn't react. Even now he's reluctant to agitate the bishop. If pressed, he offers only, "I think the issue demonstrates the complexity of what I do compared to CEOs who don't deal with church-related issues."
Dean's been doing it impressively for a long time. What next? He professes no interest in another corporate post or a cabinet appointment or running for City Hall. He loves the promise that Dignity Health holds. It can be bigger, kinder, more innovative: Obamacare is an opportunity for health care systems that embrace it. Better marketing and brand management can boost the bottom line. Collaborations with Silicon Valley companies can lead to mobile apps that benefit both patient and Dignity. There seems to be no end to Dean's aspirations at his company. Gazing out at San Francisco Bay from his office, he's contemplative. "I love what I've been able to do in this job," he says. "I hope I've provided an example."
His might even make his father proud.
This story is from the January 14, 2013 issue of Fortune.
Post navigation← PreviousNext →
Update: Occupy Wells Director Lloyd H. Dean on March 14, 2012
Posted on March 13, 2012 by admin
Update: 47 protestors braved the rain to let Wells Fargo Director Lloyd H. Dean that Wells Fargo's foreclosures make us sick! The protestors delivered a message to Dean through a representative who wouldn't say his name and told us he wasn't "going to play our game". The protestors picketed chanting "Evict Wells Fargo" and Foreclosure/Eviction fighters from a few neighborhoods spoke, indicting Wells Fargo for tearing apart our communities with their predatory lending practices. Check out the photos below.
Tell Wells Fargo Director Lloyd H. Dean: Foreclosures and evictions make us sick!
http://occupybernal.org/wordpress/?p=871
PROTEST & Picket!
Wednesday, March 14, 12 noon
185 Berry Street (between 3rd and 4th St., Caltrain station 4th and King)
Outside the offices of Dignity Health
Lloyd H. Dean is a Wells Fargo board member and is the chair of Wells Fargo's Corporate Responsibility Committee. He earned $333,789 from the company in 2010, while Wells Fargo continues to kick the 99 percent out of our homes while destroying our communities.
We don't think that's very responsible.
As the CEO of a non-profit health-care provider, Dignity Health, Dean should know better. After all, the company website says that the "word 'dignity' perfectly defines what our organization stands for: showing respect for all people". But where's the dignity for people who are getting thrown out of their homes while Wells Fargo collects tens of billions of dollars of our money in bail-outs? Lloyd H. Dean may think he's providing care for the sick. But the truth is, foreclosures and evictions are making us sick!
Foreclosure fighters and activists from around the city have been demanding that Wells Fargo stop foreclosure proceedings against them and modify their loans so they can stay in their homes. Late last month, after he didn't return our calls, we even showed up at Wells Fargo CEO John Stumpf's home to demand a fair deal. But we know that he serves at the pleasure of the Wells Fargo Board of Directors. So if he won't talk to us, we'll take the fight to his bosses.
Join us as we pay Lloyd H. Dean a visit! Don't let our neighbors lose their homes. Stop ALL foreclosures and evictions for profit!
Sponsored by Alliance of Californians for Community Empowerment (ACCE) and Occupy Bernal
For more information, call 415-483-9138 or 415-335-7033. Email:
info [at] occupybernal.org
or
gmartinez [at] calorganize.org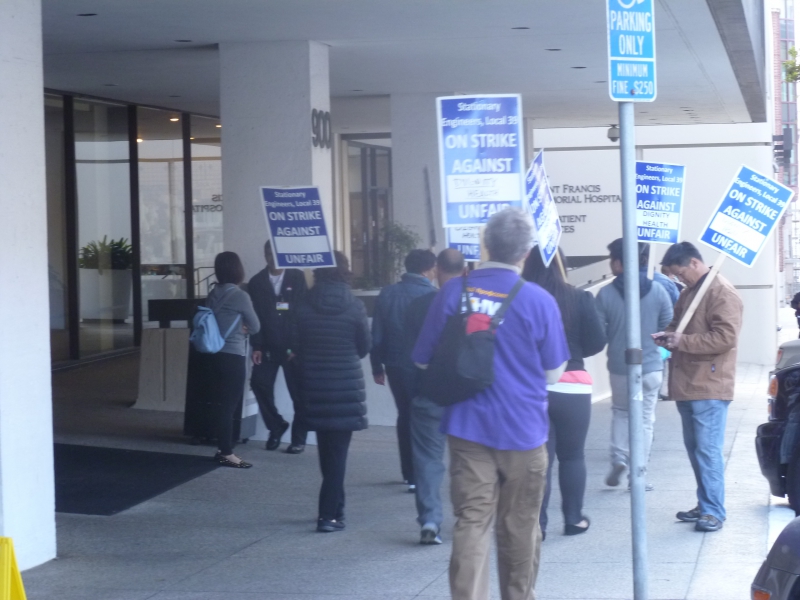 SEIU UHW members joined he picket line of Stationary Engineers Local 39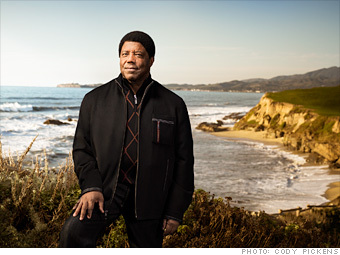 Dignity Healthcare CEO Lloyd A. Dean makes over $5 million a year and wants Dignity Healthcare engineers to give up their 40 hour workweek and other concessions. He is also "pals" with President Obama

The Dignity Healthcare chain operates as a "non-profit" but spends millions on executives instead of healthcare while it attacks the healthcare workers who provide the services.
We are 100% volunteer and depend on your participation to sustain our efforts!
Get Involved
If you'd like to help with maintaining or developing the website, contact us.