From the Open-Publishing Calendar
From the Open-Publishing Newswire
Indybay Feature
IKEA Workers Locked Out, Boycott IKEA and Expand the Strike!
[Photo of picketing workers at the Richmond B.C. IKEA store. Credit: Jeff Vinnick / Globe and Mail]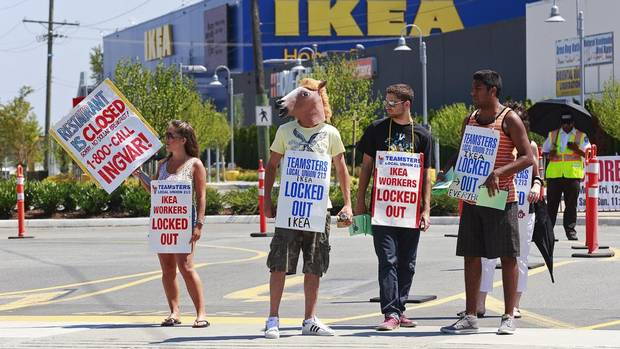 IKEA Workers Locked Out, Boycott IKEA and Expand the Strike!

On May 9th 86% of IKEA workers were at British Colombia stores voted to strike. Since May 13th they have been locked out from their jobs. Three hundred workers are locked out.

One key issue is a two tier wage system and performance pay that would take workers 20 years to reach top pay. These two tier wage setups are attempts to divide older and younger workers while also cutting pay. They are unacceptable.

In the face of this important strike, the BC Federation of Labour is calling for a boycott of just a couple IKEA stores in BC. This is not adequate. Since the parent company owns all IKEA stores, this strike needs to be expanded to all IKEA stores possible as should be the boycott. In addition, mass non-porous picket lines (defying the cops and court injunctions as needed) should be organized to the extent possible. Against such a powerful and wealthy company, the strike needs to be expanded beyond IKEA as well. Solidarity should be sought from powerful unions outside of IKEA, like the ILWU (Longshoremen) who could stop shipments of IKEA cargo.

Enough is enough of the failed conservative tactics of the union bureaucracy! A strike is class war and we need to use winning tactics!

-Steven Argue of the Revolutionary Tendency

***************************************
Statement on the British Colombia Federation of Labour website:

Do not patronize IKEA in Richmond or Coquitlam

On May 13, 2013 management at the Richmond IKEA locked out the nearly 350 members of Teamsters 213 who work at that location.

IKEA has shown its determination to succeed and a willingness to break labour law, having already been found in violation of Labour Code provisions preventing the use of replacement workers.

IKEA is not a franchised company. The Richmond and Coquitlam IKEAs are both owned by the parent company, whose owners are among the wealthiest 100 families in the world.

I am writing today to make it be clear that customers choosing to patronize the Coquitlam location, while the strike is on at the Richmond location, are assisting the company in breaking the strike.

The issue is the imposition of a tiered wage structure. Despite the Richmond location being highly profitable, management is seeking to impose significant wage cuts on the majority of its work force. Five years ago, the Teamsters fought the tiered wage structure and won.

Tiered wage structures such as the one proposed by IKEA poison work sites, creating resentment between co-workers. Moreover, they contribute to the part-timing of work, as management seeks to take advantage of the new, lower wage categories.

Please inform your members of this ongoing dispute and ask them to not patronize either BC IKEA location until the dispute is resolved fairly and to the satisfaction of the Teamsters and its IKEA members.

We are 100% volunteer and depend on your participation to sustain our efforts!
Get Involved
If you'd like to help with maintaining or developing the website, contact us.