From the Open-Publishing Calendar
From the Open-Publishing Newswire
Indybay Feature
Related Categories:

California | East Bay | San Francisco | U.S. | Global Justice & Anti-Capitalism | Police State & Prisons
New article from FireWorks, a "bay anarchist counterinformation project" about the new google glass barge and its implications.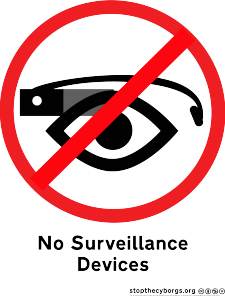 A spate of light investigation from the mainstream media in early November indicates that the mysterious barge under construction near Treasure Island in the San Francisco Bay is actually a floating Google Glass store. Google has been extremely secretive about the barge, but a spokesperson earlier this month delicately called the project an "interactive space where people can learn about new technology."

According to KPIX: "A source who has been onboard the vessel…told KPIX 5 the first three floors are designed to serve as "dazzling showrooms"…There is an upper "party deck" meant to feature bars, lanais and other comforts so Google can fete its upscale customers."

As defined by Huffington Post contributor Cassie Goldring in July, Google Glass is a "wearable computer, with a headmounting display…that can interact with the internet via language voice commands."

She goes on: "This device takes experiencing reality through a technological medium to a new level. Google Glass is an external technological tool…However, it is only a matter of time before Google Glass-type devices take the form of mechanisms that are physically incorporated into our bodies much in the same manner as glasses evolved into contact lenses."

It didn't take long to find other sources around the Internet worked up about Google Glass. A website called Stopthecyborgs.org encourages readers opposed to the head-mounted devices to "Write your political representatives", "Politely ask users to remove their device" and "Download our ban signs and make your property a surveillance free zone… as a way of exerting social pressure to establish norms against usage". This last suggestion is by far the most interesting- these perfectly dystopian posters wouldn't look out of place in an old science fiction movie. The site is also host to an erratically updated anti-tech/anti-cyborg newswire, with a political bent you could describe as "Anti-Cyborg Libertarian".

The Technical Lead and Manager of Project Google Glass is Thad Starner, a Professor at Georgia Technical College of Computing. A short biography on MIT's website claims that he was inspired to develop Glass by– wait for it– The Terminator. Aside from numerous degrees and a PhD, he also boasts of sporting "wearable computers" for over twenty years. Not to be undone, Steve Mann, a Professor at the University of Toronto, has declared himself "The First Human Cyborg". He's waxed poetic in interviews on "The Silicon Brain of the Mind Mesh", and looks towards a world in which humanity "embraces prosthetic minds". Mann rocketed to infamy earlier this year, after he was attacked inside of a McDonald's in the Champs-Elysee district of Paris. The fast food chain's employees tried to rip a head-mounted computer off of Stevie's face after he refused to remove it when entering the restaurant. Unsurprisingly, Mann's next two moves were to piss his pants and run to the police for help.

Mann's sweet revenge came later, on his blog. He hypothesizes several difficult "Scenarios" faced by aspiring cyborgs, all of which lead to tantalizing questions like "If he decides to be a crusader for the right to openly use his camera…who should bear the cost (legal, etc.) of him doing so?" and "How can the wrongs committed against Allan be redressed?". The dangerous thing about Mann is that not only is he at the forefront of developing head mounted surveillance technologies, but he's also deeply invested in a rhetorical push to garner legal protections and social acceptance for the coming wave of computer-faced techy types; A slew of puff pieces in business friendly periodicals and the recent Vogue photo shoot with Google Glass serve to do the same.

So as the bell of evictions and gentrification rings out from San Francisco to San Leandro, Google builds a luxury barge for slinging thousand dollar computers that rich people can wear on their faces. Any questions? No wonder they tried to keep this project under wraps so fiercely! The Google Barge isn't likely to be docked in San Francisco Bay long : after its completion, its easy to imagine the Traveling Google Store on tour, visiting harbors of international cities with wealthy clienteles eager to try their latest gadgets. Nor is it hard to picture Google floating the vessel in international waters, far out of sight from the little people who can't afford helicopter rides to shop for new Augmented Reality headsets.

A recent cover story from The East Bay Express suggests "Oakland is the robbery capital of America", citing an upswing in smartphone thefts linked to "the expanding global market for stolen electronics". This is not a difficult phenomenon to understand- the San Francisco Bay is home to massive inequalities between its richest and poorest residents, the latter of whom are being displaced on an unprecedented scale. The wealthy techies who sport luxury objects like the Iphone 5s are prime examples of "conspicuous consumers" who fuel resentment of the gentrification transforming the Bay. Wearable computers like Google Glass will only exacerbate the backlash.

How long before pigs in the street are outfitted with their own version of Glass? How long before they can use their head-mounting computers to identify parole violators and folks on the run simply by looking in their direction? And is it really such a stretch to imagine Glass evolving into wearable contact lenses, like Cassie Goldring suggests? If the attack on Cyborg Steve Mann in Paris is any indicator, there's reason to believe that there will be fierce resistance to these dystopian developments: a Glass War in the making.
We are 100% volunteer and depend on your participation to sustain our efforts!
Get Involved
If you'd like to help with maintaining or developing the website, contact us.