From the Open-Publishing Calendar
From the Open-Publishing Newswire
Indybay Feature
Related Categories:

International | Arts + Action | Police State & Prisons
The pain of life under tyranny
Petr Pavlensky, opposition artist seen above, has nailed his testicle to the coblestones of Red Square, protesting repression on Russia's "Day of Police".
In a previous action, he made a similar statement by wrapping his naked body in barbed wire, linked to the photo below.
from Вре Дробушевиш  
(MOSCOW) On November 10, an official holiday for police and FSB Officials, an art action took place in Red Square, the Kremlin looming in the background. In this action, named "Freeze" a naked man sitting on the Red Square nailed his testicles to the Kremlin's pavement.
The action can be seen as a metaphor of the apathy, political indifference and fatalism of modern Russian society. Bureaucratic lawlessness deprives society of opportunities to act. The defeats and losses of the people are increasingly painful as they beaten to the Kremlin pavement, beaten into a lethargic army of zombies, patiently waiting for their fate
Now, when power turns the country into one big open area, looting the masses people to enrich the law enforcement agencies, society condones tyranny and the power of the many is surrendered to the few. The failure to rise up brings the triumph of a police state.
INDYRADIO
bring the ruckus to Facebook:  http://facebook.com/IndyRadio
>The future of radio comes not from the Tower of Corporate Media but through WiFi and cellphone it now belongs to us. Circa 2013 we have a window of opportunity since web radio is received on desktops, mobiles and phones without added charges, and there are more than 50,000 free independent stations you can access with simple software. You don't need to download files, or worry about how much storage your device has available.
The newest playlists from Indyradio appear at   http://indyradio.nu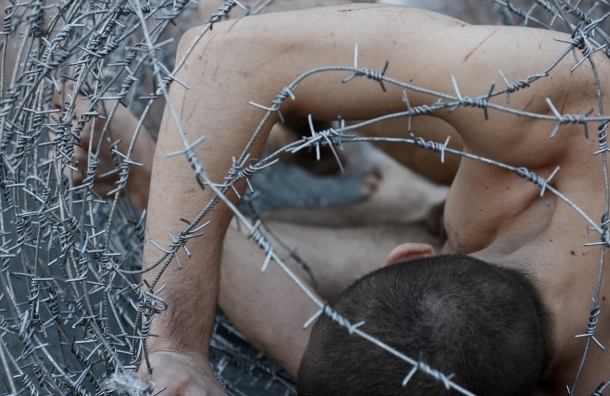 In previous protests, Petr has sewn his mouth shut and wrapped his naked body in barbed wired, mocking the enforcement of silence by the Putin regime. More photos here
http://www.mr7.ru/articles/82932/
grani.ru posted the video, already banned by youtube, on their own site. It's unlikely to stay up for long. This is a great act of defiance, given their continuing legal battles with Putin.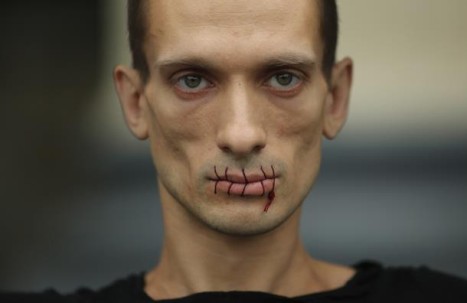 Dmitry Zykov of the dissident publication grani.nu was asked by police to stop the video, which you see at the end of this post, and then Pavlensky was taken to a hospital - he refused hospitalization, then was arrested and booked in to jail. That's all we've heard so far.
He was interviewed last year, when he sewed his mouth shut in protest of the Pussy Riot arrests:
http://thequietus.com/articles/09489-pussy-riot-protest-artist-sewed-mouth-petr-pavlensky
INDYRADIO
bring the ruckus!
We are 100% volunteer and depend on your participation to sustain our efforts!
Get Involved
If you'd like to help with maintaining or developing the website, contact us.