From the Open-Publishing Calendar
From the Open-Publishing Newswire
Indybay Feature
Rare California Seabird Denied Endangered Species Act Protection
SAN FRANCISCO— Responding to a 2007 petition from the Center for Biological Diversity, the U.S. Fish and Wildlife Service today denied Endangered Species Act protection to the ashy storm petrel, a rare California seabird threatened by predators, pollution and climate change.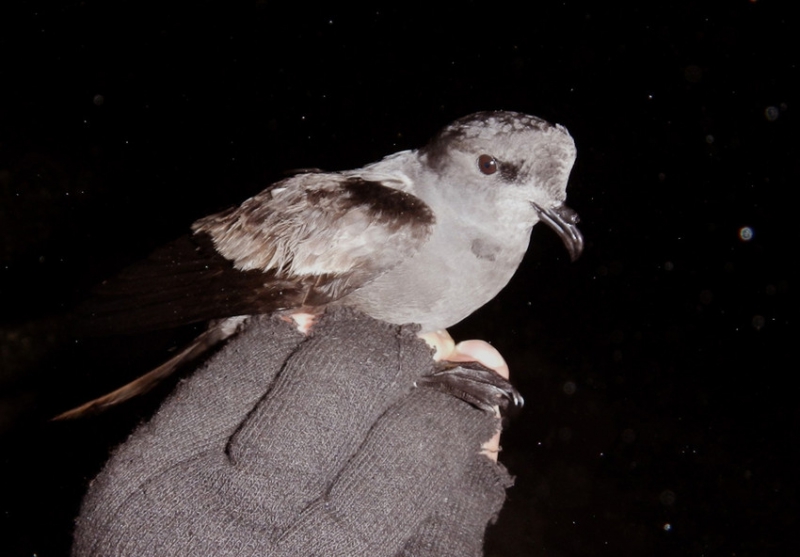 "Numerous studies have raised red flags that these rare and beautiful seabirds are suffering declines and current management efforts just aren't enough," said Shaye Wolf, a Center biologist. "I'm so disappointed that the Service didn't give the ashy storm-petrel the much-needed safety net of the Endangered Species Act to make sure we don't lose this unique California seabird forever."
The ashy storm petrel is a small, smoke-gray seabird that hovers on top of the ocean surface when searching for food, earning it the nickname "water walker." The birds are found exclusively in California and northern Baja California, with most of them nesting on a handful of islands offshore of San Francisco and Los Angeles.
The seabirds are threatened on their breeding islands by predators and rising sea levels that are already beginning to flood some nesting areas. At sea, ashy storm petrels face threats from oil spills and light pollution. Artificial light at night from oil platforms and oceangoing vessels can attract ashy storm petrels like moths to a flame. Instead of going about their natural activities, storm petrels have been documented to circle and collide with lighted structures, which can lead to exhaustion, injury and death.
The Service determined that the multitude of threats the ashy storm-petrel faces have not resulted in a long-term population decline. But the agency's analysis did not adequately account for several published studies that do provide evidence of worrisome declines, including a 42 percent decrease in breeding birds during 1972 to 1992 at the world's largest nesting colony on the Farallon Islands off San Francisco, and a 76 percent decline at sea during 1986 to 2006 in Northern California. A recent study estimated that the Farallon population is likely to decline by another 27 percent over the next 10 years unless conservation measures are put in place to reduce predation.
Based on these declines the ashy storm-petrel is considered endangered by the International Union for Conservation of Nature, an international authority on endangered species.
The Center submitted a petition to list the ashy storm petrel under the Endangered Species Act in 2007. In 2009 the Fish and Wildlife Service denied federal protection to the species, overturning recommendations from its own scientists who had concluded the seabird merited protection. In response to a Center lawsuit the Service agreed to review its listing determination for the ashy storm-petrel in 2013, resulting in today's decision.
The Center for Biological Diversity is a national, nonprofit conservation organization with more than 625,000 members and online activists dedicated to the protection of endangered species and wild places.
http://www.biologicaldiversity.org/news/press_releases/2013/ashy-storm-petrel-10-21-2013.html
http://www.biologicaldiversity.org/
Photo Credits: Center for Biological Diversity (top photo), USFWS (second photo)
We are 100% volunteer and depend on your participation to sustain our efforts!
Get Involved
If you'd like to help with maintaining or developing the website, contact us.