From the Open-Publishing Calendar
From the Open-Publishing Newswire
Indybay Feature
Seventh Fur Farm Rescue This Summer: ALF Releases Up to 300 Mink in Ohio
In Yet Another Raid, the Animal Liberation Front Releases up to 300 Mink in Ohio
Sixth (Seventh Actually) Fur Farm Rescue This Summer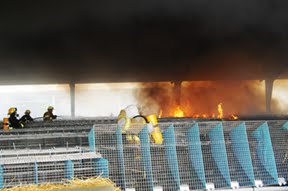 Other farm owned by Lion goes up in flames last year.
In a
communique
received by Bite Back, the Animal Liberation Front took credit for it's 7th US fur farm release in two months. In the latest action, 150 to 300 mink were freed from Lion Farms, 2707 Hoaglin Road in Van Wert, Ohio on September 29th.
Brand new farm targeted
Lion Farms was under construction as recently as December, and is the newest fur farm known in the US. It is so new, it is not reflected on any satellite images available online. The
Coalition Against Fur Farms reports
the location of this farm was revealed by a tipster in early 2013, who provided the address while it was under construction.
European farmer attempting to enter the US market
Lion Farms is a company form Holland, that appear to be opening new fur farms in the US. Two farms owned by the company are known presently: The farm in Van Wert, Ohio; and another in Nottingham, Indiana.
The company has hit some speed bumps in its attempt to open fur farms in the US. In addition to this latest ALF raid, the other farm owned by Lion Farms went up in flames in May, 2012. In that incident a barn caught on fire, apparently while the farm was under construction.
Other farm owned by Lion goes up in flames last year.
The full communique reads:
"9/29/2013
150-300 mink released from cages and dozens of breeding cards destroyed at the massive mink farm owned by Lion Farms, 2707 Hoaglin Road in Van Wert, Ohio. This facility confines tens of thousands of animals, making it one of the largest mink farms in the United States. Time constraints prevented us from doing more.
Mink are wild animals native to North America. The fur industry's lies are transparent. Mink are fiercely territorial carnivores and will have no problem hunting and surviving in the wild. Any wildlife biologist knows this.
'The souls of the tortured dead cry out for justice. The cry of the living is for freedom. We can create that justice. We can deliver that freedom. The animals have no one but us. We will not fail them'
A.L.F."
[Press Office note: Imprisoned in cages for life, or mercilessly trapped with painful leghold traps in the wild, fur-bearing animals killed to make unnecessary fashion statements are forced to endure intensive confinement, compared to the miles of territory these still-wild animals would enjoy in their natural state. The natural instincts of these captive animals are completely frustrated; self-mutilation, sickness, infection, poor sanitation and the sheer stress of confinement lead animals in captivity to premature death. When they survive, animals of sufficient size are killed by anal electrocution or gassing, then skinned. In addition to liberating the wild animals destined for a certain, painful and agonizing death, another goal of liberationists is to cause economic damage to fur retailers and farms; dozens of stores and fur farming operations have seen economic ruin since "Operation Bite Back" began by the Animal Liberation Front in the 1990s.
The Animal Liberation Front utilizes economic sabotage in addition to the direct liberation of animals from conditions of abuse and imprisonment to halt needless animal suffering. By making it more expensive to trade in the lives of innocent, sentient beings, the ALF maintain the atrocities against our brothers and sisters are likely to occur in smaller numbers; their goal is to abolish the exploitation, imprisonment, torture and killing of innocent, non-human animals. A copy of the Final Nail is available on the Press Office website at
http://www.animalliberationpressoffice.org
]
We are 100% volunteer and depend on your participation to sustain our efforts!
Get Involved
If you'd like to help with maintaining or developing the website, contact us.