From the Open-Publishing Calendar
From the Open-Publishing Newswire
Indybay Feature
View other events for the week of

10/10/2013
Occupy Oakland 2nd Anniversary Party! Detailed Schedule of Events.
Date

Thursday October 10

Time

2:00 PM

-

10:00 PM

Import this event into your personal calendar.
Location Details
Oscar Grant Plaza, Broadway & 14th St, Oakland, CA
Event Type

Party/Street Party

Organizer/Author

Speakers

:

Sarah Shourd is an author, activist and Contributing Editor at Solitary Watch. She spent 410 days in solitary confinement while held as a political hostage by the Iranian Government in 2009-2010. Before being captured Shourd was living in a Palestinian Refugee Camp in Damascus, Syria working with the Iraqi Student Project. She's written for The New York Times, CNN, Newsweek's Daily Beast and has a blog on Huffington Post. Her memoir (co-authored by her now-husband Shane Bauer and friend Josh Fattal) will be published by Houghton Mifflin Harcourt in Spring 2014. For more information visit her website.

Fred Hampton Jr. (either in person or via speaker phone)

Fred Hampton, Jr. (born December 29, 1969) is an African-American political activist and the son of Fred Hampton, Sr. His father was a Black Panther who was killed by the Chicago Police in 1969. Hampton's mother Deborah Johnson, who was also shot, was eight-and-a-half months pregnant with him when Hampton Sr. was killed in her presence during the pre-dawn police raid. Hampton Sr. was 21 at the time of his death; Johnson was 19...

Hampton is the chairman of the Prisoners of Conscience Committee (P.O.C.C.). On July 3, 2013, Hampton and three others filed a false arrest and excessive force lawsuit against Oakland and Emeryville, claiming that they were held for almost three hours on January 21, 2013 in retaliation for their well-known activism.

Occupy Oakland's own Laleh Behbehanian.

Laleh has been active in Anti-Repression and lately with Prisoner Hunger Strike Solidarity. She has spoken movingly before the Oakland City Council and at many Occupy Oakland events. She had a video documentary made about her.

-----

Come join comrades for its 2nd anniversary. Talk. Reflect. Enjoy. Music. Speakers. Food will be served, and movies will be shown as soon as it gets dark.

This Year's Theme: Solidarity with the 60 day California Prisoners' Hunger Strike and the 60 hour Solidarity Fast by two OO participants, opposition to solitary confinement, privatization of prisons and the rest of our commons. And of course the continuing struggle against the economic destruction of the 99%.

Schedule of Events.

2:00 PM: Music begins.

2:00 - 4:00 PM: Music! Rocker T, JuJu, Street Black, TMac and others.

4:00 PM - 5:15 PM: Our Guest Speakers.

5:15 PM - 6:00 PM: OO Committees & Activist groups give reports on theirs doings.

6:00 PM - 7:00 PM: Food! Brought to you by 'Big Red' and the informal OO food group.

7:00 PM - 7:15 PM: Announcements by organizers.

7:15 PM - ?: Movies! (New Occupy Oakland documentaries, Porky the Anarchist Pig, Occupy the Sierras)

See You There!

One of the original Occupy Oakland posters from two years ago:

Added to the calendar on Monday Sep 30th, 2013 11:43 AM
Oscar Grant Plaza, 14th & Broadway, Oakland, CA
The encampment began on October 10th, 2011 at Oscar Grant Plaza (renamed from Frank Ogawa Plaza a few days later). Two years hence we're going to start two hours earlier, at 2:00 PM; otherwise these posters (scroll down) from back then seem an appropriate decoration.
Come join comrades for its 2nd anniversary. Talk. Reflect. Enjoy. Music. Speakers. Food will be served, and a movie will be shown as soon as it gets dark.
Theme: Solidarity with the 60 day California Prisoners' Hunger Strike and the 60 hour Solidarity Fast by two OO participants, opposition to solitary confinement, privatization of prisons and the rest of our commons. The continuing struggle against the economic destruction of the 99%.
Schedule:
2:00 PM - 5:00 PM. Music & Speakers.
  Keynote speakers: Shane Bauer and Sarah Shourd, kidnapped and in solitary confinement in Iran before Occupy began, and who spoke to Occupy Oakland days after the encampment started.
  Possible additional speaker: Fred Hampton Jr., anti-police violence activist.
  Music: Rocker T, JuJu, Street Black and TMac so far.
5:00 PM - 7:30 PM. Food, camaraderie, other activities.
  Presentations: We might have some short presentations by some active area groups that have current or former Occupy Oakland members:
    Berkeley Post Office Defenders, Oakland Domain Awareness, Richmond Eminent Domain Working Group, Strike Debt Bay Area, Justice 4 Alan Blueford, Occupy Oakland Foreclosure Defense Group, Campaign to replace the District Attorney and Sheriff of Alameda County, Occupy 4 Prisoners, Anti-Repression Committee, Hunger Strike Solidarity, Biblioteca Popular, Countintelligence Awareness and Seminar Group, Occupy the Farm, Interfaith Tent, Fight For Fifteen Oakland.
7:30 PM.   Movie! (Title to be announced)
Planning:
Come to the Occupy Oakland GA on Sundays at 2:00 PM at OGP (14th & Broadway) on the City Hall steps or in the amphitheatre to plan, pick up flyers and help organize. The next one is on September 29th.
We are also planning a more sobering event for October 25th. Stay tuned.
Calendar event for the October 10th, 2nd Anniversary event.
Memorabilia:
View archived images of our original occupation flyers on IndyBay!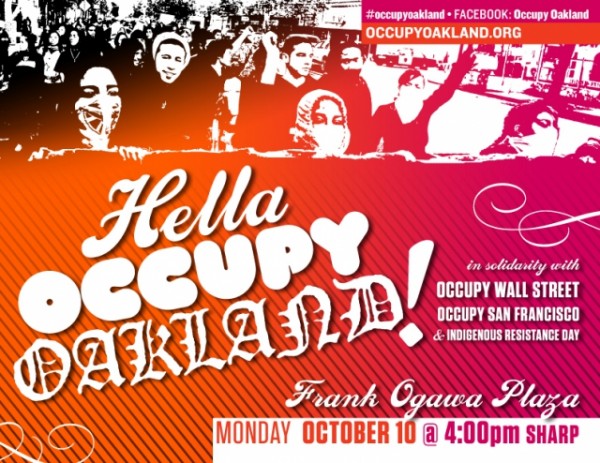 We are 100% volunteer and depend on your participation to sustain our efforts!
Get Involved
If you'd like to help with maintaining or developing the website, contact us.