From the Open-Publishing Calendar
From the Open-Publishing Newswire
Indybay Feature
Related Categories:

East Bay | Labor & Workers
View other events for the week of

10/16/2013
Panel-Berkeley Forum-xtreme Genetic Engineering and Biosafety by the Bay: Communities and
Date

Wednesday October 16

Time

7:30 PM

-

9:30 PM

Import this event into your personal calendar.
Location Details
Brower Center
2150 Alston Way
Berkeley
Event Type

Speaker

Organizer/Author
synbiowatch

10/16 Berkeley Forum-xtreme Genetic Engineering and Biosafety by the Bay: Communities and Workers at Risk

Extreme Genetic Engineering and

Biosafety by the Bay: Communities and Workers at Risk

Becky McClain

in conversation with Gopal Dayaneni

of Movement Generation: Justice and Ecology Project and

Ed Hammond, an internationally recognized expert on biolab safety.

Wednesday, October 16, 2013 7:30 PM

Brower Center, Goldman Theater

2150 Alston Way

Berkeley

Free

http://www.synbiowatch.org/2012/03/watch-synbio-conference-live/poster/

Streamed live on KPFA.org video channel and International Labor Media Network Channel

http://www.ilmnetwork.org

What can the experience of the world's first successful biotech whistleblower tell us

about the push by local politicians and UC Berkeley to create an East Bay "Green Corridor" focused on establishing genetic engineering biolabs along the earthquake- prone Pacific Ring of Fire?

Former Pfizer, Inc. molecular biologist Becky McClain became seriously ill after exposure to genetically modified agents at the pharmaceutical giant's

Connecticut lab.

Last year she won the appeal upholding her case against the company for its violation of her right to free speech after she called attention to inadequate biolab safety conditions.

Hear how she learned first hand

- that there are no effective government safety regulations for genetic engineering

- that the law allows corporations to claim trade secrets in their refusal to turnover information about life threatening infectious agents

- that corporations will use the law to silence people who try to talk about these dangers

Health And Safety Threatened At Pfizer: Stop Injuring Biotech Workers

http://www.youtube.com/watch?v=7L_qznMfbQ0

On September 29, 2011 injured workers including former Pfizer injured

molecular biologist bitotech scientist Becky McClain held a rally for justice

outside the Groton, CT laboratories where she was contaminated.

Speakers including McClain discussed the issues that are faced in this

industry and the lack of proper oversight and protection for the workers

and the public at Pfizer. She also reports that OSHA officials did not properly protect

her and the public and still have not done an onsite investigation at the laboratories.

Other injured workers from CT also talk about their struggle for healthcare and justice

for their workplace injuries.

For more video go to:

http://www.youtube.com/watch?v=uwgABDwiNVw&feature=player_embedded http://blip.tv/file/4712025 http://blip.tv/file/3960030 http://blip.tv/file/2061380

Injured Workers National Network IWNN

info [at] iwnn.org

Production Of Labor Video Project

http://www.laborvideo.org

laborvideo.blip.tv

Becky McClain, Injured Pfizer Molecular Biologist and Health & Safety Advocate Speaks at Calaway Awards

http://blip.tv/file/4712025

Becky McClain, injured Pfizer Molecular Biologist and Health and

Safety Advocate speaks at Callaway Awards Presentation on

12/8/2010 in Washington, D.C. California. For more information go to

http://www.cpab.info

and California Coalition For Workers Memorial Day

http://www.workersmemorialday.org

Injured Pfizer molecular biologist and biotech worker Becky McClain presentation at synthetic biotech conference

http://www.youtube.com/watch?v=sVu5I0lZhM8

Becky McClain was a molecular biologist at Pfizer in Groton, Connecticut and was

contaminated by the company due to lax health and safety standards. She spoke

on March 29, 2012 at an international conference called "Unmasking the Bay Area

Bio Lab and Synthetic Biology: Health, Justice, And Communities At Risk.

For more information go to

http://www.synbiowatch.org

or

http://www.iwnn.org

Pfizer Injured Biotech Molecular Biologist Becky McClain-Biotech workers and the public under threat

http://blip.tv/file/3960030

On July 17, 2010 in San Francisco, Pfizer injured biotech molecular biologist Becky McClain

discussed her firing for making OSHA complaints and also the potential and real dangers

of unregulated and development of products in the biotech and nanotech industry without

proper oversight. The first US conference on biotechnology and health and safety was

sponsored by the California Coalition For Workers Memorial Day

http://www.workersmemorialday.org

Additional presentations at the conference are

Biotech, CA Osha & Health And Safety Presentation With Dr. Larry Rose

http://blip.tv/file/3916683

The Toxic Environment, Public Health, ACOEM And Pfizer:Presentation By Dr. Jack Thrasher

http://blip.tv/file/3921769

Conflict of Interest By Judge Says Sandi Trend, Mother of Injured Agraquest Biotech Worker Bell

http://blip.tv/file/3924484

Dina Padilla Speaks At Biotech & Health And Safety Conference

http://www.youtube.com/watch?v=c_-_XEnaiNg

The conference was also endorsed by Council For Responsible Genetics

http://www.councilforresponsiblegenetics.org

For additional information go to

http://www.cpab.info https://www.facebook.com/pages/Injured-Workers-National-Network-IWNN/108362552680848

Added to the calendar on Monday Sep 23rd, 2013 4:55 AM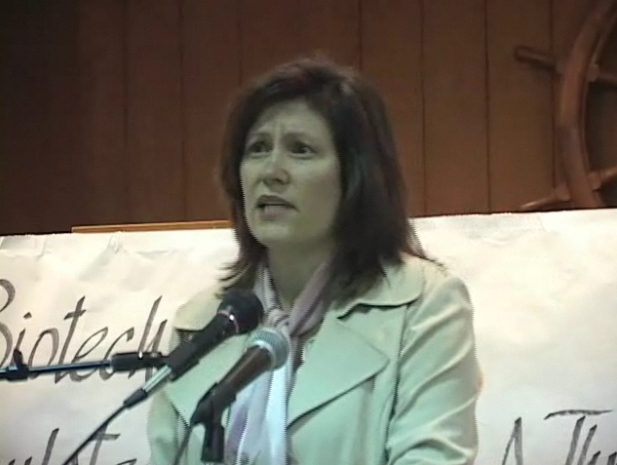 Becky McClain has been fighting for health and safety for biotech workers around the world and also against Pfizer and other drug and chemical companies that are harming workers, the community and the environment by lack of health and safety protection.
We are 100% volunteer and depend on your participation to sustain our efforts!
Get Involved
If you'd like to help with maintaining or developing the website, contact us.