From the Open-Publishing Calendar
From the Open-Publishing Newswire
Indybay Feature
Related Categories:

Santa Cruz Indymedia | U.S. | Government & Elections | Health, Housing & Public Services | Police State & Prisons
Federal Appeals Court Strikes Down Michigan's Anti-Begging Statute as Unconstitutional
In a victory for free speech, the federal court of appeals ruled unanimously on August 14 that Michigan's state law criminalizing peaceful panhandling in all public places is unconstitutional.


Download PDF (72.6kb)
GRAND RAPIDS, Mich. – In a victory for free speech, the federal court of appeals ruled unanimously today that Michigan's state law criminalizing peaceful panhandling in all public places is unconstitutional. The American Civil Liberties Union of Michigan first filed the lawsuit in September 2011 against the state and the City of Grand Rapids. The City of Grand Rapids had enforced the law 399 times between January 1, 2008 and May 24, 2011.
"This decision reaffirms the principle that our Constitution applies equally to everyone, whether poor or rich," said Miriam Aukerman, ACLU of Michigan staff attorney. "Jail time is a harsh price to pay for holding up a sign or simply asking for spare change."
The ACLU of Michigan argued that the state's anti-begging law is unconstitutional because peaceful panhandling – like requests for charity by nonprofits, sport teams, or the Salvation Army -- is protected speech under the First Amendment. The appeals court agreed with the ACLU affirming the lower court's decision, stating:
"Begging, or the soliciting of alms, is a form of solicitation that the First Amendment protects."
The Court also held that "Michigan's interest in preventing fraud can be better served by a statute that, instead of directly prohibiting begging, is more narrowly tailored to the specific conduct, such as fraud, that Michigan seeks to prohibit."
The lawsuit was filed on behalf of two Grand Rapids residents who were repeatedly arrested or ticketed by police for violating the state's blanket ban on begging in public. James Speet receives food stamps, and also collects bottles, cans and scrap metal to survive. Speet has often sought and found odd jobs by holding up a sign in public that read "Need Job, God Bless." Speet, who was prosecuted multiple times under the unconstitutional state law, was arrested in July 2011 for holding up the sign in Grand Rapids. View the sign that Speet was arrested for holding.
"I see people holding up signs throughout the city advertising restaurants or protesting and they didn't get arrested or ticketed," said Speet. "I don't understand why my sign was any different just because I'm homeless and looking for a job."
Ernest Sims is a veteran who relies on a $260 disability assistance check and food stamps for survival. When unable to afford his expenses, he asked people for "spare change to help a veteran" on the public streets of Grand Rapids. On July 4, 2011, a Grand Rapids police officer arrested Sims, who was asking for change for bus fare. Sims pleaded guilty and was sentenced to $100 or two days in jail. Video: Watch Sims discuss his arrest and experience with poverty.
This is not the first time the ACLU has raised concerns about anti-begging policies in Michigan. In 2011, the ACLU of Michigan successfully lobbied Royal Oak officials to repeal an unconstitutional ordinance that similarly punished peaceful panhandling on public sidewalks. The ACLU has also urged Birmingham, Taylor, and Lincoln Park to repeal their anti-begging ordinances which, like the state law struck down today, ban all begging in public places.
In addition to Aukerman, Speet and Sims are represented by Dan Korobkin and Michael J. Steinberg of the ACLU of Michigan.
http://www.aclu.org/free-speech/federal-appeals-court-strikes-down-michigans-anti-begging-statute-unconstitutional


Download PDF (137.9kb)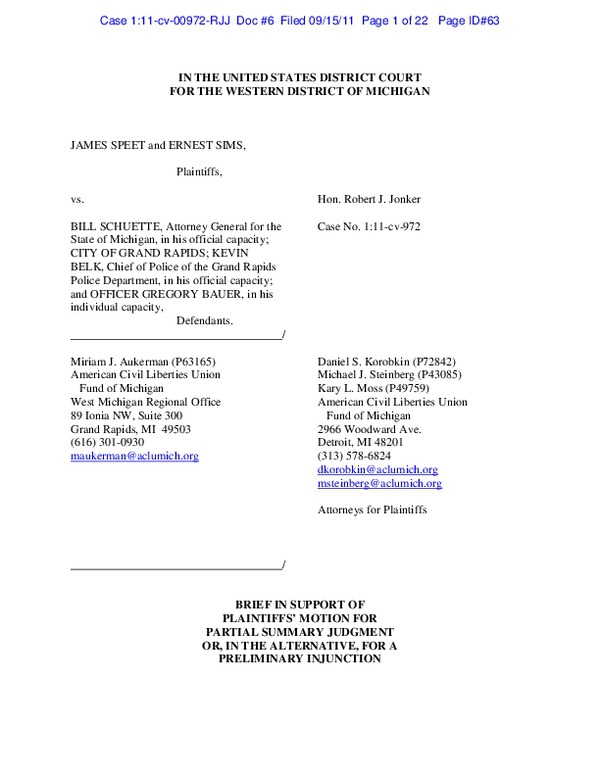 Download PDF (1.6mb)
We are 100% volunteer and depend on your participation to sustain our efforts!
Get Involved
If you'd like to help with maintaining or developing the website, contact us.