From the Open-Publishing Calendar
From the Open-Publishing Newswire
Indybay Feature
Related Categories:

International | Santa Cruz Indymedia | Labor & Workers | Police State & Prisons
Workers Protesting Garment Factory Collapse Shot By Police
[Photo: Striking Bangladeshi garment workers in 2010 who won an 80% increase in the wages for Bangladesh's millions of garment workers.]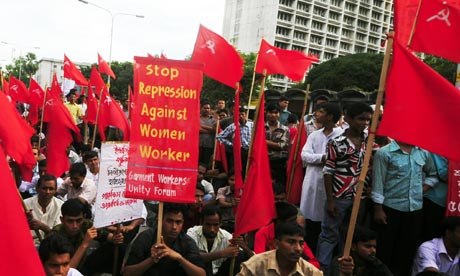 Workers Protesting Garment Factory Collapse Shot By Police
By Steven Argue
The death toll from a garment factory collapse in Bangladesh in April has reached 1,130 people. The day before the collapse workers noticed obvious cracks that had formed in the building's structure, but were forced back to their jobs by the factory owner.
In November of 2012 a similar unsafe sweatshop in Bangladesh had a fire that caused the death of 111 workers. The death toll was so high because the managers kept emergency exits locked. The company produced clothing for WalMart and other imperialist companies.
Meanwhile, after the collapse, the profits of sweatshop owners in Bangladesh increased in May by 15%. Whatever people want to say about the industrial era supposedly being over, the production of capitalist commodities continues. While industries like textiles generally aren't produced by American workers anymore, they continue to be produced by the potentially powerful working class of the world.
Attempting to get some justice for their fellow workers, protests and mass strikes have erupted in Bangladesh against the unsafe conditions that are killing workers for profit. Two such protests that were taking place last week were brutally attacked by the police. The first, on June 4th was a protest of about 5,000 people. It was attacked by the police with rubber bullets. Thirty people were injured. There was another protest at a different location the next day. Hundreds of people were demanding salaries and back pay promised by the government and capitalist exploiters in the Bangladesh Garments Manufacturers and Exporters Association (BGMEA). The protest included factory workers from the collapsed building and family members of the dead. Instead of meeting the just demands of the workers, the Bangladeshi capitalist government once again attacked workers with tear gas, beatings with batons, and firing guns into the air. Another 50 people were injured.
A series of strikes and protests in 2010 by Bangladesh's textile workers was met with similar brutality, including the police beatings of children who joined the strike. Despite the police violence in 2010, the striking workers were able to win an 80% increase in the minimum wage for Bangladesh's millions of garment workers.
For an End to Capitalist Exploitation in Bangledesh through Proletarian Revolution!
For an End to U.S. Imperialism through Socialist Revolution in the United States!
For the Nationalization of WalMart and Similar Corporations to Achieve:
Safe Conditions and Living Wages for All Workers Exploited by U.S. Capitalists!
Total Expropriation of the Walton Family and Other Ruling Class Families without Compensation!
-Steven Argue of the Revolutionary Tendency
This is an article of Liberation News, subscribe free:
https://lists.riseup.net/www/info/liberation_news
We are 100% volunteer and depend on your participation to sustain our efforts!
Get Involved
If you'd like to help with maintaining or developing the website, contact us.