From the Open-Publishing Calendar
From the Open-Publishing Newswire
Indybay Feature
As Barrick's shares tank, Protesters highlight the company's hypocracy and abuse
As Barrick's stock tanks, protestbarrick.net releases a report "Debunking" the companies socially responsible image by telling ground level stories from Barrick's mine sites around the world. The report is to be released today at a large protest outside the company's annual general meeting.
image: High school students get the day off of school to protest Barrick's AGM. Barrick's stock has dropped over 50% since April 2012, when this photo was taken. Download report here:
http://www.protestbarrick.net/downloads/DebunkingBarrick.pdf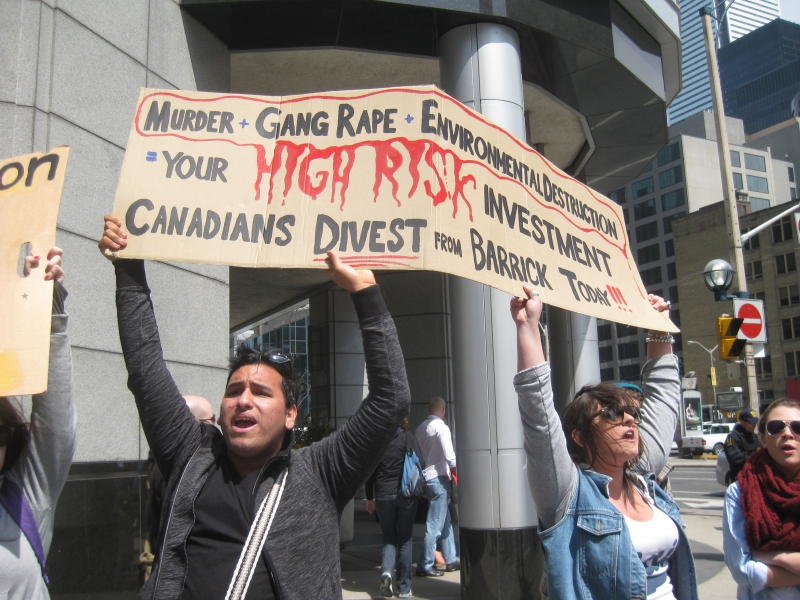 A giant effigy of Barrick Gold chairman Peter Munk with a Pinocchio nose will illustrate what protesters think about Barrick's corporate social responsibility. Though the company projects a glossy image, activists point to a pattern of hypocrisy, disregarding people's lives and destroying sensitive eco-systems. Barrick's lies have caught up to them recently, however, as a court in Chile recently halted constuction at Barrick's giant Pascua Lama
project due to contamination issues, sending their stock tumbling.

The protest will take place outside of Barrick's annual general meeting (AGM) this year and coincides with the
release of a report "Debunking Barrick", which uncovers the uncomfortable truths behind Barrick's CSR spin.

"Around the world, Barrick robs Indigenous people of their lands, poisons waterways and agricultural land,
supports brutal police and security operations, and sues anyone who tries to report on it," says the editor of the
report, Sakura Saunders. "But despite repression and a sophisticated PR machine, the truth is getting out about
this corporate criminal."

In Latin America, regulators are starting to take regulations seriously, a change that does not bode well for
Barrick's prospects in the region. The Pascua Lama project straddles the border of Chile and Argentina. This
July, Argentina's Supreme Court ordered that laws protecting glaciers would apply to Barrick, despite the
company's best efforts.

"Barrick has spent several years violating and blocking the application of the law, and as a result the Pascua
Lama project should be permanently cancelled," says Maite Ruggieri, Greenpeace Andes activist.

On the other side of the world in Papua New Guinea, Barrick has recently drawn ire for their remediation
program aimed at women gang raped by mine security at the Porgera mine. The contract for participation
requires that victims sign away future rights to sue in exchange for receiving redress.

"Barrick is taking advantage of uneducated women by having them sign away their rights without independent
legal council," says Natalie Lowrey, the Australia based editor of protestbarrick.net. "They don't even know what they are receiving. This is an international public relations program, and does nothing to alleviate the suffering of the women raped by Barrick's guards."
We are 100% volunteer and depend on your participation to sustain our efforts!
Get Involved
If you'd like to help with maintaining or developing the website, contact us.