From the Open-Publishing Calendar
From the Open-Publishing Newswire
Indybay Feature
Philippine climate activists expose risks of dirty coal.
300-strong climate activists and anti-coal advocates stormed the Department of Energy to voice out their opposition to coal mines and coal-fired power plants promoted by the government and to launch the group's Campaign Against Dirty Energy and for People's Access to Safe, Renewable and Democratic Energy Alternatives.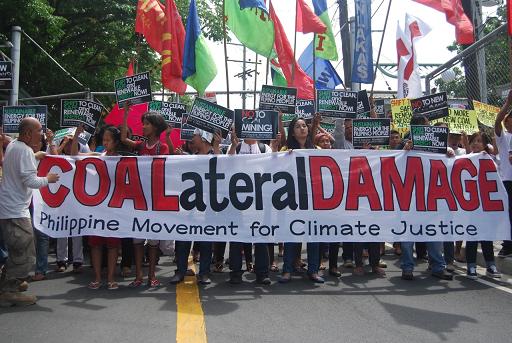 This is in celebration of Earth Day and the group's National Day of Action against Coal.
Led by the Philippine Movement for Climate Justice (PMCJ), the groups brought body bags, gas masks and paper-made Philippine Cockatoos wearing masks to avoid the pollution from coal and highlighted how coal damages not only the environment and biodiversity but our lives, literally taking lives -, thus, the statement: COAL KILLS.
COAL KILLS—Why is coal dirty, toxic
Gerry Arances, national coordinator of PMCJ explained: "The promotion of coal as a major source of energy of Filipino communities is not the right solution to the alleged power crisis in several parts of the country. First of all, coal emits a large amount of heavy metals such as mercury and arsenic – contaminating our waters; generates 500 tons of small airborne particles which cause asthma, bronchitis, and aggravate heart disease; coal ash disposal poses a very high risk of causing cancer to those exposed.
Second, coal plant emissions in surrounding areas kill the livelihoods of host communities as the studies in coal plants in Masinloc, Zambales, and Naga, Cebu, among others, have clearly shown.
Third, coal burning is the major cause of global warming and further promoting it will aggravate the climate crisis that we are facing now. This I believe is a greater damage to the present and future generations who will have to suffer the intensified impacts of climate change."
RESIST COAL—Increasing local opposition to coal
Two of the major proposed projects now include the coal plants in Cebu and Palawan.
In Cebu, ash samples tested from a coal plants in Naga, Cebu, revealed presence of heavy metals such as mercury and arsenic (carcinogen),both hazardous substances. Despite this, more projects are still underway. Naga is home to two coal plants.
"Health records in Naga for 2009-2012 reveal cancer as one if not the leading cause of mortality incidence in the area. Though could not be directly linked to the coal plant operations, that its incidence in Naga is higher than national averages should be sufficient basis for alarm. While we debate as to whether or not coal is the culprit for the deaths, cancer-related deaths in the area continue to rise," said Atty. Aaron Pedrosa of Sanlakas.
"The same could be said of communities in Toledo City, Cebu where another coal plant operates. But instead of addressing the health concerns and conducting a probe into the situation, the government intends to put up another plant in the province", Pedrosa added.
Cancer is among the many diseases that could be attributed to continued exposure to coal combustion wastes
Also threatened by coal projects is our Last Frontier, Palawan—where a 15MW coal-fired power plant project is being proposed to respond to a projected looming power shortage in the province. Environmentalists and conservationists in the province are strongly opposing as the plant is to be set up 1.5-kilometers away from Rasa Island, home to the critically endangered Philippine Cockatoo.
Katherine Leuch of Palawan Alliance for Clean Energy asserts that "The superficial cheapness of coal should not be the only consideration for allowing a coal-fired power plant in Palawan because the risks of such far outweighs the benefits given that Palawan is an ecologically rich and sensitive province. The negative effect of coal is as dark as it is.
What is saddening is that based on our study the projected power shortage is unfounded. It is mainly due to distribution problems and not because of the existing supply. Palawan can also provide cleaner and safer alternatives like mini hydro, and other renewable energy sources."
RE-ENERGIZE ALL—Shift to REnewable, sustainable energy for all Filipino communities
The Philippine Energy Plan (PEP) 2008-2030 reveals that coal production will continue to escalate. From 39 coal operating contracts (COCs) in 2007, there are now 76 COCs—16 of which were awarded -– last February by the government.
Arances concluded: "The PEPs massive promotion of coal-based power is alarming and is a major cause of concern for our fragile ecosystem and the Philippine population. - Coal is far from the best or even good solution to our power crisis.
Studies show that the country's potential renewable energy can provide as high as more than 200,000 MW even without tapping solar power. It is about time that we look at this and do away with large-scale, dirty and environmentally-destructive projects.
If the government is as serious about using renewable energy as it claims, it had best do away with contradictory policies. Government needs to revise its Philippine Energy Plan to ensure that vulnerable communities stop suffering from the harmful effects of coal; start investing in RE sources to make clean power accessible and affordable to our people."
Local actions against coal
Anti-coal groups in host communities also led different information-awareness campaign activities locally, including Cebu City, Davao City, General Santos City, Palawan, Bataan, Leyte, and Quezon.
In Cebu, around 100 activists dumped coal on a life-size map of the Philippines symbolizing the government's rabid promotion of carbon-intensive technology and activities treating its adverse effects on the community's health, ecosystem and livelihoods as collateral damage.
Last Sunday, April 21, Suportado Movement and PMCJ also organized a Bike Tour para sa Abot Kayang REnewable Energy in Marikina, also in celebration of Earth Day.
In Palawan, advocates from Palawan Alliance for Clean Energy (PACE) installed streamers and COAL KILLS posters around Puerto Princesa, while in Panacan, Narra, Palawan several dirty coal educational activities were held Members of PACE also campaigned via local radio and a local forum the call against coal and opposition to the proposed coal plant in Narra, Palawan.
http://climatejustice.ph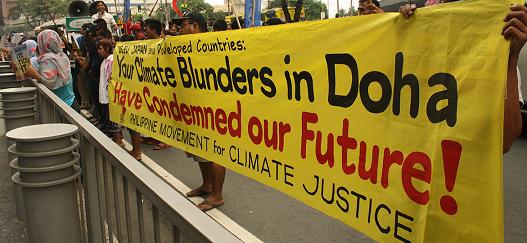 We are 100% volunteer and depend on your participation to sustain our efforts!
Get Involved
If you'd like to help with maintaining or developing the website, contact us.