From the Open-Publishing Calendar
From the Open-Publishing Newswire
Indybay Feature
View other events for the week of

5/ 1/2013
SF May Day LaborFest Screening of "Dreamwork China" At ILWU Local 34
Date

Wednesday May 01

Time

7:00 PM

-

9:00 PM

Import this event into your personal calendar.
Location Details
ILWU Local 34
800 2nd St. near Embarcadero & 2nd St. next to AT&T Stadium
San Francisco
free parking available in union parking lot
Event Type

Screening

Organizer/Author
LaborFest

SF May Day LaborFest Screening of "Dreamwork China" At ILWU Local 34

Join LaborFest On May Day 2013

Wednesday May 1, 2013 7:00 PM

ILWU Local 34

800 2nd St. near Embarcadero & 2nd St. next to AT&T Stadium

San Francisco

free parking available in union parking lot

Donations Accepted

To commemorate international May Day and in conjunction with labor film screenings around the world, LaborFest will be screening

"Dreamwork China" about the lives of tech workers in China including workers producing Apple products. This premier

screening in San Francisco will be an opportunity for the first time to see the lives of the workers who produce I phones at Foxconn in Shenzhen, China.

Following the film there will be a discussion about the launch of the international labor media channel and how workers can use new media to tell their stories.

This is sponsored by LaborFest which holds an annual labor cultural film arts festival every July to commemorate the San Francisco general strike in 1934 to defend the hiring hall and the right to union.

LaborFest

http://www.laborfest.net

(415)642-8066

laborfest(at)laborfest.net

Global Labor Film Festival Launches on May Day

The first-ever Global Labor Film Festival

http://laborfilms.com/category/a-global-labor-film-festival/

kicks off on May Day, as screenings in from Jerusalem, Israel to London, England, Santa Cruz, California and Rochester, New York launch more than a dozen screenings of labor films around the world.

First conceived at the second annual International Conference of Labor Film Festival Organizers at the 2012 DC Labor FilmFest, the Global Labor Film Festival is an opportunity to showcase the growing worldwide scope of more than two dozen film festivals

http://laborfilms.com/category/a-labor-film-festivals/

focused on films about work, workers and their issues. All the labor film festivals were invited to screen a labor-themed film of their choice during the month of May, chosen because May 1 -- International Workers' Day -- is a national holiday in more than 80 countries and celebrated unofficially in many other countries.

Some 13 labor film festivals are participating in the Global Labor Film Festival, screening a wide range of films, from the classics like Salt of the Earth and Reds to brand-new films like Dreamwork China, Harvest of Empire and The War on Whistleblowers.

See below for GLFF screening dates, locations and films; click here

http://laborfilms.com/category/a-global-labor-film-festival/

for details on each screening.

GLFF 2013:

Barre, VT: May 5: Salt of the Earth (Labor Film Night at the Socialist Labor Party Hall)

Ft. Lauderdale, FL: May 15: Dreamwork China: (Workers Unite Film Festival SouthEast)

Haifa & Jerusalem, Israel: May 1: Sharqiya (Haifa International Labor Film Festival)

London, UK: May 12: Fire in Babylon (London Socialist Film Co-op)

London & Manchester, UK: May 1 & 2: Burn (London Labour Film Festival)

New York City, NY: May 15: Dreamwork China (Workers Unite Film Festival)

Rochester, NY: May 1: Reds (Rochester Labor Film Series)

San Jose, CA: Date &Title TBA (San Jose Reel Work)

San Pedro, CA: May 18: North Country (San Pedro Labor Fest)

San Francisco, CA: May 1: Dreamwork China (San Francisco LaborFest)

Santa Cruz, CA: May 1: Harvest Of Empire (Reel Work May Day Labor Film Festival)

Washington, DC: May 7: The War on Whistleblowers (DC Labor FilmFest)

Wollongong, New South Wales, Australia: May 4: WE WORK TO LIVE! (Australian International Labour Film Festival)

Istanbul, Ankara Dreamwork China (Turkey LaborFest)

Voices of Chinese Workers in the 'iEconomy'

http://thelede.blogs.nytimes.com/2012/01/27/voices-of-chinese-workers-in-the-ieconomy/

January 27, 2012, 1:55 pm 5 Comments

Voices of Chinese Workers in the 'iEconomy'

By DANIEL MCDERMON

An excerpt from the documentary "Dreamwork China."

Two recent Times articles in a new series, "The iEconomy," have addressed the challenges faced by high-tech industries, including the pressures of a globalized supply chain and questions about labor practices at manufacturing partners.

Donald Chan/Reuters

People flooded Foxconn Technology with résumés at a 2010 job fair in Henan Province, China.

In much of the debate surrounding these issues, one group's voice is notably quiet: the factory workers themselves. Many of them are young migrants, attracted by the prospect of steady work and chances for advancement. As seen in the photograph at right, there is intense competition for such jobs.

In 2010, Ivan Franceschini and Tommaso Facchin, documentary filmmakers from Italy, set out to collect the voices of those workers. They rented a photo studio in Shenzhen, China, where they took portraits of workers from a nearby Foxconn facility. As they took photographs, they spoke to the workers about their daily lives, hopes and dreams.

Mr. Franceschini and Mr. Facchin have recently completed their project, a feature called "Dreamwork China." A lengthy excerpt from the film is embedded above.

Via e-mail, Mr. Franceschini responded to some questions from The Lede.

Q.

What drew you to the subject?

A.

2010 was a very important year for Chinese labor. Chinese workers, especially young migrants, started gaining a lot of attention from the Chinese and international media. At the time, I was living between Beijing and Shenzhen, and I had already been researching the topic of Chinese labor for some years, so I was struck by the change in the public discourse about Chinese labor.

Until spring 2010, Chinese and international media were eager to describe Chinese workers as victims, but then the focus shifted to their activism on the workplace and their (supposed) rising legal consciousness. In particular, at the end of 2010 there were two considerations which pushed me and Tommaso Facchin to undertake the project "Dreamwork China."

The first one was the willingness to experiment with a new medium and a new language for my research. The second one was the idea of describing these workers beyond their being just workers, but as young people with dreams, ideals and goals — not just as screws or robots on the production lines. We also wanted to investigate these young migrant workers' "awakening," an idea which after the Honda strike has been strongly promoted by the media and part of the academic communities, but is still highly debated.

Q.

What does the story of these workers tell us?

A.

The stories and the dreams that we collected tell us a lot about this new generation of workers, which is taking the scene in the world factory. In particular, as I wrote before, their testimonies remind us of the humanity of these young people, their being something more than "workers." Another thing that we realized while we were touring Italian universities for some screenings was that many Italian students were struck by what they perceived as the "optimism" of these young workers. It didn't matter how hard their life was, they still had a dream to cling on and a strong faith that this dream could be realized, which is something very different from their Western counterparts nowadays.

Q.

Are there any plans to distribute the film?

A.

At the moment, we're still searching for a distributor. We're screening the documentary in universities across Italy and abroad.

Dreamworks China

http://www.dreamworkchina.tv/en/video/dreamwork-china-movie

Added to the calendar on Thursday Apr 4th, 2013 10:11 AM
Apple workers face inhuman conditions and the suicides at Foxconn are the results of these conditions.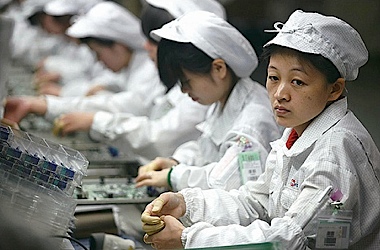 Apple workers on the assembly line in China. Apple makes billions from their sweat shop labor and this film looks at the lives of these workers.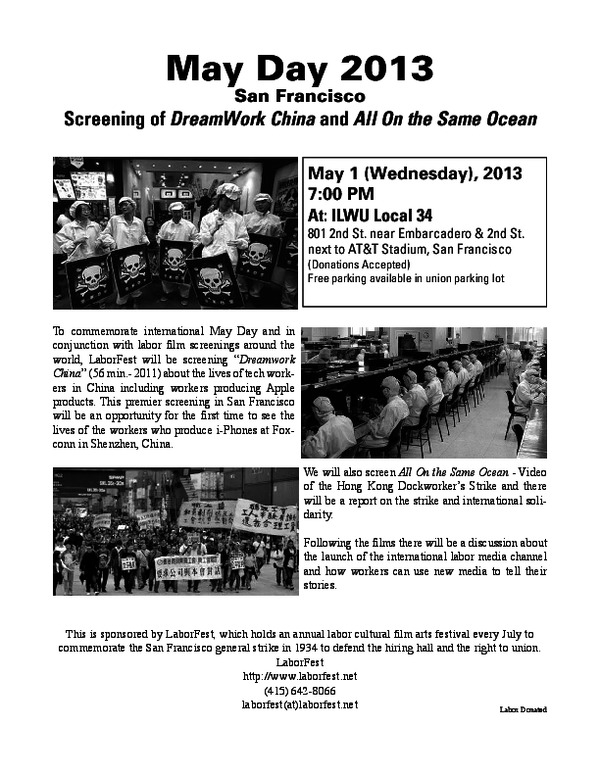 PDF of flyer For May Day 2013 Screening
We are 100% volunteer and depend on your participation to sustain our efforts!
Get Involved
If you'd like to help with maintaining or developing the website, contact us.