From the Open-Publishing Calendar
From the Open-Publishing Newswire
Indybay Feature
Related Categories:

East Bay | Drug War
Telegraph Bob Iconic Berkeley Vendor in court again
Cookie Caper in Court Again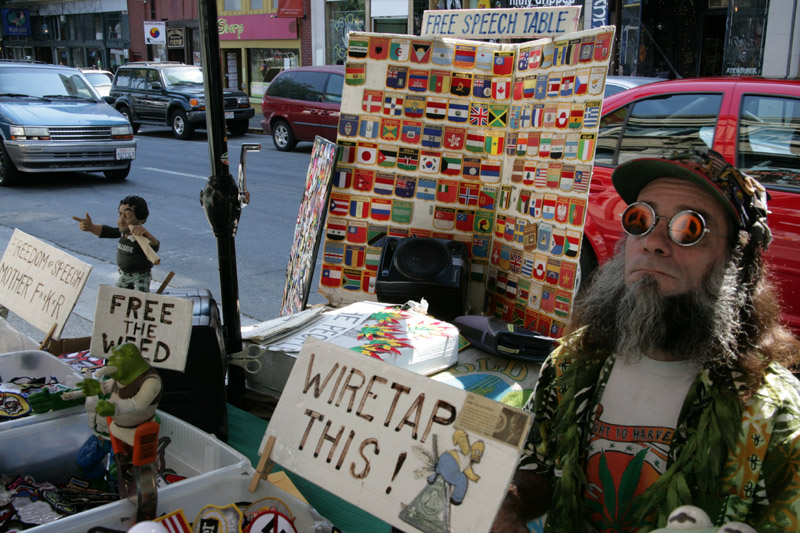 I haven't been to court in awhile so I have put away the memory of the horror of it all.
And missing for me, was that dread in the pit of your stomach that comes when you know
your life is in the hands of People that make a living chewing up lives into human wreckage.
Fortunately I get up really early with my boys for school, so that wasn't a problem, but as I
stood on the BART platform, I couldn't help thinking as I looked around at the people
going to work, ect. That they at least have a reasonable expectation of where they are
going.
But when the system gets you, your future is a cipher, the crystal ball murky.
To say the least.
By 9 am I had been bomb checked and was inside the Dept.11 of the Fallon St. Courthouse
siting in my wheelchair. Telegraph Bob sitting nervously nearby. I had never been to
court at Rene Davidson. This is a court reserved for the big crimes and me and Bob being here
was way out of place. We watched the meat grinder do it's magic of turning people into numbers
for nearly two hours when Bobs attorney, James Rodriquez poked his head through the door
at back, and motioned Bob outside. I followed but kept my distance for awhile to let them
talk a little. Then I introduced myself. Bob's Attorney was a good man and new his law.
he was flabbergasted by the lunacy of the case. He said that all the letters and supporters in court
that we could get to him on behalf of Bob, would certainly help. For the first time, Bob got to go over
the police report. I was disgusted. The photos were out some future farce movie with an actual picture
of two sides of a five dollar bill in one. And Bob's little cards he uses to keep track of the Patches
he has sold and must replace portrayed as a drug dealers list. Two very young female cops were
picturedin Bob's house with baking supplies piled on the table with the smiles of a smarmy,
successful deer hunter pointing out their kill. The two male cops with Bobs life savings were
even more pathetic. This is what Millions (Billions, Trillions.) of dollars in law enforcement gets us?
Home invasions of the only person left on Telegraph that a visitor can take a photo with?
Bob was recently featured in the one year anniversary the death of Steve Jobs. In the "In Focus"
special on DW (German News) they depicted the Berkeley spirit as what influenced Jobs to
be such an freethinking innovator. Why is Telegraph sinking? Start with a police force that has
no direction and no real public oversight and run by the dictates of an unelected regency .
Police Review Inadequate - The Daily Californian
archive.dailycal.org/article/8680
Working with another police farce that had two years of it's "REAL DRUGS" like Meth,
Heroin, Ecstasy stolen from it's drug locker and sold back to kids on the Berkeley streets
in 2006
http://www.sfgate.com/news/article/Ex-Berkeley-narc-cop-who-stole-drugs-is-sentenced-2535158.php
and recently had 10 narc cops out looking for the Chiefs sons iPhone and sent and armed cop
to a reporters house at 2 am to kibosh a story.
http://news.yahoo.com/blogs/sideshow/berkeley-police-chief-assigns-10-officers-son-missing-202417152.html
http://articles.latimes.com/2012/mar/11/local/la-me-0311-berkeley-police-20120311
You can see we need to get priorities in order in Berkeley. Where we have a lot
of great public servants and some good meaning and competent officers.
And then in some area's....Not so much.
But we are asked to forget all that and look the other way while they cook a good, hard
working man, that adds tremendous value to his Community.
Not Me, and I hope.......Not you.
Show up at his next court hearing 1225 Fallon St. Dept. 11. on Thursday April 18 at 9 am.
Send your letters on Bob Meister's behalf to his Attorney. The Judge and District Attorney.
And come to Dept.11 on Thursday April 18 at 9 am.
Bob Meister's Attorney
James Rodriguez
1401 Lakeside Drive Suite 400
Oakland, CA 94612
----------------------------------------------
Judge Carrie McIntyre Panetta
Dept.11
1225 Fallon St.
Oakland, CA 94612
General Court Phone (510) 891-6000
----------------------------------------------
And of course...
Alameda County District Attorney
1225 Fallon St.
Oakland,Ca 94612
(510) 272-6222
askrcd-da [at] acgov.org
We are 100% volunteer and depend on your participation to sustain our efforts!
Get Involved
If you'd like to help with maintaining or developing the website, contact us.