From the Open-Publishing Calendar
From the Open-Publishing Newswire
Indybay Feature
EL PLAN CONDOR - the coup in Argentina, translated excerpts
In Buenos Aires a trial began this month that may extend justice beyond the borders of Argentina to victims in Paraguay, Uruguay and Chile, overcoming obstacles in their home countries. Here we have some of the events that set the stage for the US led PLAN CONDOR, and a list of the actors involved, in English. The attached book tells the full story of Plan Condor in the native language of it's targets.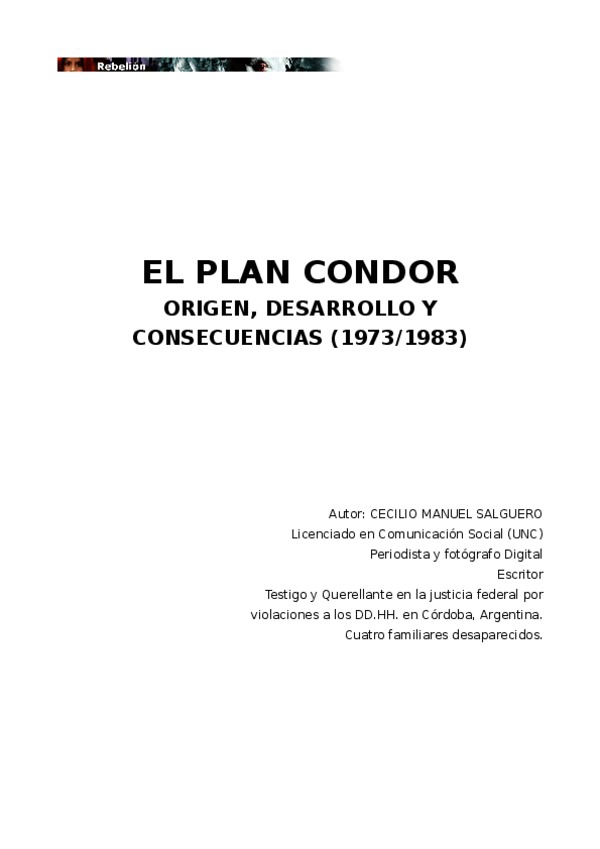 Setting the stage for Operation Condor, in Argentina: In mid 1965, General Juan Carlos Ongania, unhappy with President Artura Humberto Illia, who refused to send troops in support a US invasion of Santo Domingo asked him to resign and began the task of preparing a coup. Noteworthy supporter of the supporters of the coup included:

Álvaro Alsogaray, Mario Amadeo, Nicanor Costa Méndez,José Alonso, Augusto Timoteo Vandor, Pascual Pistarini, Alejandro Agustín Lanusse, Roberto M.Levingston, Luis Prémoli, Eduardo Señorans, Francisco Imaz, Enrique Martínez Paz, Arturo Frondizi, Mariano Grondona, Bernardo Neustadt,

Jorge Luis Borges, (the famous author)

Ernesto Sábato, Antonio Caggiano, Ricardo Balbín, Bernardo Houssay, Jorge Salimei, José María Dagnino Pastore, Carlos J. Rosas, Isaac Rojas, Pedro Eugenio Aramburu, Gregorio Pérez Companc, Saturnino Montero Ruiz, Guillermo Patricio Kelly, Francisco Manrique, Arturo Mor Roig, Jorge Esteban Cáceres Monié, Oscar Alende, Aldo Ferrer, José Enrique Miguens, Antonio Caggiano, Raúl Francisco Primatesta, Jorge Rafael Videla, los dos Luciano Benjamín Menéndez (tío y sobrino), Mario Benjamín Menéndez, Adalbert Krieger Vasena, José Alfredo Martínez de Hoz, Emilio Eduardo Massera, Constancio C. Vigil, Américo Ghioldi and Rogelio Frigerio.

La Nacion, La Prensa and La Razon, the Daily Clarin along with the major TV channels joined the campiagn in favor of the coup to oust Illia.

Wikipedia...
http://en.wikipedia.org/wiki/Arturo_Umberto_Illia
... adds:
"... the military coup took place on June 28, 1966. General Alsogaray presented himself in Illia's office that day, at 5:00 a.m, and 'invited' him to resign his post. Illia refused to do so at first, citing his role as Commander-in-Chief, but at 7:20, after seeing his office invaded by military officers and policemen with grenade launchers, he was forced step down. The next day, General Juan Carlos Onganía became the new Argentine President.
This was only the foundation for what would become the "Dirty War" of the following decade:
INDYRADIO
bring the ruckus to Facebook, and like us! http://indyradio.nu/IndyRadio
We are 100% volunteer and depend on your participation to sustain our efforts!
Get Involved
If you'd like to help with maintaining or developing the website, contact us.