From the Open-Publishing Calendar
From the Open-Publishing Newswire
Indybay Feature
Related Categories:

California | Animal Liberation
Ask Other Corporations To Join Pepsi And Coke In Ceasing Funding Of Animal Research
Ask Family Video, Rita's, and other corporations to end funding of animal research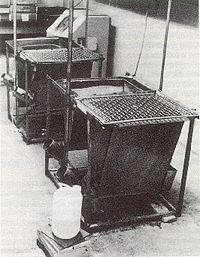 Pepsi and Coke have agreed to stop funding research on animals.
http://www.nytimes.com/2007/05/31/business/31testing-web.html?_r=0
Please ask Family Video
http://familyvideo.com
to stop collecting money for animal research at
the University of Chicago whose philosophy on animal research is included at
http://researchadmin.uchicago.edu/contacts/university_offices.shtml
Please ask Rita's Italian Ices to stop funding animal research
http://www.ritasice.com/about-us/corporate-giving.aspx
Contact:
http://www.ritasice.com/contact-us/guest-feedback.aspx
http://saenonline.org
http://stopanimalrests.com
http://aavs.org
http://neavs.org
http://navs.org
Harry Harlow deliberately isolating primates in isolation chambers for a year or more at the University of Wisconsin, a university which has also tasered pigs for the Justice Department, , Dr Ommaya smashing primates, Dr Alfred Blalock at Johns Hopkins using a machine he developed to test the number of pounds a dog's bones could take before breaking, Dr Robert White creating two headed monkeys, dogs, etc, none of whom lived more than a few days, doctors irradiating chimps
at Brooks Air Force Base in Texas, primates kept in restraining chairs for months in astronaut studies.. their legs cramping as they sleep, eat and pass waste in these chairs,... these are only a sliver of the sadistic things done to animals in the name of medical research by pseudoscientists who ignore luminescent bacteria scans, computer models, the Ames bacteria test and hundreds of other nonanimal alternatives which
are cheaper, faster, and more accurate in their results.
Animals have been forced to swim til they drown, subjected to all the torture techniques used by our government and other torture governments. Constant harsh noise, harsh bright lights, immersion in cold, forced sleeplessness, electric shocks, being hung from hooks, no food or water are some of these.
Footnote:
Wikipedia.com and others:
"The Pit Of Despair was coined by Harry Harlow for a vertical chamber he designed to induce depression in monkeys at the University of Wisconsin in the 1970's. He meant it to recreate 'an animal model of clinical depression.'
A 3/8 in. wire mesh floor 1 in. above the bottom of the chamber allowed waste material to drop through the drain and out of holes drilled in the stainless-steel. The chamber was equipped with a food box and a water-bottle holder, and was covered with a pyramid top [removed in the accompanying photograph], designed to discourage incarcerated subjects from hanging from the upper part of the chamber.
Harlow had already placed newly born monkeys in isolation chambers for up to one year. With the pit of despair, he placed monkeys between three months and three years old in the chamber alone, after they had bonded with their mothers, for up to ten weeks. Within a few days, they had stopped moving about and remained huddled in a corner."
References from peta.org
1) U.S. Department of Agriculture, Animal and Plant Health Inspection Service, "Annual Report Animal Usage by Fiscal Year," 6 Jul. 2010.
2) Madhusree Mukerjee, "Speaking for the Animals: A Veterinarian Analyzes the Turf Battles That Have Transformed the Animal Laboratory," Scientific American, Aug. 2004.
3) Canadian Council on Animal Care, "Facts & Figures, CCAC Animal Use Survey, 2008," 2010.
4) U.K. Government, "Statistics of Scientific Procedures on Living Animals, Great Britain, 2009," Home Office, 27 July 2010.
5) The Pew Research Center for the People and the Press, "Scientific Achievements Less Prominent Than a Decade Ago," news release, 9 July 2009.
6) Peter Aldhous and Andy Coghlan, "Let the People Speak," New Scientist 22 May 1999.
7) Daniel G. Hackam, M.D., and Donald A. Redelmeier, M.D., "Translation of Research Evidence From Animals to Human," Journal of the American Medical Association 296 (2006): 1731-2.
8) Marlene Simmons et al., "Cancer-Cure Story Raises New Questions," Los Angeles Times 6 May 1998.
9) Jarrod Bailey, "An Assessment of the Role of Chimpanzees in AIDS Vaccine Research," Alternatives to Laboratory Animals 36 (2008): 381-428.
10) Steve Connor and Chris Green, "Is It Time to Give Up the Search for an AIDS Vaccine?" The Independent 24 Apr. 2008.
11) Anne Harding, "More Compounds Failing Phase 1," The Scientist 6 Aug. 2004.
12) Steve Woloshin, M.D., M.S., et al., "Press Releases by Academic Medical Centers: Not So Academic?" Annals of Internal Medicine 150 (2009): 613-18.
13) Steven Woloshin and Lisa Schwartz, "Media Reporting on Research Presented at Scientific Meetings: More Caution Needed," The Medical Journal of Australia 184 (2006): 576-80.
14) Diana Pankevich et al., "International Animal Research Regulations, Impact on Neuroscience Research," The National Academies (2012).
15) American Association for the Advancement of Science, "NIH Budget Flat in 2009 Proposal," 19 Feb. 2008.
16) Panekvich et al.
17) Deborah Ziff, "On Campus: PETA Sues UW Over Access to Research Records," Wisconsin State Journal 5 Apr. 2010.
18) U.S. Department of Agriculture, Animal and Plant Health Inspection Service, "Animal Welfare, Definition of Animal," Federal Register, 69 (2004): 31513-4.
19) "Animal Welfare Act May Not Protect All Critters," Associated Press, 7 May 2002.
20) U.S. Department of Agriculture, Animal and Plant Health Inspection Service, "Animal Care Annual Report of Activities, Fiscal Year 2007," Sept. 2008.
21) U.S. Department of Agriculture, Office of Inspector General, "Animal and Plant Health Inspection Service Animal Care Program Inspections of Problematic Dealers," audit report, 14 May 2010.
22) U.S. Department of Agriculture, Animal and Plant Health Inspection Service, "USDA Employee Survey on the Effectiveness of IACUC Regulations," Apr. 2000.
23) U.S. Department of Agriculture, Office of Inspector General, "APHIS Animal Care Program, Inspection and Enforcement Activities," audit report, 30 Sept. 2005.
24) U.S. Department of Agriculture, Office of Inspector General.
We are 100% volunteer and depend on your participation to sustain our efforts!
Get Involved
If you'd like to help with maintaining or developing the website, contact us.