From the Open-Publishing Calendar
From the Open-Publishing Newswire
Indybay Feature
Related Categories:

San Francisco | Anti-War
Ten Years Later: A Look Back at "Direct Action to Stop the War" and the plans to shut down downtown SF in 2003
Ten years ago today, the U.S. bombing, invasion, and long-term occupation of Iraq began by order of George W Bush with the consent of the
over 70% of Americans
. Ten years ago tomorrow -- after months of permitted marches on both sides of the San Francisco Bay intent on preventing the war -- those opposed to U.S. military action rose up to protest en masse by shutting down downtown San Francisco in perhaps one of the largest collective acts of civil disobedience ever seen in the area. On the first day alone, over 50,000 demonstrators filled the streets of San Francisco and nearly 1500 people were arrested by SFPD. Collectively, "Direct Action to Stop the War" was the spokescouncil that spent months organizing the rebellion.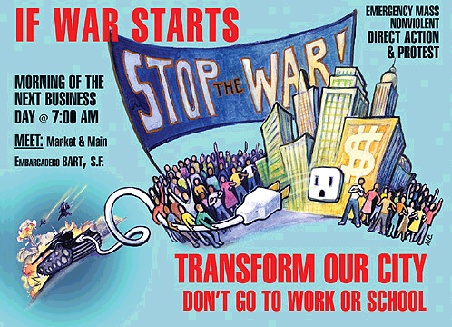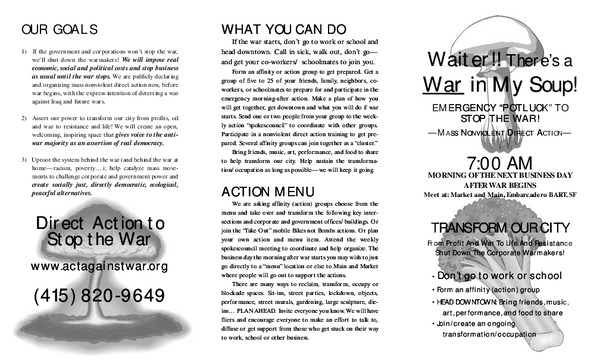 Download PDF (198.2kb)
OUR GOALS

1) If the government and corporations won't stop the war, we'll shut down the warmakers! We will impose real economic, social and political costs and stop business as usual until the war stops.We are publicly declaring and organizing mass nonviolent direct action now, before war begins, with the express intention of deterring a war against Iraq and future wars.
2) Assert our power to transform our city from profits, oil and war to resistance and life! We will create an open, welcoming, inspiring space that gives voice to the antiwar majority as an assertion of real democracy.
3) Uproot the system behind the war (and behind the war at home—racism, poverty…); help catalyze mass movements to challenge corporate and government power and create socially just, directly democratic, ecological, peaceful alternatives.


ACTION MENU

We are asking affinity (action) groups choose from the menu and take over and transform the following key intersections and corporate and government offices/buildings. Or join the "Take Out" mobile Bikes not Bombs actions. Or plan your own action and menu item. Attend the weekly spokescouncil meeting to coordinate and help organize. The business day the morning after war starts you may wish to just go directly to a "menu" location or else to Main and Market where people will go out to support the actions. There are many ways to reclaim, transform, occupy or blockade spaces. Sit-ins, street parties, lockdown, objects, performance, street murals, gardening, large sculpture, dieins…


PLAN AHEAD.

Invite everyone you know.We will have fliers and encourage everyone to make an effort to talk to, diffuse or get support from those who get stuck on their way to work, school or other business.


TRADITIONAL SIT-DOWN DINNER

Government and Corporate

Financial/Corporate
A) City Corpse/UK Consulate—Sansome & Market
B) Carlyle Group/TransAmerica Pyramid—
600 Montgomery
C) Pacific Stock Exchange (2nd floor)—220 Bush (near Kearny)
D) Bechtel, 50 Beale Street

Media
E) CBS Westinghouse Electric—221 Main St. Near Howard

Federal
G) Federal Building—Golden Gate & Polk
H) Federal Reserve—101 Market
J) Military Recruitment Center—670 Davis


DRIVE-THRU SERVICE AUTO BRIGADE
"This approach might provide some of us older people, in particular, with a
more viable method for prolonged participation." From the person who started
this idea, which was used by the movement that toppled Slobadan
Milosevic. Drive through downtown very, very slowly. Or team up with
one or two other drivers and take two or three lanes on one street.
Support bicyclists and help the street blockade actions. Or simply stop
your car and refuse to move for as long as you are comfortable doing so.
Run out of gas. Or just leave it.Transform the City. Stop the War.


NO TIME TO DINE? TRY OUR TAKE OUT!
BIKES NOT BOMBS

Bicycling: A QUIET STATEMENT AGAINST OIL WARS.
Join the mobile Bikes not Bombs. Bring your bike (or rollerblades, or
skateboard or any human-powered wheels) with signs, flags, and decorations
to Main and Market at 7am (or whenever you can make it) and support
all the stationary action, fill the streets with bicycles, get the word
out….Your affinity group can be its own moving anti-war bike ride.


A MOVEABLE FEAST
Intersections and Arteries

Primi Piatti (1st Course):
1) Lombard & Van Ness
2) Polk & Broadway
3) Polk & Bush
4) Market & Franklin
5) Division & Van Ness
6) 6th & Brannan
7) 5th & Mission (SF Chronicle)
8) 3rd & Folsom
9) Harrison & 2nd
10) Harrison & Fremont
11) Embarcadero & Market
12) Broadway @ Columbus

Secondi Piatti (2nd Course):
131 & 132) Stockton Tunnel
14) Powell & Bush
15) Market & 6th
16) 16th & Valencia/Mission
17) Howard & Fremont
18) Embarcadero & Washington
19) Embarcadero & Broadway
20) Parking Lot of Your Choice
a. Civic Center (McAllister betw. Polk/Larkin)
b. Sutter/Stockton (entries on Bush and Stockton)
c. 5th/Mission (entries on Mission and on Minna)




We are 100% volunteer and depend on your participation to sustain our efforts!
Get Involved
If you'd like to help with maintaining or developing the website, contact us.