From the Open-Publishing Calendar
From the Open-Publishing Newswire
Indybay Feature
View other events for the week of

4/ 6/2013
Rally to Stop Obama's Reactionary "Guest Worker" Immigration "reform" Program
Date

Saturday April 06

Time

11:00 AM

-

11:00 AM

Import this event into your personal calendar.
Location Details
North Steps of the State Capitol
Event Type

Press Conference

Organizer/Author
UFJD

A united campaign is taking place against the new "immigration reform" of the Obama administration which includes a

slave "guest worker" program that enslaves immigrant workers. It is also challenging the policy of the AFL-CIO and SEIU to support Obama's guest worker program in an alliance with the US Chamber of Commerce.

United Front for Justice and Dignity Sacramento Press Conference 3/5/2013 "Opposition To Obama's So Called Immigration Reform"

http://www.youtube.com/watch?v=Pxyuh_aPlEI

Published on Mar 5, 2013

From the press release:

Labor and community organizations that have come together to form a new Statewide Coalition for Immigrant Rights - The United Front for Justice and Dignity -- will be holding a press conference to explain their sharp opposition to President Obama's proposed "Comprehensive Immigration Reform (CIR), and to put forward an alternative plan based on justice and dignity for all undocumented immigrants in this country, and for all working people as a whole.

The United Front for Justice and Dignity is calling for demonstrations across the country, beginning on April 6th, around some or all of the following demands:

- Amnesty / Legalization for all NOW !- Stop the raids and deportations !- End E-Verify and Full Labor Rights for all !- A Dream Act permanent, with no military strings !- No guest worker program !- No to the English requirement !- No to the back-of-the-line requirement !- No to back taxes or fines without Social Security for those who have paid into the system!- Tear down the Wall of Shame, end the militarization of the U.S. -- Mexico border !

Oppose ! President Obama's Corporate-Driven Inmigration Reform Proposal.

PRESS CONFERENCE NORTH STEPS OF THE STATE CAPITOL

Tuesday,March 5th, 2013,11:00 AM

The United Front for Justice and Dignity State Wide Coalition

Labor and Immigrant Rights Organizations Oppose

President Obama's Corporate-Driven Inmigration Reform Proposal.

Call to support plan based on Justice and Dignity for All !!!!

Labor and community organizations that have come together to form a new statewide coalition for immigrant rights - The United Front for Justice and Dignity – will be holding a press conference to explain their sharp opposition to President Obama's proposed "Comprehensive Immigration Reform (CIR), and to put forward an alternative plan based on justice and dignity for all undocumented immigrants in this country, and for all working people as a whole.

The United Front for Justice and Dignity is calling for demonstrations across the country, beginning on April 6th, around some or all of the following demands:

- Amnesty / Legalization for all NOW !

- Stop the raids and deportations !

- End E-Verify and Full Labor Rights for all !

- A Dream Act permanent, with no military strings !

- No guest worker program !

- No to the English requirement !

- No to the back-of-the-line requirement !

- No to back taxes or fines without Social Security for those who have paid into the system!

- Tear down the Wall of Shame, end the militarization of the U.S. – Mexico border !

Contact: Al Rojas (916) 712-4251 Nadm916(at)aol.com

Call To Endorse "United Front For Justice & Dignity" Statement on Immigration "Reform"

: El Organizador

Subject: Please Endorse the "United Front For Justice & Dignity" Statement on Immigration "Reform"

Date: February 22, 2013 4:57:05 PM PST

WHO ARE WE?

THE UNITED FRONT FOR JUSTICE & DIGNITY!

The United Front for Justice and Dignity is a statewide network formed with the purpose of community education and the defense of working-class and immigrant communities across California. We are labor organizations, students, individuals, and grassroots cultural, political, and community groups that have united to fight for a humane and just immigration reform that won't compromise our basic dignity, civil rights, or social protections. Our efforts aim to uplift the aspirations of our communities in obtaining positive change that truly progresses our living conditions.

Perspective

Through deceptively named organizations such as the Chamber of Commerce's "Essential Workers Immigration Coalition" and the bipartisan, Fortune 500-based "Project for a New American Economy," both Wall Street and the Democratic/Republican parties are promoting what they call "sensible Comprehensive Immigration Reform" (CIR). However, these versions of CIR will involve increased militarized enforcement, continued detentions and family separations, the continuation of Poli-Migra partnerships and information-sharing programs (S-COMM, 287g), employer sanctions via E-Verify, and a tortuous "path to citizenship" that involves crippling expenses and years spent "in line."

For Wall St. or the "1 percent", the main interest in immigration reform is the introduction of "managed migration" schemes that allow those sections of the economy built on a base of criminalized migrant labor to be formally replaced with "guest worker" programs in the fields of agricultural, service, hospitality, and science/technology/engineering/mathematics ("STEM"). Under such schemes, future migrant workers in these industries will be subject to a regime similar to the notorious "Bracero Program" of indentured servitude, with grave repercussions for workers' rights.

Despite a lack of honest consultation with our families and communities, many have endorsed these "devil's bargain" forms of immigration reform. Unconditional and premature endorsement of the impending versions of CIR dictated by the Obama administration and Congress can only result in major disservice to our communities, and a dishonor to the sacrifices and contributions of countless organizations and individuals in our legacy of struggle.

Our movement must be driven and led by the community itself. History and experience have demonstrated how unity and organization can transform situations of passive acceptance, allowing us to defend ourselves from positions of strength and take initiative in the fight for a dignified future -- this purpose is what has brought us together and these are our demands:

We Demand:

* Documents and permanent residency rights for all: the right to work, higher education, drivers' licenses and public benefits for all.

* An immediate end to raids and deportations.

* No to getting in the back of the line.

* No to new "Bracero"/Guest Worker programs (modern indentured servitude).

* Workers must have the unconditional legal right to organize.

* No to the militarization of the border and our communities.

* No to E-Verify & Secure Communities [S-COMM];

* No to military service "option/backdoor draft" for Dreamers

YES to a just and humane immigration reform that eliminates the terror and anxiety in our communities, and respects the human rights of undocumented workers, families, and youth.

Join Us!

The United Front for Justice and Dignity is a community-based, action-oriented network fighting for the interests of both immigrants and non-immigrants alike. Reaching beyond our communities, we invite all honest forces to join us as we build this United Front in defense of our human rights and basic dignity.

* * *

PLEASE ENDORSE THIS STATEMENT AND JOIN US ...

Endorsement Form

Name

Union / Organization (list if for id. only)

City

State

Email

Tel

[Please fill out and return asap, preferably before next Thursday's press conference in Sacramento, Calif., to Al Rojas at and Manuel Barajas at .]

Business and AFL-CIO Labor Leaders Urge Visa System for Low-Skilled Work Including " a new type of guest worker program"

By ASHLEY PARKER

Published: February 21, 2013

http://www.nytimes.com/2013/02/22/us/politics/business-and-labor-leaders-urge-visa-system-for-low-skilled-work.html?hp&_r=0

WASHINGTON — In an effort to avert the bitter and public feuding between business and labor organizations that helped kill a broad immigration overhaul in 2007, representatives of the two groups released a statement on Thursday outlining shared goals designed to show that, at least for now, they could reach a basic level of compromise.

In the statement, signed by Thomas J. Donohue, the president of the U.S. Chamber of Commerce, and Richard L. Trumka, the president of the A.F.L.-C.I.O., the groups called for a visa system that would allow businesses to meet their demand for lower-skilled workers, while offering some protections for American workers.

"The United States will always be a nation of immigrants who have contributed greatly to the vitality, diversity and creativity of American life," the statement said. "Yet, like the rest of America's immigration system, the mechanisms for evaluating our labor market needs and admitting foreign workers — as well as recruiting U.S. workers — for temporary and permanent jobs are broken or nonexistent."

The statement presented three general goals for addressing the issue of immigration by lower-skilled workers: the assurance that American workers should have "a first crack at available jobs"; a new visa program for lower-skilled workers that will adjust to reflect the changing needs to businesses as the economy shrinks and expands; and greater transparency, rooted in demographic and labor market data, in determining the market need for temporary workers.

Traditionally, labor unions have rejected the idea of a guest worker program for lower-skilled workers, which they fear could take jobs away from American workers and depress wages. Business leaders have lobbied for a guest worker program, arguing that they need low-skilled labor for jobs — in agriculture, for instance — that American workers cannot or will not do.

The principles outlined on Thursday required compromise from both sides. Labor unions, acknowledging that "there are instances — even during tough economic times — when employers are not able to fill job openings with American workers," agreed that there may be a need for a new type of guest worker program. But in return, the unions insisted that American workers get a first shot at open jobs, and they secured an agreement that the number of incoming lower-skilled workers would not be set arbitrarily, but based on need.

"Our challenge is to create a mechanism that responds to the needs of business in a market-driven way, while also fully protecting the wages and working conditions of U.S. and immigrant workers," the statement said.

Meeting both the business and labor interests, the groups said, will require a better flow of information, and they proposed that a federal bureau in the executive branch be created to help evaluate the labor market needs for future immigration. "We agree that a professional bureau in a federal executive agency, with political independence analogous to the Bureau of Labor Statistics, should be established to inform Congress and the public about these issues," the statement said.

The fraught issue of an immigration overhaul is slowly winding its way through Congress, with a bipartisan group of eight senators hoping to propose legislation by the end of March. In addition to the bipartisan talks occurring on Capitol Hill and with the White House, the A.F.L.-C.I.O and the Chamber of Commerce had been engaged in a parallel set of closed-door discussions for months.

But a full-scale immigration overhaul remains a far-off prospect. This week, Representative Bob Goodlatte, Republican of Virginia and the chairman of the House Judiciary Committee, came out against a pathway to citizenship for illegal immigrants — a crucial component for Democrats and President Obama for any immigration plan.

"People have a pathway to citizenship right now: It's to abide by the immigration laws, and if they have a family relationship, if they have a job skill that allows them to do that, they can obtain citizenship," Mr. Goodlatte told NPR. "But simply someone who broke the law, came here, say, 'I'll give you citizenship now,' that I don't think is going to happen."

Added to the calendar on Thursday Mar 7th, 2013 7:47 AM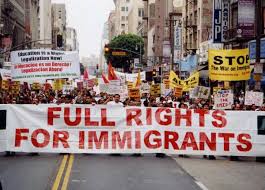 A movement needs to be built for full rights for all immigrant workers instead of pitting immigrant workers against "legal" workers for more profit for the bosses.
We are 100% volunteer and depend on your participation to sustain our efforts!
Get Involved
If you'd like to help with maintaining or developing the website, contact us.