From the Open-Publishing Calendar
From the Open-Publishing Newswire
Indybay Feature
Amanda Lollar commits animal cruelty at Bat World Sanctuary
Amanda Lollar is a "wildlife rehabilitator" who treats bats in Mineral Wells, Texas. She is not a veterinarian yet she illegally performs surgery. She illegally possesses and uses controlled substances such as Isoflurane. Her illegal acts were reported to the Texas Veterinary Board. They stated, "she committed animal cruelty and should be reported to the police."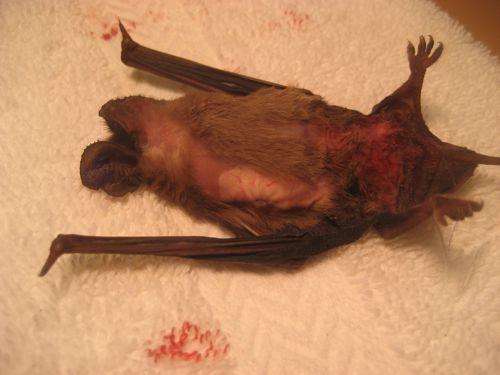 Photo of Amanda Lollar of Bat World Sanctuary
This article is being published because Google's search engine deleted a previous version from their results by temporary court order. The final court order does not include this article yet Google has not returned it to the search engine results. The court ruled the information in the article was not defamation. This new link will be included in the search engine results so the public may know of the illegal and improper activity of Amanda Lollar and Bat World Sanctuary. Below are some photos of some of her illegal activity.
Amanda Lollar removing the molars from a conscious bat with no pain relief.
Dead baby bat
Dead mom bat
Another dead baby bat
Dying skinny bat
Dead bats
Using Isoflurane illegally and improperly
Amanda Lollar performing surgery when she is not a vet
Videos and photos of Amanda Lollar of Bat World Sanctuary performing illegal surgery on conscious bats. The bats can be seen kicking and trying to bite her. In one video she performs an episiotomy on a bat. Lollar accidentally pulls and cuts too much and the bat passes out in shock, see video below. WARNING!!! GRAPHIC!
Amanda Lollar purchases, possesses, and administers rabies vaccinations to bats. Only veterinarians may possess and administer rabies vaccinations to animals because they can cause an animal to die if not administered properly. Lollar does not report rabid bats to the Texas Health Department. Instead, she euthanizes them illegally with controlled substances, then dumps their bodies into the regular trash. Her illegal acts were reported to the Texas Health Department. They stated that "her acts are criminal and should be reported to the police."
In Amanda Lollar's original manual she recommended freezing bats to death. The American Veterinary Medical Association has stated that freezing animals to death is animal cruelty. In deposition for a lawsuit it was revealed that Amanda Lollar did not go past the ninth grade in school. She admitted in court testimony that she has never taken a class in animal care instead learning everything through "trial and error."
True bat experts have called out Amanda Lollar's inappropriate practices in regard to mending bones and anesthesia. Lollar recommended gluing bones together instead of pinning them which is standard protocol. Because Lollar has no education she did not realize that blood cannot pass through the glue. The limb would die due to lack of circulation.
Lollar recommends soaking a cotton ball in isoflurane, putting that in a cup and putting it over the bat's head for anesthesia or euthanasia. Bat experts use a nebulizer to give the proper amounts of gas and oxygen. Because Lollar does not administer the gas legally or properly bats frequently wake up during surgery or stop breathing. Lollar admits that some bats have died from her improper anesthesia method. Lollar uses this same gas to euthanize animals. Instead of giving it properly, she gives too much gas at once which causes the bats to die from asphyxiation which is inhumane and illegal.
Texas Parks & Wildlife Department was contacted about Amanda Lollar's illegal activity as they control her wildlife rehabilitation permit. They stated, "wildlife rehabilitators cannot perform surgery, and they cannot have controlled substances." Recently TPWD stated they want to limit the number of bats she has because she has too many. Currently Amanda Lollar has approximately 350 bats in cramped quarters. She has more bats per square and cubic feet than she recommends in her own manual. She has a large flying fox that cannot fly because it does not have enough room.
The USDA was also contacted because Lollar has a USDA exhibitor permit to exhibit her bats. Lollar violated the Animal Welfare Act by "not providing proper veterinary care." Texas Parks & Recreation and the USDA investigated Amanda Lollar and Bat World Sanctuary. Her USDA permit was cancelled March 2012.
In another video, Amanda Lollar can be seen using forceps to pull out the teeth of a conscious bat. The bat is clearly kicking and trying to bite Lollar. After Lollar yanks two of his teeth out the bat can be seen bleeding. Lollar uses this video as an example of "proper" dental surgery in her website.
A visitor to the sanctuary in 2010 found a one-winged dead bat under Amanda Lollar's desk. It had been dead for at least two days as insects were eating it. It appeared to have died from lack of food and water. When Lollar was shown the dead bat she said the bat "was one of my favorite bats." She obviously cannot care for the bats she has if her favorite bat could go missing for days and not be noticed.
The visitor also noted that Lollar has seven dogs even though she has no kennel permit. They are all debarked. Some of the dogs have medical and dental issues, as well as very long nails. They are never walked. One of the dogs cannot use its rear legs, so she's forced to drag herself around. Lollar's outdoor cats also need veterinary care as they appear to have fleas, worms, and dental issues.
A licensed veterinarian saw the videos and stated, "This is a nightmare! No one but a veterinarian should perform surgery. Report her to the state veterinary board. She should go to jail." A viewer of the episiotomy video stated, "That is horrific! They should arrest her immediately. She pulled out her vagina! She should never be allowed around animals ever again because she has a complete disregard for their feelings of pain."
It should be noted that Lollar used photos from this bat's botched episiotomy in her website and book to show "proper episiotomy procedures." What she claims happened in her book is not what happened in real life as evidenced by the video.
Video of a skinny, shaking pallid bat at Bat World Sanctuary
Video of Amanda Lollar holding a presumably rabid bat in her hand without gloves. Afterwards she illegally euthanized it with Isoflurane pictured in the background then she dumped it in the regular trash
Video of rabid bat in her hand
Video of Amanda Lollar illegally performing surgery on bats without anesthesia.
Amanda Lollar states in her website that all donations go to the bats. No one takes a salary. That is not correct. She has paid employees that she pays under the table which is a tax violation. Amanda Lollar takes $1,500 a month as "rent" from the Sanctuary. Lollar also had the Sanctuary buy her a car for personal use. Lollar has also spent thousands of dollars on websites to harass people who reported her for animal cruelty. She went so far as to hire someone to assault someone in California who reported her for violations. A police report was filed. Because Amanda Lollar ordered this activity from Texas, an FBI report will be filed.
Last year Amanda Lollar entered a Chase competition to get money to build a "Bat Castle." She received the money and built a new cement block building far from town. Even though she illegally trapped and transported the bats to the new building, they immediately flew back to Mineral Wells. Because Lollar is not a bat expert, she did not know how to build a proper structure for the bats. She also did not realize that they would prefer to live in vacant buildings in town near food sources instead of far outside of town.
Amanda Lollar is currently being sued for personal injury and defamation. A new suit will soon be filed for harassment in California. For more information on Amanda Lollar and Bat World Sanctuary go here http://www.animaladvocates.us/batworldlawsuit This site includes the results of freedom of information act requests and subpoenas. Government agencies and the public have been reporting her for numerous violations for the last 20 years. Just last year Amanda Lollar wrote a letter to the City stating she will leave town because she can't stand all the complaints. A copy of that letter is in that website.
Board members of Bat World Sanctuary are Amanda Lollar, Dottie Hyatt, Denise Tomlinson, Michelle McCaulley, Leslie Sturges and Kate Rugroden. They have the power to vote Amanda Lollar off the board but have not yet done so.
We are 100% volunteer and depend on your participation to sustain our efforts!
Get Involved
If you'd like to help with maintaining or developing the website, contact us.