From the Open-Publishing Calendar
From the Open-Publishing Newswire
Indybay Feature
New UK film: 'Who are the Angola 3?'
A new film about the trio of Black Panther political prisoners known as the 'Angola 3,' directed Hugo Levien, and produced Sian Smith is coming soon. Featured below is the full text of a recent announcement sent out by the filmmakers. You can stay updated at their Facebook page.
WHO ARE THE ANGOLA 3 ?
http://www.facebook.com/RedRatFilms?fref=ts
Directed Hugo Levien
Produced Sian Smith
As the director of this film I first learnt about the Angola 3 through Carrie Reichardt who is a brilliant and prolific artist. Carrie is a true revolutionary spirit and most of her work is of a political nature.
Carrie has been in correspondence with the Angola 3 for the last 10 years and is their official spokesperson in the UK. When Robert King came over to London to promote the documentary "In The Land of The Free" I was able to get a great interview with him and followed this up by an interview with Carrie.
The story of Robert's personal experience is immensely powerful and moving. Having watched Robert's documentary, I felt that the political issues paramount to their case had been omitted and this made me want to do something with my footage. But two interviews do not make a documentary.
Almost a year later Billy X Jennings ( Black Panther historian and former party member) came to London to give a talk at the Marxist book fair. Sian Smith a friend of Carries interviewed Billy X for her weekly radio show and teamed up with me to interview Billy X for the film. Billy X's knowledge of dates and the overall history of the Black Panthers is second to none. He was able to shed some light on the true legacy of the movement and the largely unreported social programs run by the panthers and his own involvement as a young revolutionary.
Sian and I decided to join forces to get this documentary made. With her background in Post Production and organizational skills we complemented each other well and we both wanted to do something to help spread the story of The Angola 3.
We were fortunate enough to find a good editor called Rosie Hugill and the three of us started work. It's a massive subject covering a wide area and a lot of research was needed. Sian had connections with Kate Allen the director Amnesty International UK. She agreed to be interviewed. Having Kate on hand to repute the sentencing and treatment of the Angola 3 gave further weight to the documentary. She helped to highlight the harsh treatment of the Angola 3 and others incarcerated in America as a human rights issue and one that openly breaks international law
We spent the next 2 months working on the documentary, fine-tuning the interviews and finding useable footage. Somehow we managed to enter the Portobello Film Festival ( in west London ) just in time. It was shown to a full house. The documentary was well received and gave rise to feelings of anger and sadness that was still happening.
The response was such that we went on to win the Audience Choice award and were presented with a Golden Trellick. We dedicate this film to Herman, Albert and Robert and to all of the supporters of the Angola. 3
Film Blurb –
This powerful documentary tells the true story of an ongoing struggle for black freedom in America. The Angola 3 have spent over 100 years in solitary confinement. Punished for a crime they didn't commit, their only 'crime' was becoming members of the Black Panthers.
The sentencing handed out by the judiciary 40 years ago silenced their voices. The film highlights the personal story of The Angola 3 but also looks at the prison system as a whole. It takes a wider look at US policy, sentencing and even the modern day use of slavery. Some real eye-opening facts are laid out and built into a shocking picture of injustice and institutional racism.
Robert King spent 29 years in solitary confinement. As the only free member he talks of his experience and his education whilst inside. Carrie Reichardt the UK spokesperson for the Angola 3 gives a well-placed interview, along with Kate Allen, CEO of Amnesty International UK. Their input makes relevant the plight of these three men and asks some very searching questions.
Watch Trailer here -
http://www.youtube.com/watch?v=cRtbpMSqajI
Watch part 1 here-
http://www.youtube.com/watch?v=xQoqWeaoCAw
And part 2 here -
http://www.youtube.com/watch?v=nrNMOs_PI2s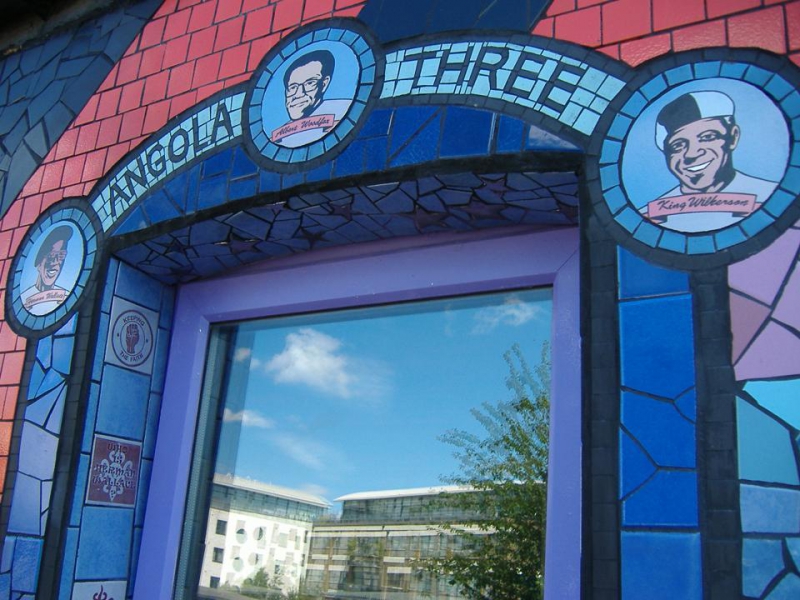 Window of Carrie Reichardt's house in Chiswick.
Hugo, Carrie and Sian with Golden Trellick award.
We are 100% volunteer and depend on your participation to sustain our efforts!
Get Involved
If you'd like to help with maintaining or developing the website, contact us.