From the Open-Publishing Calendar
From the Open-Publishing Newswire
Indybay Feature
Protest Posters Comparing White and Wiener Irk San Francisco City Officials
Posters displayed by activists at a Castro holiday tree lighting event meet with harsh criticism from San Francisco Supervisors and others who find the comparison of a currently serving elected official to a former supervisor-turned-assassin reprehensible.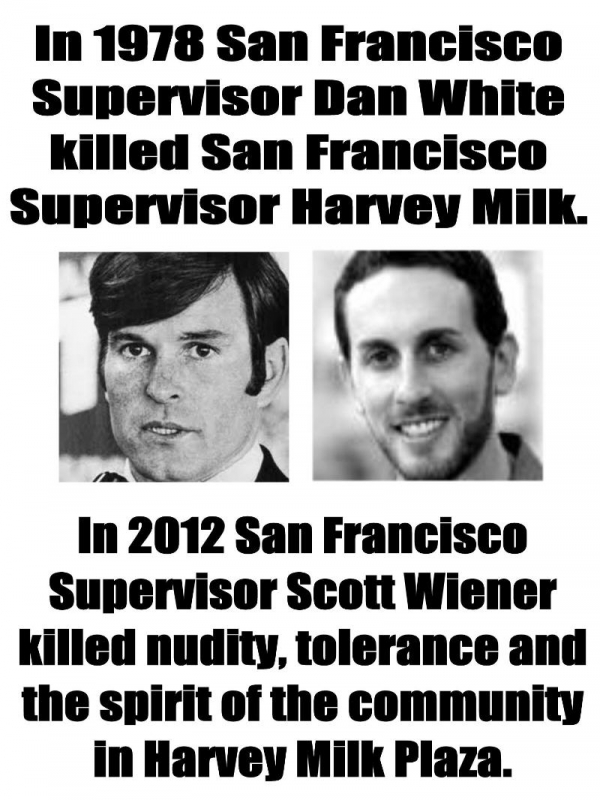 The provocative signs had quotes from two supervisors past and present, and images of the two men printed side-by-side on posters that several activists at the recent holiday tree lighting in the Castro displayed to the displeasure of many in the crowd.
The posters featured black-and-white pictures of former San Francisco Supervisor Dan White from 1978 and current Supervisor Scott Wiener from 2012. The quotes read as follows: 1978: "I see naked men walking around which doesn't bother me as far as my personal standards of nudity but it's just not proper", SF Supervisor Dan White. 2012: "I don't have a problem with nudity in general, but it's just not proper to expose your genitals on the street corner for hours and hours", SF Supervisor Scott Wiener.
Outspoken activist and film producer Mitch Hightower, and other nudity ban opponents, displayed the signs while another well known activist shouted messages with a bull horn. Speeches from media-seeking politicians were completely drowned out by statements made through the bull horn, as it seemed to provide better amplification than the sound system that was available for the illustrious elected officials and other guest speakers. The local business association was not amused, as they had sponsored the event which was designed to promote shopping, dining and drinking in the neighborhood.
"Comparing the supervisor to a murderer is absurd", one onlooker quipped, "these people are retarded".
'We're here, we're queer, and we're not going shopping", was one of the messages delivered via the bull horn by long-time activist and popular blogger Michael Petrelis.
"A holiday tree lighting is not an appropriate place for a demonstration", barked someone from the crowd.
Former supervisor and current homeless czar Bevan Dufty attended the event along with his family. Daughter Sydney, who was hoisted on Dufty's shoulders, turned to the activists and said, "Housing, not nudity bans".
Photographers from the local LGBT tabloid known as the Bay Area Reporter, took pictures of the signage and subsequently distributed the images to members of the San Francisco Board of Supervisors.
"This is offensive", stated Supervisor Christina Olague, who voted no on the nudity ban legislation. She suggested that "personal attacks" were counterproductive. Olague had previously questioned the need for the nudity ban and said, "This is a solution looking for a problem".
Supervisor David Campos, who also voted no on the ban commented to the BAR that the conduct of Mr. Hightower was "reprehensible". Suggesting that the posters were politically incorrect, at the least, and deserving of rebuke, censure or other public admonishment. During a recent BOS meeting, Campos had challenged the need for a city-wide nudity ban to the chagrin of his colleague Wiener.
Attorney Christina DiEdoardo, who represents Mr. Hightower, as well as three other plaintiffs in a Federal lawsuit seeking to overturn the nudity ban, agreed to comment on the posters. When asked if she thought the posters were unfair she responded, "The signs accurately stated quotes from both former Supervisor Dan White and current Supervisor Scott Wiener regarding their agreement about how free expression such as nudity needed to be suppressed. The flame of the First Amendment--and liberty more generally--will only burn as long as there are brave San Franciscans like Mr. Hightower who are willing to tend and build it through the kindle of public debate like this. If Supervisor Wiener can't stand the heat of being held accountable for his ongoing efforts to restrict the freedom and civil rights of San Franciscans, he should change his behavior or get out of the supervisorial kitchen."
Civil rights activist and award-winning author Clinton Fein disclosed that the posters are, "Irking all of the right people".
Comments on several Facebook message threads about the posters were mixed.
"This is bulls--t", one FB user posted, "You can't f--king compare the current supervisor to an assassin".
A FB user replied, "Supervisor Wiener has assassinated tolerance in the Castro, this is a perfectly legitimate and applicable comparison".
Another user remarked, "I don't like this comparison one bit. But I have to say the similarities in the quotes are interesting at the least and this does seem to be rather thought provoking".
"Can I have copies of these graphics so I can print and paste posters all over the city", was a request posted on a political blog.
"Mitch Hightower thinks he is the next Larry Flint", read another Facebook posting.
Well known nudist activist and former San Francisco mayoral candidate George Davis held one of the signs during the tree lighting event. Afterward he commented, "A lot of people under fifty don't know who Dan White is".
When asked if he had gone too far, Hightower stated, "The signs speak for themselves. They were designed to create controversy and induce dialog. It's been even more successful than we hoped".
Attorney DiEdoardo concluded, "If we have learned nothing else from a panoply of Republican sex scandals
through the years, it is that politicians with a secret to keep frequently come down the hardest on those who openly embrace behaviors they abhor. Supervisor Weiner may be 'out of the closet', but in my view he remains dangerous to freedom for residents of the Castro and of San Francisco more generally based on his belief that he has the right to ban behavior protected by both the federal and state constitutions because he
personally finds it 'inappropriate' ."
Read the article about this topic on the Bay Area Reporter web site go here:
http://ebar.com/news/article.php?sec=news&article=68312
We are 100% volunteer and depend on your participation to sustain our efforts!
Get Involved
If you'd like to help with maintaining or developing the website, contact us.