From the Open-Publishing Calendar
From the Open-Publishing Newswire
Indybay Feature
Community Speaks with Single Voice to Oppose Seismic Testing
Conservationists, fishermen, local officials and recreational ocean users came together yesterday to urge the California Coastal Commission to reject a seismic testing permit near Morro Bay. The commission voted unanimously to do just that, in part because they found the project in direct conflict with nearby protected areas created through the Marine Life Protection Act (MLPA).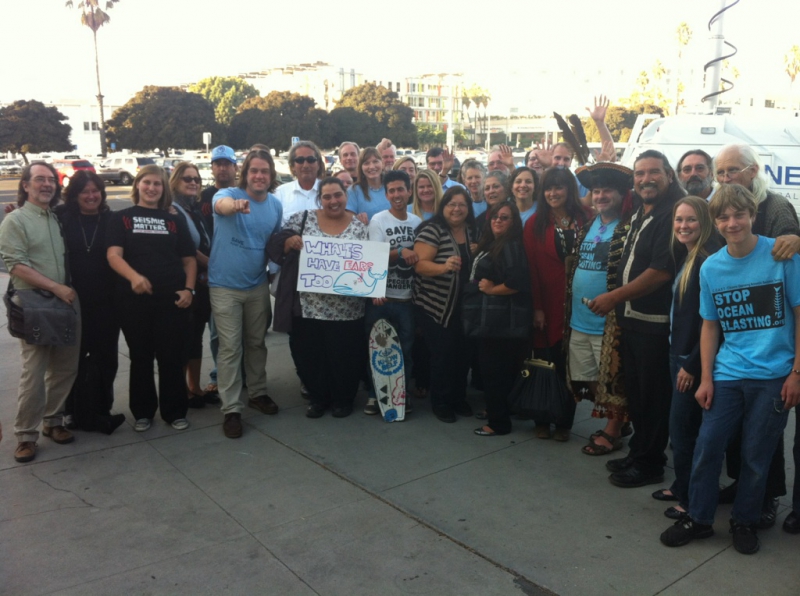 From above, the coastline off San Luis Obispo County looks peaceful. Morro Bay stretches out like a classic California postcard, brimming with sea life and showing off its picturesque sunsets. This stretch of sea, however, has been the subject of intense debate over the past several months – and equally passionate collaboration.

When it comes to ocean policy, conservationists, fishermen, agency staff, tribes, county supervisors and the media don't always see eye to eye. But the risky consequences of high energy seismic testing at Diablo Canyon, a nuclear power plant parked right on the central coast of California, have had a remarkable unifying effect.

Brought together by deep concerns over a controversial project proposed by Pacific Gas and Electric (PG&E), these unlikely bedfellows have spoken with one voice to oppose the use of powerful air cannons –that would have unavoidable, long term impacts to ocean wildlife—to produce 3D images of subterranean faults off of San Luis Obispo County.

Today the California Coastal Commission validated those concerns. In a unanimous vote that followed more than five hours of public comment and discussion, charged by a packed room of more than 200 people, a thoughtful and deliberate Commission denied PG&E's permit and shut down the proposed project.

Shooting 18 underwater air guns would have blasted repeated acoustic pulses at 250 decibels near Morro Bay, having unknown—but almost certainly harmful—impacts on the 2,000 resident harbor porpoises that call the area home, as well as the blue, fin and humpback whales and sea otters that frequent the area. The physical injury, hearing loss and behavioral effects to these marine mammals and to sharks, rays and rockfish could not be fully mitigated.

The nearby marine protected areas California and Ocean Conservancy have spent nearly a decade creating would also have been at risk, with both Point Buchon State Marine Reserve and State Marine Conservation Area lying squarely within the impact zone. Although marine reserves prohibit activities that injure or damage marine life, the project's environmental report states that disturbance and killing of marine resources would occur throughout the area, potentially short circuiting the ecosystem protection and restoration goals of the nearby marine protected areas. The California Department of Fish and Wildlife agreed, finding the proposed project in direct conflict with the nearby marine protected areas.

But as is the case with all matters of energy production, it's complicated. Everyone agrees nuclear safety should be a top priority, especially since Diablo Canyon's closest fault—the Shoreline—runs a mere 0.6 miles from the reactor. The uncertainty was in whether the invasive survey techniques proposed would have answered the most pressing questions for improving the hazard assessment of the Diablo Canyon nuclear plant.

The Coastal Commission has been mulling this issue over for months, trying to make a decision that does right by the Californians and ocean wildlife of today and the future.

And today they agreed with the voice of the community, finding the potential benefits of PG&E's project just didn't outweigh the enormous risks.
We are 100% volunteer and depend on your participation to sustain our efforts!
Get Involved
If you'd like to help with maintaining or developing the website, contact us.