From the Open-Publishing Calendar
From the Open-Publishing Newswire
Indybay Feature
Related Categories:

East Bay | Health, Housing & Public Services
Defending Jodie Randolph's home; latest update
Occupy Oakland Foreclosure Defense Group is defending Jodie Randolph's home in Alameda. We have posted a week of updates to our own site and are starting to repost here as well. In day 9 of the fight, Jodie is still in her home and there is some early response from the bankers.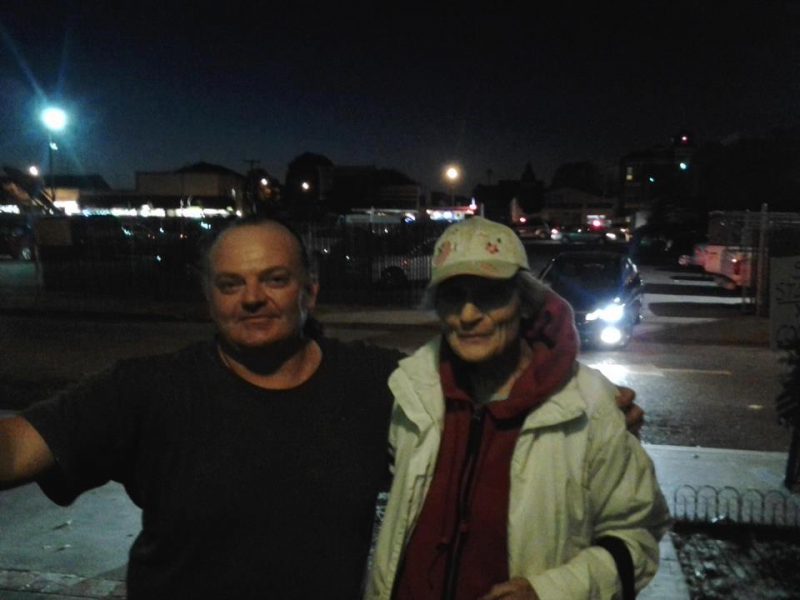 We are Occupy Oakland Foreclosure Defense Group. We defend homeowners against foreclosure. We don't do it for money.
What's Happening Right Now? (#defendJodie)
We are defending Jodie Randolph against illegal eviction.
You can help
.
Jodie's story
.
Diary of this fight
.
Monday, November 12, 10:00 p.m.
An account from home defender Naomi from this afternoon ...
It's been a quiet afternoon here at Jodie's. Well, mostly quiet. A little while ago there was a knock at the door that caught all of us here a little off guard. Who could that be? None of us were expecting anyone...

It turns out it was Pat! She's the 90+ year-old badass pictured on the right here with another known badass. If you haven't met her yet, she came by last week after hearing about Jodie from a friend. She immediately grabbed a stack of fliers and handed them out to every single customer driving out of the grocery store lot across the street. I hadn't had the pleasure of meeting her then, but hearing about this made such an impression on me, I'd written about her to some of my friends. She's such an inspiration! So, when she showed up today, I was happy to have the chance to thank her in person. She was here to see if we had any more fliers she could pick up to hand out...because she ran out of fliers again. She was at the Long Haul yesterday, and since she was upset/shocked that folks there didn't know about this eviction defense, she left a few fliers there and handed out the rest of them as she told folks about Jodie's ongoing battle and need for support. If/when I grow up, I want to be like Pat! And, well, really like all of you. 'Cause if I'm lucky enough to grow old and gray, I hope that I am half the badass of the likes of Pat and this amazing community.
This is just one of the reasons Morgan Stanley is not going to win this fight, and would be much better off negotiating a fair and reasonable repurchase agreement with Jodie. We are standing with Jodie and will not let the bank take her home and her possessions. If you are in the area and want to participate in the eviction defense, please email foreclosure@occupyoakland.org, and subscribe to our text message alerts at 69302. If you aren't in the area or want to help from home, please call: John Sheldon 415-576-2083 Morgan Stanley Executive Director, San Francisco and tell him to stop the eviction of Jodie Randolph at 1624 Foley Avenue, Alameda, CA 94501.
We are 100% volunteer and depend on your participation to sustain our efforts!
Get Involved
If you'd like to help with maintaining or developing the website, contact us.