From the Open-Publishing Calendar
From the Open-Publishing Newswire
Indybay Feature
Related Categories:

Santa Cruz Indymedia | Government & Elections | Womyn
WILPF Santa Cruz 2012 Endorsements
WILPF Santa Cruz urges the following votes on the fall ballot measures: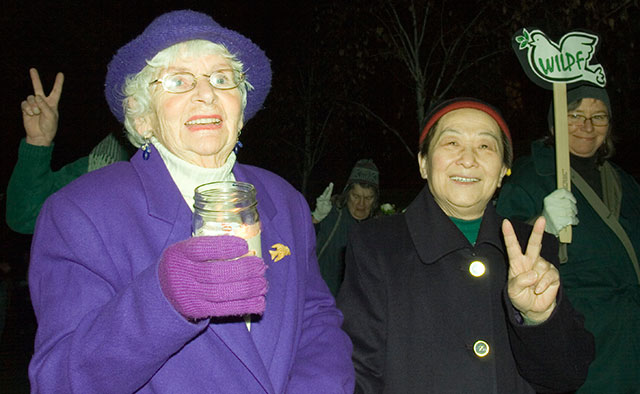 [WILPF Santa Cruz in the
Santa Cruz Last Night DIY Parade
on December 31, 2007. Photo by Bradley]
Measure P Yes
Will require voter approval before the City could authorize a desalination project. The measure doesn't approve or reject desalination, simply gives voters the final say.
30 Yes
Will avoid further drastic cuts to schools, social services and public safety by raising income tax on individuals earning over $250,000/year and couples over $450,000, and raising the sales tax by ¼%.
31 No
Two-Year Budget Cycle is considered unworkable by most analysts – would also allow counties to apply for an exemption from state statutes or regulations.
32 No
Contrary to the proponents statement that this will keep "special interest" money out of elections, it doesn't limit corporations (who have out-spent unions at least 8:1 in past elections) from spending its profits on political campaigns. What it will do is restrict union political fundraising by prohibiting use of payroll-deducted funds for political purposes.
33 No
Consumers who stop driving for a period of time will be penalized for not carrying auto insurance by being charged a higher premium when they resume coverage.
34 Yes
Replaces the death penalty with life imprisonment; uses savings to fund investigations of unsolved rapes and murders.
35 No
While the intent is to prevent human trafficking by imposing higher fines and prison terms, the initiative is so poorly written that the consequences would be injustices and abuses similar to those that resulted from the three strikes law.
36 Yes
Revises three strikes law to impose life sentence only when new felony conviction is serious or violent. Authorizes re-sentencing for offenders currently serving life sentences if third strike conviction was not serious or violent and judge determines sentence does not pose unreasonable risk to public safety
37 Yes
Requires GMO labeling on raw or processed food offered for sale to consumers if made from plants or animals with genetic material changed in specified ways. Prohibits labeling or advertising such food as "natural."
38 No
Increases personal income tax rates for annual earnings over $7,316 using sliding scale from .4% for lowest individual earners to 2.2% for individuals earning over $2.5 million, ending after twelve years. During first four years, 60% of revenues go to K-12 schools, 30% to repaying state debt, and 10% to early childhood programs. [If both 30 and 38 pass, the one getting the most votes will be enacted.]
39 Yes
Requires multistate businesses to calculate their California income tax liability based on the percentage of their sales in California. Repeals existing law giving multistate businesses an option to choose a tax liability formula that provides favorable tax treatment for businesses with property and payroll outside California. $550 million increased revenue every year for five years would go toward creating energy efficiency jobs and projects that create clean energy.
40 Yes
Keeps the CA State Senate lines as drawn by the Citizens Redistricting Commission. Many months of public hearings and many months of work resulted in the current lines. The CA Republican Party spent hundreds of thousands of dollars to put this on the ballot and has now orphaned it.
To see how other organizations, unions and political parties stand on the propositions, go to
http://californiachoices.org/ballot-measures-2012-11/endorsements
We are 100% volunteer and depend on your participation to sustain our efforts!
Get Involved
If you'd like to help with maintaining or developing the website, contact us.