From the Open-Publishing Calendar
From the Open-Publishing Newswire
Indybay Feature
The 844 Vetoes of Mitt Romney In the Massachusetts Legislature
Of Romney's 844 vetoes, 707 were overridden by the legislature, some unanimously. Romney vetoed money for housing the homeless, vetoed a bill honoring a student's right not to dissect animals, vetoed a raise in the minimum wage. A company on whose board he served was fined 83 million dollars for Medicare fraud. He was accused of tax evasion in preparing Marriott International's tax forms.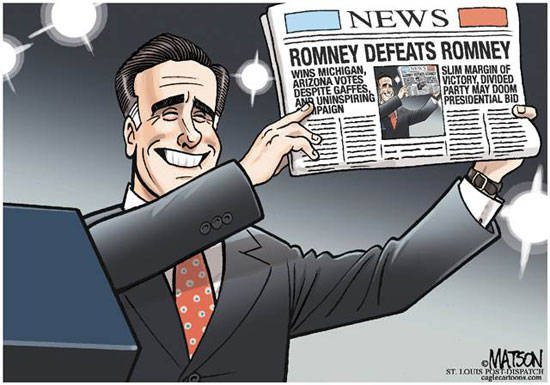 (to the Obama campaign: Mr Mangino of KDKA Radio asked over the air that you run an ad on the 844 vetoes of Mitt Romney in the brief time he held political office... others ask that you run ads on the devastation left by the coal industry)
In Mitt Romney's 4 years of political experience, he signed 844 vetoes. He was perhaps the most vetoing governor in Massachusetts history. He claimed in the debate with Obama that he was good at working with the opposition party which controlled 87% of the legislature. In reality he was an obstructionist, the embodiment of "No". Because the legislature 707 times overrode his vetoes, he was an ineffectual governor. He suffered a great defeat in the midterm elections. Having spent 3 million to defeat Democratic legislators, his campaign increased Democratic legislators. Romney vetoed an increase in disability payments to a policeman injured in a fall. He vetoed a bill recognizing students' rights to refuse to carve up living or dead animals in biology and premed classes. Of his 844 vetoes, 707 were overridden. "The Boston Globe reported that in 100 instances Democrats did not challenge Romney and his vetoes stood. In cases when the Senate challenged him, Romney was overridden every time. When the House challenged him, Romney was overridden more than 99 percent of time, the Globe reported, based on statistics from the House minority leader's office."
Mitt Romney said in the debate as well that he was a job creator, despite the fact that he fired over 100,000 people as sole voting stock member and CEO of Bain Capital, despite the fact that he outsourced jobs to China and Mexico, that his tax plan would give tax credits to companies outsourcing to China and other countries.
Romney claims credit for the Massachusetts health care program, but he merely went along with the work that the Democratic legislature did. Dailykos reports Romney was "on the board of Damon Clinical Laboratories, which plead guilty to charges of defrauding Medicare and agreed to pay what was at the time the largest health care criminal fraud fine in history - $35,300,000. They also agreed to larger civil fines which totaled $83,700,000. Romney was also on the board of Marriott International, a Mormon owned hotel chain.
http://www.boomantribune.com/story/2012/7/14/165455/617
Romney defeated $220,000 in programs to give the homeless shelter. Ontheissues.org reports:
"Budget Item 7004-3036 was reduced by the Governor from $1,221,925 to $1,000,000; the Governor disapproved $141,000 for Just-A-Start housing stabilization conflict management services, a program to prevent homelessness; and $80,925 for the Central Massachusetts Housing Alliance."
Romney vetoed in 2006 a minimum wage increase, but was overridden UNANIMOUSLY by the legislature.
http://www.factcheck.org/2012/02/romney-vs-santorum-a-misleading-contrast/
Fact Check goes on to say "it is misleading to claim — as the ad does — that Romney closed the deficit without raising taxes. He increased government fees by hundreds of millions of dollars."
Peter Canellos reports "it is fair to hold him (Romney) accountable for Marriott's spurious tax reporting".
http://www.cnn.com/2012/08/08/opinion/canellos-kleinbard-romney-taxes/index.html
According to Mr Wines of the NY Times "Statehouse Democrats complained he (Romney) variously ignored, insulted or opposed them Unemployment dropped less than a percentage point during his four years"
Romney complains of a $900,000 subsidy to PBS while ignoring the BILLIONS in subsidies to big oil companies and the TRILLIONS of subsidies in corporate welfare to war profiteers.
Romney vetoed in 2004 a bill which would honor students' rights not to carve up living or dead animals in biology and medical school classes. As an explanation he wrote
. . . biomedical research is an important component of the CommonwealthÂ's economy and job creation. This bill would send the unintended message that animal research is frowned upon."
http://neavs.org
http://animalrights.net/2004/massachusetts-governor-vetoes-anti-dissection-bill/
Romney graduated from Brigham Young University, a Mormon institution.
David Welna of NPR: "From now on," he (Romney) told The Boston Globe, "it's me-me-me."
In the remaining days of October and November, may much more about Romney's vetoes, tax manipulations and board memberships surface.
Romney's 844 Vetoes
http://www.nytimes.com/2012/10/06/us/politics/romney-claims-of-bipartisanship-as-governor-face-challenge.html?pagewanted=all
Romney's Clean Energy whoppers
http://factcheck.org/2012/10/romneys-clean-energy-whoppers/
More on Romney's 4 years as an elected politician
http://en.wikipedia.org/wiki/Governorship_of_Mitt_Romney
707 of Romney's 844 vetoes overridden
http://www.masslive.com/politics/index.ssf/2012/07/how_often_were_mitt_romneys_ma.html
Romney vetoed money for housing for the homeless
http://www.ontheissues.org/2012/Mitt_Romney_Welfare_+_Poverty.htm
Romney was on the board of a company which pled guilty to mass Medicare fraud.
http://www.dailykos.com/story/2012/10/07/1141372/-ATTN-VETERANS-As-Gov-Romney-VETOED-Support-for-VETS
http://www.huffingtonpost.com/2012/07/13/mitt-romney-bain-mess_n_1669828.html
Cartoon source:
politicalhumor.about.com