From the Open-Publishing Calendar
From the Open-Publishing Newswire
Indybay Feature
Related Categories:

Santa Cruz Indymedia | Government & Elections | Health, Housing & Public Services | Police State & Prisons
Homeless Sweepsters Have Candidate Forum at SCPD Community Room
Not many "candidate forums" left, so I went to part of one tonight sponsored by the group that gave us Lynn Robinson as Councilwoman and is now pushing Pamela Comstock, the Take Back Santa Cruz front woman. Comstock was the only candidate to reject the flyer I was passing out (which I reprint below). There's another forum or candidate meet-and-greet tomorrow (Wednesday September 19th) at 7 PM at the Kuumbwa Jazz Center, though I hear there's an admission charge.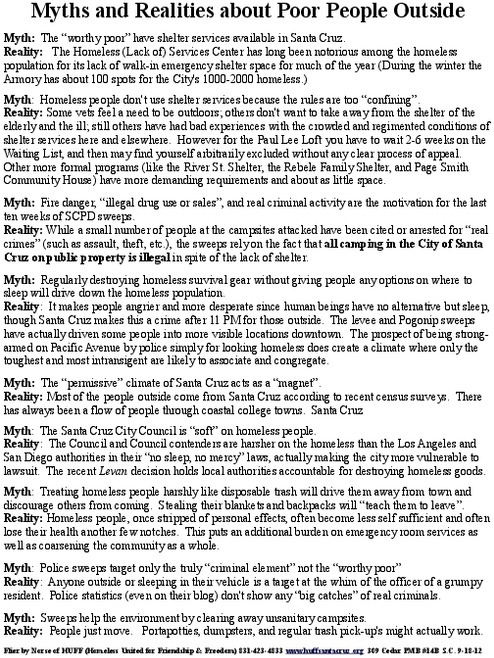 Download PDF (67.9kb)
The Santa Cruz Neighbors is the group that seems to be interested in more harassment of the homeless along with Take Back Santa Cruz and the Downtown Association. It sponsors these forums every two years (during the election season). In front of each candidate was a glass (of water, I think) and four cookies wrapped up in cellophane and a bow. This time (hard times?) there were no refreshments for the audience. Channel 8 was there with the aging Phil Gomez individually interviewing each candidate.
I carried a sign "Sleeping is Not a Crime"--which, of course, should have included the postscript "...except for the Santa Cruz homeless". Sgt. Bush didn't give me a clear answer as to why he was in the room standing by the door in full uniform, but he was amiable enough. When one of the candidates ended her speech saying that ways that Santa Cruz did not work well was "undesirable behavior downtown", I turned to Bush and said in a stage whisper "could she be talking about you?" The Sgt. and nearby Brent Adams both graced me with a half smile.
But, of course, they weren't. No one mentioned the sleeping ban (Steve Pleich included) or the homeless sweeps. Maybe it came up for a full-throttle debate later (I left half way through), but I doubt it. Mayor Lane avoided eye contact and carefully kept his eyes off my sign throughout the two brief presentations he made.
The escalating war against the homeless, aside from getting mention on this website, can also be found at the Santa Cruz Police blog at
http://santacruzpolice.blogspot.com/2012/09/illegal-camping-enforcement-week-10.html
.
Meanwhile all was quiet, low-key, and well-behaved at the candidate forum.
Flyer text for those who can't pick up on the pdf version:
Myths and Realities about Poor People Outside
Myth: The "worthy poor" have shelter services available in Santa Cruz.
Reality: The Homeless (Lack of) Services Center has long been notorious among the homeless population for its lack of walk-in emergency shelter space for much of the year (During the winter the Armory has about 100 spots for the City's 1000-2000 homeless.)
Myth: Homeless people don't use shelter services because the rules are too "confining".
Reality: Some vets feel a need to be outdoors; others don't want to take away from the shelter of the elderly and the ill; still others have had bad experiences with the crowded and regimented conditions of shelter services here and elsewhere. However for the Paul Lee Loft you have to wait 2-6 weeks on the Waiting List, and then may find yourself arbitrarily excluded without any clear process of appeal. Other more formal programs (like the River St. Shelter, the Rebele Family Shelter, and Page Smith Community House) have more demanding requirements and about as little space.
Myth: Fire danger, "illegal drug use or sales", and real criminal activity are the motivation for the last ten weeks of SCPD sweeps.
Reality: While a small number of people at the campsites attacked have been cited or arrested for "real crimes" (such as assault, theft, etc.), the sweeps rely on the fact that all camping in the City of Santa Cruz on public property is illegal in spite of the lack of shelter.
Myth: Regularly destroying homeless survival gear without giving people any options on where to sleep will drive down the homeless population.
Reality: It makes people angrier and more desperate since human beings have no alternative but sleep, though Santa Cruz makes this a crime after 11 PM for those outside. The levee and Pogonip sweeps have actually driven some people into more visible locations downtown. The prospect of being strong-armed on Pacific Avenue by police simply for looking homeless does create a climate where only the toughest and most intransigent are likely to associate and congregate.
Myth: The "permissive" climate of Santa Cruz acts as a "magnet".
Reality: Most of the people outside come from Santa Cruz according to recent census surveys. There has always been a flow of people through coastal college towns. Santa Cruz
Myth: The Santa Cruz City Council is "soft" on homeless people.
Reality: The Council and Council contenders are harsher on the homeless than the Los Angeles and San Diego authorities in their "no sleep, no mercy" laws, actually making the city more vulnerable to lawsuit. The recent Levan decision holds local authorities accountable for destroying homeless goods.
Myth: Treating homeless people harshly like disposable trash will drive them away from town and discourage others from coming. Stealing their blankets and backpacks will "teach them to leave".
Reality: Homeless people, once stripped of personal effects, often become less self sufficient and often lose their health another few notches. This puts an additional burden on emergency room services as well as coarsening the community as a whole.
Myth: Police sweeps target only the truly "criminal element" not the "worthy poor"
Reality: Anyone outside or sleeping in their vehicle is a target at the whim of the officer of a grumpy resident. Police statistics (even on their blog) don't show any "big catches" of real criminals.
Myth: Sweeps help the environment by clearing away unsanitary campsites.
Reality: People just move. Portapotties, dumpsters, and regular trash pick-up's might actually work.
Flier by Norse of HUFF (Homeless United for Friendship & Freedom) 831-423-4833
http://www.huffsantacruz.org
309 Cedar PMB #14B S.C. 9-18-12
Sentinel editor Don Miller has weighed in on the destructive police raids--essentially supporting them in a September 19th Sentinel editorial at
http://www.santacruzlive.com/blogs/dmillereditor/2012/09/18/breaking-camp-santa-cruz-cracks-down-on-illegal-sites/
.
I responded with the following (which I've rewritten somewhat):
This editorial makes the usual phony distinction between "the deserving needy" and the "undesirable transients". The real issue is fair and decent treatment for all.
There is zero mention of the real shelter\ situation (none for 95% and a 2-6 week delay for those waiting). Police and allied agencies treat homeless people and their property as disposable trash (instead of providing real facilities like portapotties, dumpsters, and trash pick-up's that might actually restore the enviroment).
Miller's piece does have the merit of avoiding the sanctimonious hypocrisy of Mayor Lane's honeyed words. Lane was silent when Vogel's police destroyed the San Lorenzo\ campground last December creating 100-200 homeless refugees. He is silent again as the SCPD blog brags of 500+ citations in its apparently unending "search and destroy" missions. Instead at the candidate forums we hear the usual vague "concerns" about homelessness while his cops treat these victims of the 21st century economy as criminals.
City Manager Bernal's SCPD and Parks and Rec are issuing citations for behavior that is only a crime if you're homeless—sleeping and survival camping. The rest of us can sleep soundly and safely—until the next major illness when Wells Fargo (or some other "legal" bankster) stands ready to take over our homes.
To demonize all such survival behavior as "illegal" is a way of justifying brutal treatment by renaming it. ALL CAMPING IS ILLEGAL in Santa Cruz. Hence necessary survival behavior by homeless people has now been twisted (thanks in part to Sentinel coverage) into some kind of criminal conduct.
Miller is old enough and wise enough to know this. By ignoring the vigilante implications, he enables this darkness. Demonizing other groups (Jews, Communists, blacks, Muslims) isn't new; demonizing homeless people isn't new to Santa Cruz. It just enrages me to see it happening again.
Any actual crime stats regarding the "crimes" that justify this concentrated destructive effort? None that the Sentinel has published.
Any research into the legal vulnerability of the City, whose policy of destroying homeless property is now explicitly unconstitutional under the 9th Circuit's recent Lavan decision? No.
And, of course, not a paragraph about the suffering of innocent people being denied their survival gear and treated like trash. I get several dozen such accounts monthly which I play on Free Radio regularly. The Sentinel reports on none of this, but passes on police propaganda that encourages the community to think of poor people outside as dangerous and disgusting.
If folks at home were faced with police invading their homes late at night and rousting their families with flashlights, stealing their property, and giving them phony tickets, some would defend themselves with force. I'm surprised more homeless people haven't responded violently in self-defense.
We have long needed an injunction or some other collective defense against this kind of official criminal conspiracy against the poor.
UN observers to establish refugee status for homeless people\ whose very existence is being defined as "illegal"?
Perhaps have some homeless people should seek refuge in the Ecuadorian consolate in San Francisco?
Likely the only way to slow or stop this kind of thuggery is by kicking the City straight in the pocketbook or some other response showing that class war against the poor has real blowback.
To reiterate: since no sleeping or camping on public property is legal; it's all illegal. Hence several thousand in the City and more in the County suddenly become criminals at night. This kind of demonic redefinition is a disingenuous way of encouraging hate crime against vulnerable people outside. After all, they're "dirty" (no public 24-hour bathrooms), so why not eliminate them like vermin?
There's a real dark nasty message underneath that's being spread. If the only criticism of the current attacks against the poor are that they are "not effective" it betrays a moral blindness that saddens the soul or a political cowardice that sickens the heart.
We are 100% volunteer and depend on your participation to sustain our efforts!
Get Involved
If you'd like to help with maintaining or developing the website, contact us.