From the Open-Publishing Calendar
From the Open-Publishing Newswire
Indybay Feature
Lead-Up to 2012 RNC: Anarchists, IEDs, Guy Fawkes, Feces, Drones & a Tampa Police State, 8/25/12: photos
Leading into the 2012 Republican National Convention set for August 27th-30th, local and national corporate media reports have alternated between focusing on the opportunity for the Tampa Bay area to shine on the world stage as a business-friendly region and rampant fear-mongering about "law breakers and anarchists," including a DHS and FBI warning about the possible use of improvised explosive devices (IEDs) by anarchists. A security perimeter encompassing most of downtown Tampa has been established and the area closest to the convention center is walled off with road-blocks and fences. Hundreds of police can be seen patrolling near the convention center as well as throughout the entire area. Demonstrators appear to be undeterred, however, moving forward with a full schedule of rallies, marches, and other protests throughout the convention. Each day of protests will highlight a different theme: economic rights, human rights. anti-war/peace, and the environment.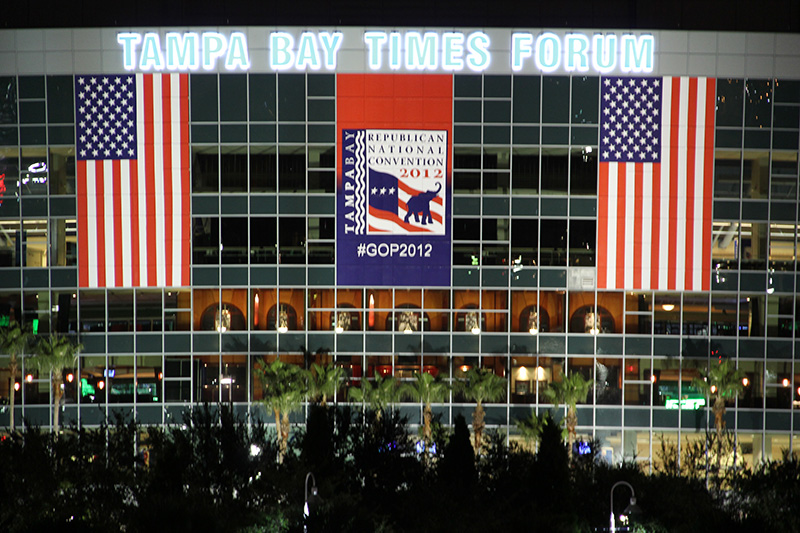 [Pictured above: Tampa Bay Times Forum, site of the 2012 RNC, on the night of Saturday, August 25th]
While up to this point there have been no known raids of convergence centers similar to the one prior to the
2008 RNC in St. Paul
-- largely because there is no central RNC protest convergence center in Tampa -- on August 17th large numbers of police intimidated and searched dozens of people in the vicinity of
Occupy Tampa's Voice of Freedom park
at 2101 West Main Street, which is privately owned land.
And while a temporary Romneyville encampment inside the RNC security perimeter behind an
Army-Navy surplus store
at 1312 North Tampa Street organized by the
Poor People's Economic Human Rights Campaign
was told it could not have tents at that location, protesters, who signed a lease and paid for use of the land,
resisted orders by police and the landlord to vacate
and the process for removing the camp can not legally take place until well after the RNC is over.
Nevertheless, law enforcement authorities, from the FBI to the local Tampa police, have been feeding the corporate media a steady stream of fear-mongering about "law breakers and anarchists." A
joint DHS-FBI bulletin given to the corporate media
(see PDF of document below) went so far as to warn locals to be on the lookout for anarchists purchasing materials to build IEDs, seeking to receive firearms training, and preparing for violence against white supremacist groups. Notably, the bulletin did not indicate that Federal authorities actually had any credible intelligence on explosive devices. It was just framed as a warning that such a thing was possible. Of course, anything is possible, so why did the DHS and FBI leak this bulletin to a major national corporate media outlet just prior to the RNC?
Countless
local
news
stories
focused on some one dozen or so bricks and a single pipe found on a rooftop near a graffiti image of Guy Fawkes, as if it were unambiguously a huge cache of RNC "law-breaker" weapons discovered just in the nick of time to prevent bodily harm.
Local area residents with city connections have been passing along rumors that an unoccupied house was raided in Tampa one week ago where multiple buckets of human feces and urine were found, purportedly to be used by protesters against RNC delegates and/or police, yet there have been no such claims of a raid by activists nor official reports by local police. These rumors appear to be similar to
previous unsubstantiated anti-protester propaganda
.
In reality, all of
downtown Tampa
can now be definitively described as a police state. Thousands of police -- local, state, and federal, virtually all in khaki -- will be on hand throughout the week, including the Florida National Guard. Over
$50 million
have been spent to secure the area and suppress freedom of movement within downtown Tampa and surrounding areas. Nearly
100 high-resolution surveillance cameras
have been installed in the vicinity. Miles of
fencing and concrete barriers
have gone up in concentric rings around the site of the convention in the last couple of weeks. Helicopters constantly buzz overhead. There are even reports that unmanned flying
drones will patrol the skies over Tampa
, a first for a political convention in the United States.
The Tampa City Council passed a
new law targeting protesters
that bans numerous items including gas masks, water guns, switchblades, hatchets, BB guns, pellet guns, sling shots, crowbars, hammers, shovels, rope greater than six feet in length, containers filled with urine, fecal matter, blood or any other bodily fluid, and much more. Thanks to the National Rifle Association and their Republican allies, firearms are allowed within the security perimeter, though.
Despite it all, hundreds if not thousands intend to demonstrate for social and environmental justice throughout the week. The first action already happened this afternoon, a
Rally of the 99%
, which marched from Gaslight Park at 410 North Franklin Street to the city-sanctioned and fenced-in
RNC Free Speech Zone
northeast of the convention center.
Here are the daily RNC protest themes. Below that are links to schedules of upcoming events.
A27 - Economic Rights Day

A28 - Human Rights Day

A29 - Anti-War/ Peace Day

A30 - Environment Day
http://marchonthernc.com/marchroute
http://resistrnc.org/events/
http://occupytampa.org/home/events/
We are 100% volunteer and depend on your participation to sustain our efforts!
Get Involved
If you'd like to help with maintaining or developing the website, contact us.