From the Open-Publishing Calendar
From the Open-Publishing Newswire
Indybay Feature
Police lie to create case against student they injured in UC Davis pepper spray incident
University Police at UC Davis lied on an affidavit, allowing them to arrest art student Thomas Matzat from his dorm room and hold him for three days during finals week in March. Matzat suffered from a type of nerve damage called "radial nerve palsy" as a result of being handcuffed with zip-ties and violently moved by University Police during the November 18 pepper spray incident at the university.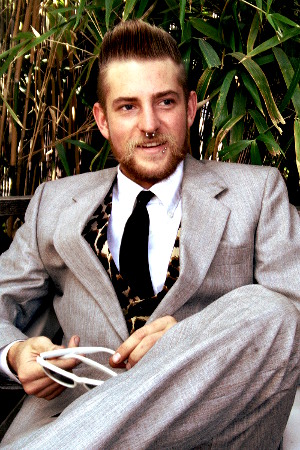 On Friday, August 10th, Thomas Matzat and supporters appeared before the Yolo County District Court for a pre-trial hearing.
Thomas is being charged with five counts of felony vandalism, fourteen counts of misdemeanor vandalism, and one misdemeanor charge for "possessing a marking substance with the intent to commit vandalism" (California Penal Code 594.2a).
Thomas is a junior at UC Davis, studying Fine Art. Over the last year, Thomas has used his artistic talent to create oil paintings, screen-prints, banners, and tee-shirts in support of the Occupy movement, and he has also been active in the student movement against university privatization.
Last fall, Thomas experienced nerve damage in his wrists due to police brutality during the November 18th UC Davis pepper spray incident. This event garnished international attention after University Police fired military-grade pepper spray at seated students at pointblank range.
During the chaos, University Police zip-tied Thomas' hands behind his back and moved his body violently, resulting in a type of nerve damage called "radial nerve palsy."
The nerve damage was most severe in Thomas' left hand and wrist, making it difficult for him to lift, grip, and steady his hand and fingers. Thomas is left-handed, and the injury impaired his ability to create art. He began to regain use of his hand after several months, but his fingers still shake at times.
On March 17th, Thomas was arrested from his dorm room, and held for three days.
The Davis Enterprise reports that the arrest was made in connection to "six incidents of vandalism to campus walls, windows, bus shelters and restrooms over the past few months." The vandalism in question was graffiti.
While Thomas was held in jail, he missed his final exams and was subsequently expelled from the university.
In response, students and fellow Occupy protestors held a sit-in front of the office of the Dean of the College of Letters and Science. The Dean agreed to a meeting between Thomas and his attorney, and after negotiations, Thomas was readmitted.
Thomas' pro bono legal team includes Tony Serra, veteran civil rights lawyer who famously defended Black Panther leader Huey P. Newton. Also defending him is Alexis Wilson Briggs, a tenacious young social justice lawyer who is currently working on the cases of the Davis Dozen and the Santa Cruz Eleven.
At Thomas' arraignment on April 20th, District Attorney Michael Cabral filed the twenty charges against Thomas, saying they were able to identity him as the graffitist based on video footage from a security camera.
At a pre-trial hearing on August 10th, however, Thomas' pro bono legal team provided evidence that police lied about the security footage.
This security footage does not show the graffiti being created, but instead shows a hallway leading to an alcove where the graffiti was found.
In the affidavit University Police filed to receive the warrant to search Thomas' room, they created a false timeframe in which the graffiti occurred, eliminating twenty-five minutes of footage from the video.
In these twenty-five minutes of footage, four other potential suspects can be seen walking through the hallway, including an unidentified young man with a sizeable packsack.
The police did nothing to investigate these four other potential suspects, but instead attempted to cover up their existence by creating a false timeframe for the crime centered around Thomas' alleged appearance in the video.
By lying on the affidavit they submitted to judicial authorities, University Police were granted the warrant they needed to search Thomas' dorm. Once they entered his room, they were able to arrest the art student for owning art supplies.
At the hearing on August 10th, Thomas' legal team presented video evidence of the four suspects that police cut out of the security footage, and also showed three other "omissions of truth" in the affidavit that police filed to gain the search warrant.
The legal team presented these discrepancies as part of a Franks Motion. If the motion had passed, the charges against Thomas would have been dropped.
The judge confirmed that there were at least two errors on the affidavit, but he denied the Franks Motion.
After the hearing, Thomas was solemn as he walked down the steps of the courthouse. When asked if he had anything to say, his words were soft, "It would have been nice if [the Frank's Motion] wasn't denied…but it's to be expected."
It's to be expected, when you stand up to those in power, to have justice turned against you.
In cities across the country, hundreds of people who took part in the brief life of Occupy—people who pitched tents on the lawn of corporate-political tyranny and attempted to create tiny islands of direct democracy—are now facing criminal charges.
Thomas' next court date has been set for August 29th at 10am, in the Yolo County Courthouse.
Come support Thomas, and help out by donating to his legal fund through the Davis Anti-Repression Crew.
http://davisdozen.org/
Thomas is also being charged separately as part of the Davis Dozen for allegedly blockading a corporate bank on the UC Davis campus. To learn more about the Davis Dozen:
http://www.adbusters.org/blogs/adbusters-blog/overcoming-fear.html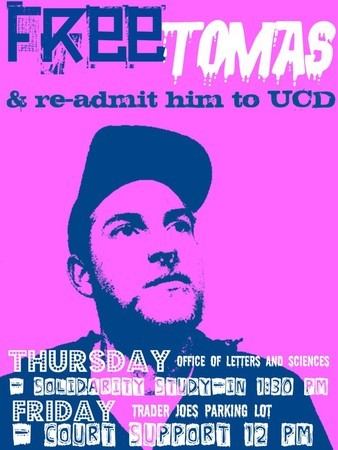 Artwork from student activities in support of Thomas after his expulsion in April.
Photo by the Davis Enterprise.
We are 100% volunteer and depend on your participation to sustain our efforts!
Get Involved
If you'd like to help with maintaining or developing the website, contact us.