From the Open-Publishing Calendar
From the Open-Publishing Newswire
Indybay Feature
Occupy Oakland briefly resurfaces, Obama Headquarters Smashed
Occupy Oakland seemed to briefly resurface as a roving FTP dance party on Friday. Fenses around former a Occupy camp site were pulled down, and the windows at Obama Headquarters got smashed.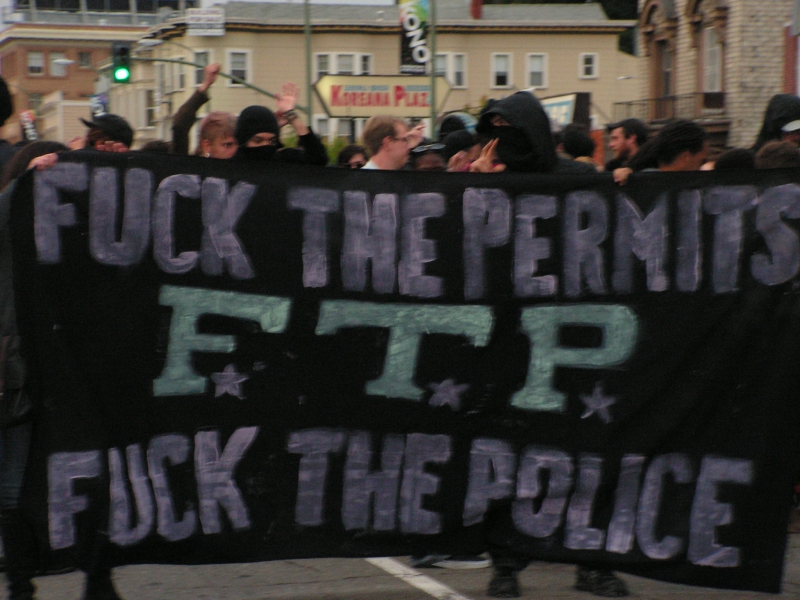 August 4, 2012 - Occupy Oakland seemed to reemerge for a few hours yesterday evening, in the form of a roving dance party that made its way through downtown behind a large banner that read "Fuck The Permits, Fuck The Police."

The dance-march was in partial solidary with the venders of Art Murmur, a street fair that takes place in downtown Oakland every 1st Friday.

Over the last few months, Art Murmur has exploded into a carnivalesque block party, in which Oaklanders have taken over the streets and filled them with art, music, food, dancing, and general revelry.

On July 6, uniformed security officers informed Art Murmur venders that anyone without a permit would be ticketed, starting next month.

According to a statement on a flyer passed out by demonstrators, "the [permit] process is inaccessible, unaffordable, and there are not enough "officially sanctioned" spaces to go around."

The flyer also explains the deeper motives behind the permits:

"Their intent is to target street artists and vendors as a means of regulating and controlling the community's use of public space, for the benefit of expensive galleries, fancy restaurants and developers. The effect is to better provide the capital-owning business elite with a controlled and sterilized neighborhood full of passive armies of docile workers and obedient shoppers. Their ambition is to redraw urban geography according to profit motives, and convert public and social life into the plaything of the private interests. This amounts to an attempt to rob us of every free and spontaneous aspect of our communities and our lives, and replace each of them with no alternative but submission and the compulsion to consume."

Last night, many venders and artists ignored last month's threat of being ticketed, and set their tables in illegal spaces.

Police kept their distance though, as the dance-protest roved up and down the streets, with demonstrators chatting "fuck the police" between songs.

Many bystanders cheered when they saw the "Fuck the Police" banner as the dance party approached.

Residents of Oakland are still outraged over the police murder of 21-year-old Oscar Grant, who was shot by a transit officer in a crowded BART station on New Year's Day in 2009. The transit officer, Johannes Mehserle, was found guilty of involuntary manslaughter in July 2010, despite publicly released videos showing Mehserle pinning Grant to the ground before shooting him in the back.

The advent of camera phones has allowed the level of police brutality that occurs in Oakland, and nationwide, to be made public.

Last Friday, several hundred Oaklanders marched in solidarity with the growing Anaheim police resistance movement, and a window was broken at a bar where police officers are known to drink.

During last night's roving dance party, as demonstrators passed 19th and Telegraph Ave, a large section of the fence surrounding the former site of Occupy Oakland was pulled down. Many still remember the police raids of Occupy last fall, when protestors were beaten, tear-gassed, and had their belongings destroyed by police.

The dance then continued down Telegraph, pausing in front of the Obama Campaign Headquarters, where the windows were smashed.

The Democratic Party and Obama campaign have continually attempted to co-opt the Occupy Movement. Many Occupiers are critical of the Democratic Party for making promises that it is incapable of keeping, as it is little more than an extension of the corporations that fund it.

Perhaps the smashing of the windows in today's march was Occupy Oakland's way of rejecting Obama's too-good-to-be-true campaign promises—the promise of easy hope in exchange for giving in to the farce of two parties within what is actually a unified totalitarian system.

A few minutes after the Obama Headquarters' windows were smashed, the dance party turned down 17th. Two children in a mini-van opened the car door and gave demonstrators high-fives.

A few minutes later, the dance party doubled back to Art Murmur and Occupy vanished back into the carnival.
We are 100% volunteer and depend on your participation to sustain our efforts!
Get Involved
If you'd like to help with maintaining or developing the website, contact us.