From the Open-Publishing Calendar
From the Open-Publishing Newswire
Indybay Feature
Related Categories:

East Bay | San Francisco | Police State & Prisons | Racial Justice
From Anaheim to the Bay: Solidarity is Our Weapon Against the Pigs
In a quiet warehouse district wedged between downtown Oakland and the city's waterfront there sits a typical sports bar and grill. The place prides itself on being an OPD bar. They host fundraisers for cops, they proudly display portraits of the four cops gunned down by Lovelle Mixon on their wall. Their logo even looks like an OPD badge. On the evening of Friday, July 27, their windows were smashed out to the cheers of a smiling crowd composed of over 100 Oakland rebels. Paint was thrown on the building as well.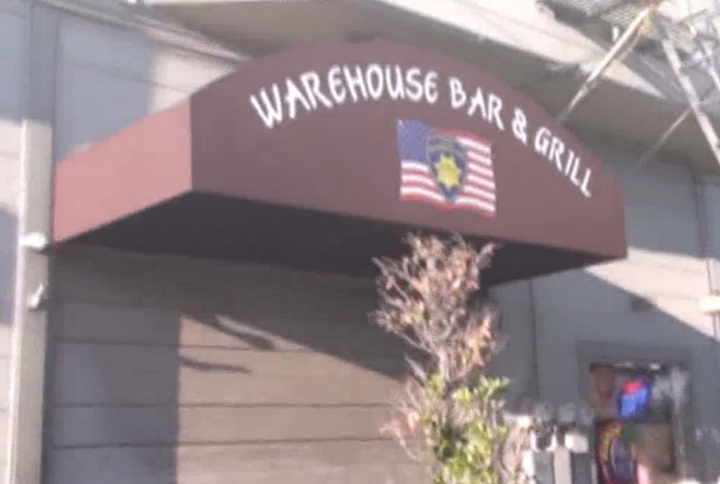 The crowd had gathered earlier in Oscar Grant Plaza in the heart of downtown to show their solidarity with the ongoing revolt against the police in Anaheim. The wave of repression, exhaustion and confusion that followed in the wake of Occupy Oakland's apex has meant dwindling numbers and energy in the streets of our city these past months. But on this Friday afternoon, the energy was high and many of us were heartened to find over 200 of our comrades ready to once again take the streets drawing on the inspiration from those fucking shit up down in Anaheim.
The day before, a smaller solidarity demonstration with Anaheim unfolded in the cold and sterile corridors of San Francisco's financial district and along the Embarcadero. SF police recently killed someone as well. His name was Pralith Plalourng and he was shot twice in the chest while handcuffed. The smaller crowd in San Francisco marched to the spot where he was shot, handing out propaganda the whole way (see below). The march passed many people getting off work in the financial district as well as many tourists and thus there were a lot of hostile responses to the demonstration. But it was good to be back in the streets and voice our collective rage and hatred towards the guardians of capitalism and the status quo.
The demo the following evening in Oakland was much bigger and had a lot more energy. It had been called for by local activists loosely affiliated with Decolonize Oakland. After nearly an hour of speeches, the crowd moved into the infamous intersection of 14th & Broadway and began moving towards OPD headquarters. After hurling chants and insults at the dozen or so cops who quickly scrambled out from behind their desks, fumbling with their riot gear, as they protected their pig sty, the crowd continued on. People started yelling "Cop bar! Let's go to the Cop bar!" and more then half of the crowd did just that where they made quick work of the establishment's windows before heading back into downtown and dispersing at the Plaza.
The people of Anaheim are an inspiration to us all and we hope they see themselves in the actions that unfolded in SF on Friday and Oakland on Saturday. The most important thing is for all rebels to know that they are not alone and that when they choose to make a stand and fight back, they will see their actions resonate far and wide.
Solidarity with the Anaheim Rebels from Oakland, FTP.
VIDEO OF THE OAKLAND RALLY AND MARCH:
http://www.indybay.org/newsitems/2012/07/28/18718472.php
Text of the flyer handed out in SF and Oakland:
Anaheim police officers murdered 25-year-old Manuel Diaz by shooting him in the back and head as he ran from them. When Manuel's friends, family and neighbors gathered to voice their rage over the murder, police attacked them with rubber bullets, beanbag projectiles and police dogs.
Just a few days earlier, on Wednesday, July 18, San Francisco officers murdered 32-year-old Oakland resident Pralith Pralourng near the Embarcadero. According to eyewitnesses, Parlourng was shot twice in the chest while handcuffed.
The pigs have made their intentions clear. They will murder people so long as they feel they can get away with it. They count on us to remain passive so that they can continue their reign of terror. But we will not stand by while the police, the violent enforcers of this miserable society, make it clear that they'll shoot us whenever they want, for whatever reason they construct. Instead, we will learn to protect each other while fighting against the police and prison society that they maintain.
To our comrades in Anaheim: Do not be afraid to revolt. Your resolve and fury have inspired us; we hope this action will be an inspiration to you. The state and it's police will continue to demand our obedience with such grotesque executions. We must respond to these events in a way that they will not soon forget.
Solidarity with Anaheim! Fuck the police!
We are 100% volunteer and depend on your participation to sustain our efforts!
Get Involved
If you'd like to help with maintaining or developing the website, contact us.