From the Open-Publishing Calendar
From the Open-Publishing Newswire
Indybay Feature
Related Categories:

Santa Cruz Indymedia | Environment & Forest Defense | Government & Elections | Health, Housing & Public Services
Right to Vote On Desal Coalition Petition Succeeds
The Right to Vote on Desal Coalition is proud to announce that its Charter Amendment initiative has secured a place on the November ballot. Voters will decide whether to amend the City Charter in order to guarantee that the people of Santa Cruz determine the future of desalination in this city. The City Charter can be amended only by a vote of the people, unlike an ordinance, which can be amended or repealed simply by a vote of the City Council.
[Photo by Alex Darocy,
Indybay.org
  Petitions submitted at City Hall on May 29th, 2012.]
Our campaign to get this initiative on the ballot received a groundswell of support. We submitted 8,717 signatures collected in just three and a half months by 133 signature gatherers. Dozens of other volunteers worked tirelessly to support the signature-gathering process. Many residents became informed and engaged in water planning for our community. UCSC students learned about the connection between water and campus expansion and got involved in our campaign.
According to Right to Vote on Desal spokesman, Rick Longinotti, "We hope this sends a signal to the City Council that they should be developing alternatives besides desalination to address our water challenges."
During the past months, residents shared their concerns with us and asked how alternatives to desalination would provide water supply resiliency. We propose viable alternatives that would provide us with sufficient water, cost significantly less, use far less energy, protect the Monterey Bay National Marine Sanctuary, protect habitat for endangered salmon, and create local jobs and business opportunities.
Ratepayers residing outside the City limits cannot vote on a City initiative but will still be affected by water planning decisions, including whether to install a desal plant. We urge the City to cooperate with County officials and the Soquel Creek Water District Board to find a way to allow these residents to participate in this important decision.
Interested residents are encouraged to look online at
RTVOD2012.org
to read about the upcoming Charter amendment vote and at
desalalternatives.org
to learn more about viable alternatives.
We look forward to celebrating our accomplishment with a gathering on
Sunday, July 22nd
from 3:00 - 5:00 pm at 119 Linden St. in Santa Cruz.
Contacts:
Mathilde Rand
rtvod2012 [at] gmail.com
Rick Longinotti
rtvod2012 [at] gmail.com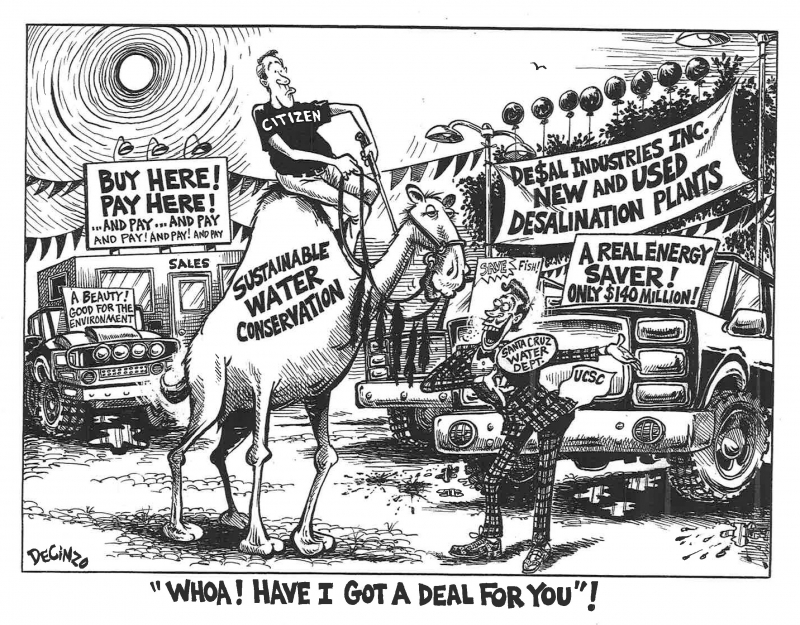 The initiative measure is ostensibly bi-partisan, however, if it passes in November, the vote likely would be interpreted as a de facto referendum on whether the cash-strapped City should proceed to spend any more promoting the environmentally and financially risky infrastructure project. Already, over $14 million has been spent on "studying and planning" the proposed desal plant without a public mandate or ratepayer approval and little to show.

The plant complex is estimated to cost $180 million to construct -- not including operating, maintenance, debt service, and expansion costs -- and would directly affect approximately half the County's population.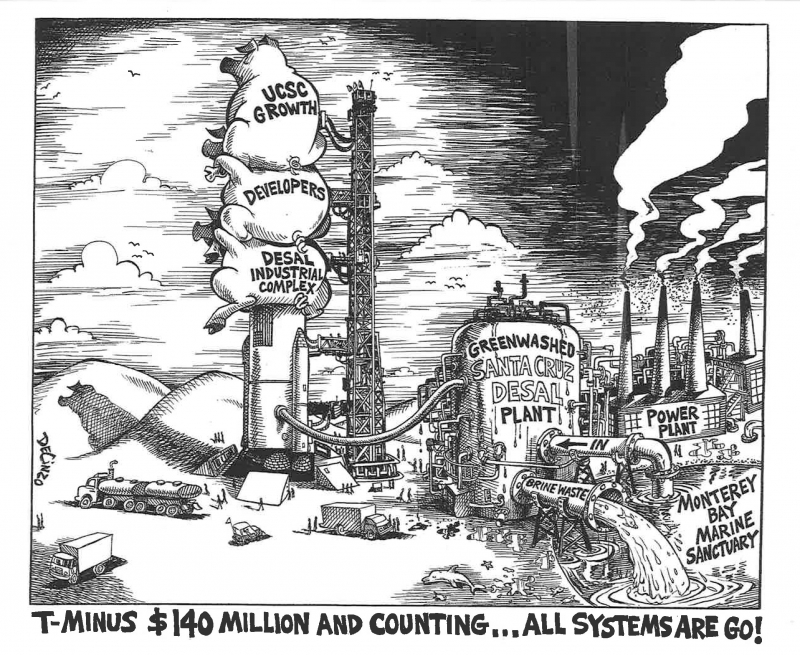 Backers of the desal plant include business groups, UCSC growth advocates, the real estate industry, and Mayor Don Lane along with ex-mayors Ryan Connerty, Mike Rotkin, and Cynthia Mathews.

Opponents say that elected officials have wasted scarce community capital, while ignoring contingency planning in light of the potential political, economic, technical, environmental and legal issues that could delay or derail the contentious project.

According to Paul Gratz, co-author of the ballot initiative, "Without a back-up strategy in place, elected officials are putting us all in jeopardy. Their narrow-minded "desal at any price" approach is a stomach punch to the environment, public safety, and the pocketbooks of voters and water ratepayers."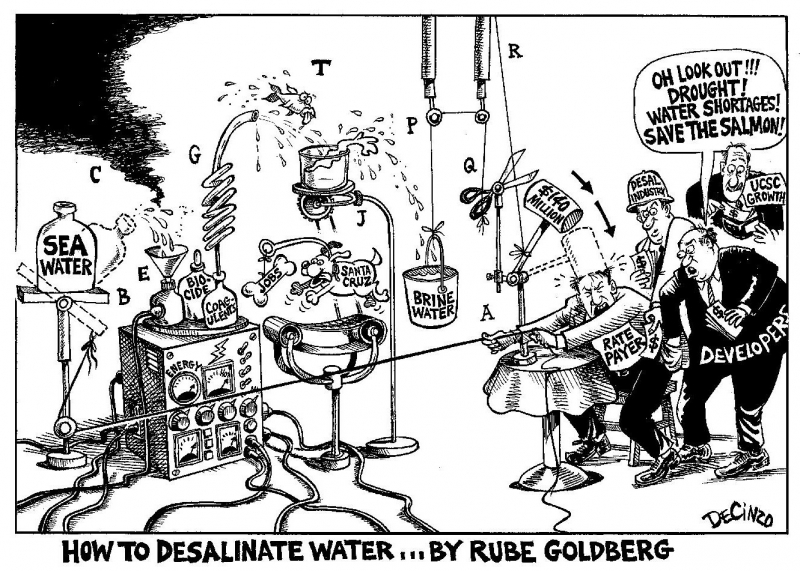 A Rube Goldberg machine, contraption, invention, device, or apparatus is a deliberately over-engineered or overdone machine that performs a very simple task in a very complex fashion, usually including a chain reaction. The expression is named after American cartoonist and inventor Rube Goldberg (1883-1970).
We are 100% volunteer and depend on your participation to sustain our efforts!
Get Involved
If you'd like to help with maintaining or developing the website, contact us.