From the Open-Publishing Calendar
From the Open-Publishing Newswire
Indybay Feature
View other events for the week of

7/ 1/2012
Fundraiser for Santa Cruz 11 / Desiree Foster w/ Rick Walker & Tom Noddy
Date

Sunday July 01

Time

3:00 PM

-

6:00 PM

Import this event into your personal calendar.
Location Details
INDIA JOZE Restaurant
418 Front St.
Santa Cruz, CA
Event Type

Fundraiser

Organizer/Author
Brent Adams

India Joze and the co-defendants are hosting this community gathering to bring awareness to the SC11 and to help out Desire Foster who is experiencing financial hardships.

Please read this article about Desiree written by co-defendant Becky Johnson

http://santacruzeleven.org/2012/06/closer-look-one-of-eleven/

About the Santa Cruz 11:

The Santa Cruz Eleven are local community members who have been charged with an unprecedented variety of offenses arising from their alleged involvement with the occupation of a long-time vacant bank building late last fall, 2011.

These defendants are either journalists, members of our local press, and/or activists supportive of the Occupy movement.

Hundreds of individuals, if not more, entered and exited the bank building during the 75-hour occupation, including local elected officials, corporate press and "citizen journalist" bloggers. Only the Santa Cruz Eleven have been charged.

Please read more here:

http://santacruzeleven.org/about/

About Rick Walker:

Rick is a found sound/live looping/abstract electronica/world percussionist/drummer/lo fi toy digital video filmaker/multi media inventor living in Northern California with his wife, the talented multi-instrumentalist, singer, songwriter, Chris Wedertz

He is a found sound/live looping/abstract electronica/multi-instrumentalist who specializes in drum set and world percussion instruments. He also is very interested in making lo fi toy video 'animations' for the abstract electronica compositions he makes.

He also founded the Annual Y2K Series of International Live Looping Festivals held every third week of October in Santa Cruz California. He's hosted 200 artists from 15 different countries in the festivals 8 years of existence.

http://www.looppool.info/

About Tom Noddy:

Tom's Bubble Magic has been presented on television shows all over the world...Universities, Physics and mathematics conferences, Variete theaters, Science and Discovery Centers, Nightclubs, Corporate Events and Galas, Other Entertainment and Education Venues

http://www.tomnoddy.com/

About INDIA JOZE Restaurant:

People are always asking me what we serve at India Joze. I always answer "Yes".

Over the years, Jozseph Schultz has covered immense culinary territory. His favorite dishes span the world and the history of cooking.

http://www.indiajoze.com/

Added to the calendar on Wednesday Jun 20th, 2012 5:40 PM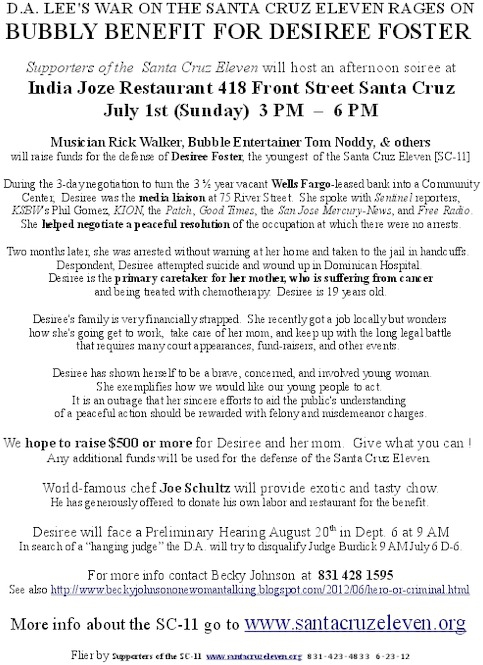 Please download and distribute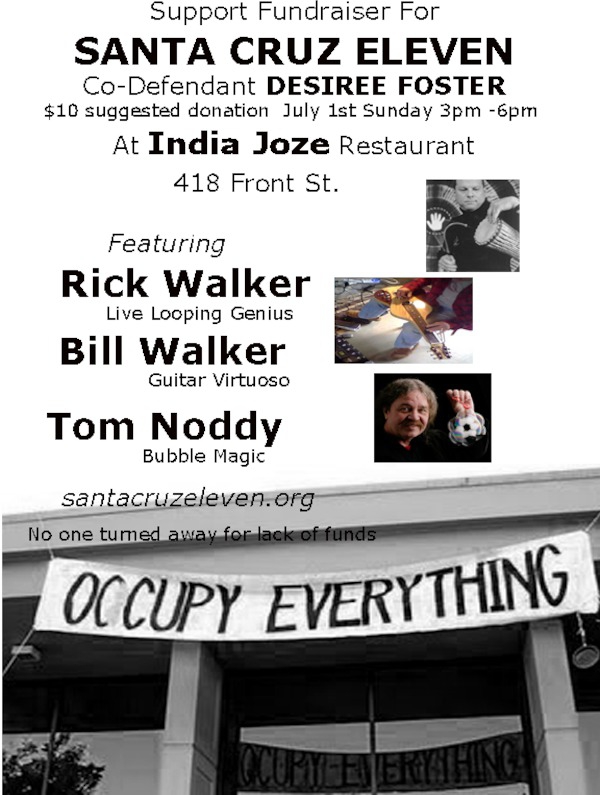 .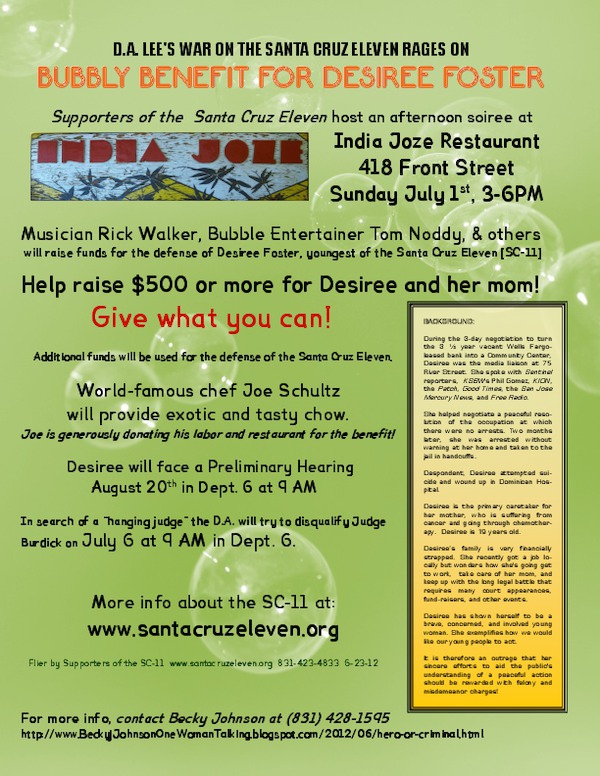 Post and Distribute!
There's going to be a fundraiser for the
SC11 & Desiree Foster
at
INDIA JOZE
starring
RICK WALKER & TOM NODDY.
India Joze and the co-defendants are hosting this community gathering to bring awareness to the SC11 and to help out Desire Foster who is experiencing financial hardships. Grant Wilson says "Desiree Foster is the youngest person (of the SC-11) charged with 2 Felonies she's 19 yrs old. She has been caring for her mother – diagnosed with a serious form of cancer. If that wasn't enough trauma for a 19 year old, in early February, without any advance notice, Desiree was arrested in her mother's home, handcuffed, taken to jail & later released on $5000 bail. As a result, Desiree tried unsuccessfully, to commit suicide. Once again, it makes me deeply question the ethics & motives of District Attorney Bob Lee. You would think that a good District Attorney, anywhere in the country, would be focused on confronting and reducing suffering and crime in their community. But, in this situation, it seems as though there's a serious miscarriage of justice. Our DA is, in fact, causing suffering! The event happens Sunday July 1st 3pm – 6pm at India Joze 418 Front St. Santa Cruz, CA
The Santa Cruz Eleven are local community members who have been charged with an unprecedented variety of offenses arising from their alleged involvement with the occupation of a long-time vacant bank building late last fall, 2011.These defendants are either journalists, members of our local press, and/or activists supportive of the Occupy movement. The Santa Cruz Eleven defendants were participating in constitutionally protected activities either as news gatherers, observers, or as supporters, including a mediator between police and activists inside the occupied building. Hundreds of individuals, if not more, entered and exited the bank building during the 75-hour occupation, including local elected officials, corporate press and "citizen journalist" bloggers. Only the Santa Cruz Eleven have been charged, scapegoating those few who're recognizable to police who never conducted an investigation of who actually broke into and/or damaged the building.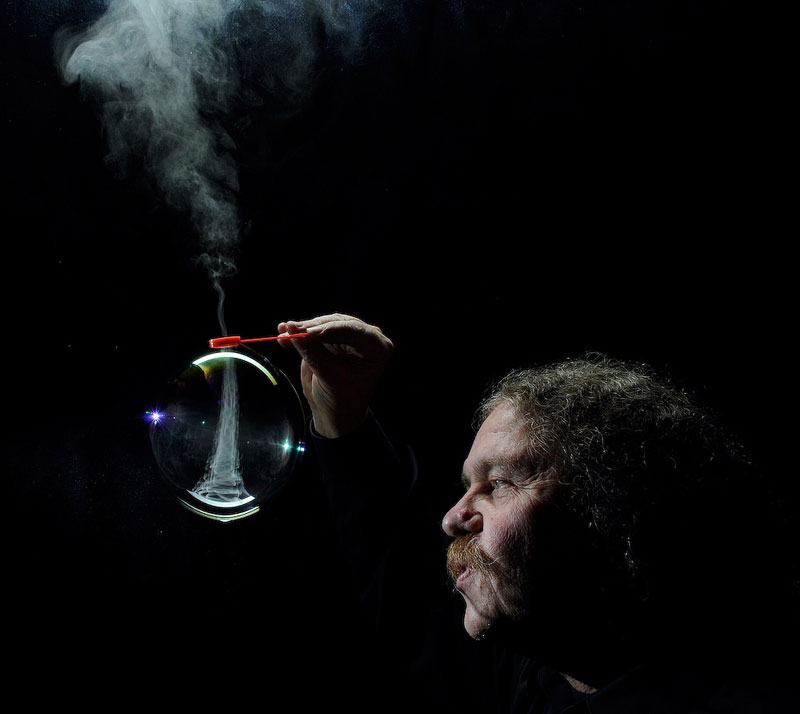 Forty years ago, Tom Noddy bought some dime store bubbles as a source of cheap entertainment. He has since become a bubble troubadour, traveling around the world to learn all there is to know about the art and science of blowing bubbles. He talks to physicists, mathematicians, chemists, biologists, architects, magicians and kids.

It was Tom who discovered Eiffel Plasterer in Indiana, the now deceased blower of long-lived bubbles. It was Tom who was summoned to perform for Johnny Carson on the Tonight Show, as well as to London and Paris for similar performances. Clearly, scientists are not the only people fascinated by bubbles.

Noddy says, "I have the same rapt attention whether I show my art at a logger's bar on the Olympic Peninsula, at the Santa Cruz County Jail, at a child care center or at a university. The fascination is universal. Bubbles touch the child that each of us carries within."
We are 100% volunteer and depend on your participation to sustain our efforts!
Get Involved
If you'd like to help with maintaining or developing the website, contact us.