From the Open-Publishing Calendar
From the Open-Publishing Newswire
Indybay Feature
Related Categories:

California | North Coast | Environment & Forest Defense | Government & Elections
Tribe states major concerns with MLPA implementation on the North Coast
The California Fish and Game Commission on June 6 adopted regulations for the North Coast "marine protected areas" (MPAs) created under the controversial Marine Life Protection Act (MLPA) Initiative.

Commissioners Michael Sutton, Richard Rogers and Jack Baylis voted 3 to 0 to approve the regulations covering approximately 1,027 square miles of state waters from the California/Oregon state line south to Alder Creek near Point Arena in Mendocino County. Commissioners Jim Kellogg and Richard Rogers, both critics of the MLPA process, were absent.

Inexplicably, the Commission failed to approve the Tribe's proposal that would protect traditional tribal gathering rights in Yurok ancestral territory. After the public comment period, the Commissioners rushed through the approval of Option 1, the preferred alternative, without even discussing the Tribe's recommended options.

Below is the press release that the Yurok Tribe issued before the meeting regarding their major concerns regarding the implementation of "marine protected areas" on the North Coast under the Marine Life Protection Act Initiative.

Members of the Yurok and other North Coast Indian Tribes and their allies took control of the MLPA Blue Ribbon Task Force meeting in Fort Bragg on July 21, 2010. Photo by Matt Mais, Yurok Tribe.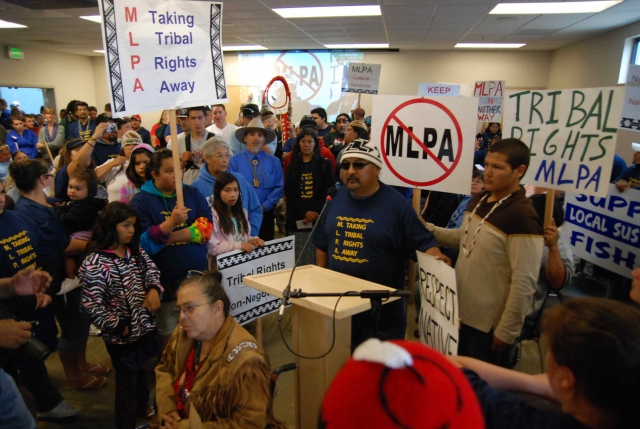 FOR IMMEDIATE RELEASE: June 6, 2012

Tribe states major concerns with MLPA implementation on the North Coast

The Yurok Tribe has several serious concerns with nearly final proposal for the North Coast Study Region.

"While we appreciate the Brown administration's support and the Fish and Game Commission effort to recognize tribal traditional harvesting rights, there is more that needs to be done in order to protect our culture and our resources for present and future generations," said Yurok Tribal Chairman Thomas P. O'Rourke Sr. "We also have serious questions about the science, developed under the Schwarzenegger Administration, which the process relies upon. We believe it requires a truly impartial external review and revision in order to work for our region."

"Today might mean the end of the discussion for some North Coast residents. For us, it's the beginning of a conversation about how the State can better work with Native people to preserve and protect cultural and natural resources," O'Rourke continued. "The proposed project simply does not do enough to address tribal rights. The Yurok Tribe has and will continue to reserves all rights as a sovereign nation as we work towards finding a solution."

The Northern California Tribal Chairman's Association believes the science behind the Marine Life Protection Act developed by Schwarzenegger's Science Advisory Team is incomplete and terminally flawed. Under the MLPA each marine species is assigned a certain level of protection. Species like mussels are given a low level of protection, which in MLPA-speak, translates to more regulation.

To date, there has been no scientific data submitted suggesting that mussels on the North Coast are in any sort of danger or are overharvested. In fact, it's just the opposite. The readily available quantitative survey data collected over decades by North Coast experts shows there is quite an abundance of mussels in this sparsely populated study region.

Fish like Pacific eulachon, also known as candle fish, are given a high level of protection, or in other words their harvest is not limited by the proposed regulations. Eulachon are near extinction and listed as threatened under the federal Endangered Species Act.

"Both of these marine species are essential and critical to the cultural survival of northern California tribes, however under the proposed regulations they would be summarily mismanaged," said Chairman O'Rourke Sr. "It's examples like these that compel our concerns."

The Yurok Tribe has attempted on numerous occasions to address the scientific inadequacies with the MLPA science developed under the Schwarzenegger administration by adding more robust protocols into the equation, but was denied every time.

Of the options before the Fish and Game Commission, Yurok Tribal representatives support the adoption of the following:

• Reading Rock- Tribal Take Option (B) Reclassify Reading Rock from a State Marine Reserve to a State Marine Conservation Area. This would allow for specific federally recognized tribes to take living marine resources pursuant to existing regulations.

• Reading Rock SMCA- Name Option (B) Rename as Reading Rock Onshore SMCA if Reading Rock SMR Take Option B (above) is selected.

• 'No change' for the specific location of False Klamath Rock Season Special Closure and require the "Special Closure" for False Klamath Rock to be dealt with in a future process that includes the Tribe.

The adoption of regulations by the Fish and Game Commission is one of the final steps in the Marine Life Protection Act (MLPA) process for the North Coast Study Region. The North Coast Study Region begins at Alder Point near Point Arena and ends at the California/Oregon border.

The Environmental Impact Report, pursuant to the California Environmental Quality Act, reviewed two different proposals. The first is a "No Project Alternative", which compares "the impact of approving the action against the impacts of not approving the action."

In the Enhanced Compliance Alternative, the second proposal, there are two possible protected areas within Yurok ancestral territory near Reading Rock and False Klamath Rock. At Reading Rock, there are two options before the Commission. The first, and current preferred alternative, is an offshore State Marine Reserve (SMR) status that calls for zero human take of any marine species. The second option is a State Marine Conservation Area (SMCA) designation, both on and offshore, which would allow some commercial and recreational harvest, while authorizing access to Tribal members with a valid Tribal ID card.

The proposal also calls for a Seasonal Special Closure for False Klamath Rock. In this area there would be a 300-foot seasonal closure around the rock from March 1 to August 31 for avian nesting.

Yurok people are a vital part of the marine ecosystem. Yurok Tribal members have traditionally harvested marine resources for religious, ceremonial and subsistence use with carefully adapted methods which have maintained balanced abundance on the North Coast since time immemorial.

Contact Matt Mais
Yurok Tribe
(707) 482-1350 ext. 1306
Cell (707) 954-0976